Angels fall to the Rays, 3-1, and Andrelton Simmons suffers a thumb injury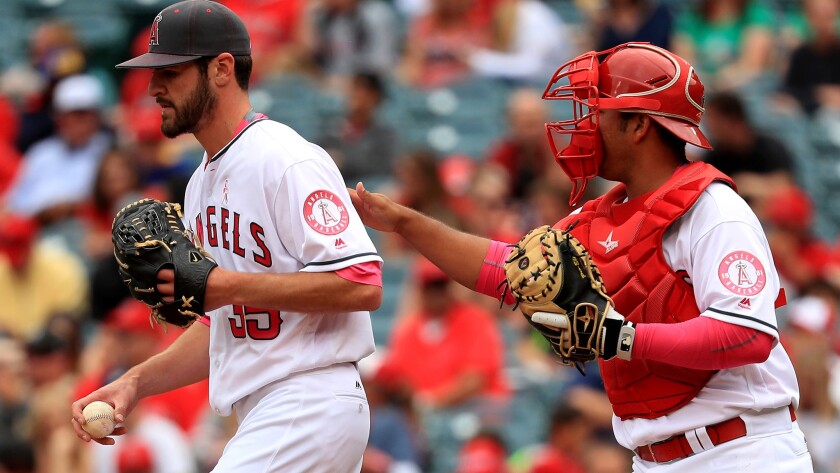 If Sunday's Mother's Day matinee in Angel Stadium had been a movie, Siskel and Ebert would have given the Angels two thumbs down, one for their sputtering offense in a 3-1 loss to Tampa Bay and the other for a left-thumb injury that will probably send shortstop Andrelton Simmons to the disabled list.
Yes, the hits keep coming for the Angels — who have lost seven of nine to fall to 13-18 — but not in the batter's box.
They already have four starting pitchers — Garrett Richards, Andrew Heaney, C.J. Wilson and Tyler Skaggs — and a closer, Huston Street, on the DL, and Simmons could join them after injuring his thumb while making a backhand diving stop of Evan Longoria's third-inning grounder. Simmons will have an MRI test on Monday.
"I wouldn't say [injuries] are derailing our season because it's May, and we have a lot of baseball left," center fielder Mike Trout said. "But you lose your starting shortstop, your ace, a bunch of pitchers, your closer … it's a tough stretch, but you can't hang your heads."
A lack of pitching didn't doom the Angels in their three-game sweep at the hands of the Rays. Spot starter Cory Rasmus was roughed up for five runs in Friday's 5-2 loss, but the bullpen threw 6 2/3 scoreless innings in his wake.
Jered Weaver allowed one earned run in six innings of Saturday's 4-2 loss, and Nick Tropeano struck out 10 in 5 1/3 innings Sunday, his only mistakes a first-pitch hanging slider to Brad Miller, who hit a two-run homer in the third, and a fat first-pitch fastball to Curt Casali, who hit a solo homer in the fifth.
The Angels offense mustered five runs in the series, hitting .217 (20 for 92) overall, .100 (two for 20) with runners in scoring position and grounding into five double plays, three on Sunday. The Angels lead the major leagues with 36 double-play grounders.
They threatened in the sixth when Yunel Escobar singled and Kole Calhoun walked off Rays starter Matt Andriese, a Redlands native making his first start of 2016. But Trout struck out chasing a 2-and-2 slider in the dirt, and Albert Pujols grounded into a double play.
"There's not one magic pill for the whole team," Manager Mike Scioscia said, dusting off one of his oft-used quotes for team-wide slumps. "Some guys just aren't squaring the ball up. Some are hitting the ball hard with not a lot to show for it. Some are not comfortable in the box."
Sunday started with much promise for the Angels, as Escobar stopped Logan Forsythe's game-opening grounder behind the third-base bag, jumped into foul territory and made a long throw to first for the out.
They took a 1-0 lead in the bottom of the first when Calhoun singled, took third on Trout's single and scored on Pujols' sacrifice fly.
But the Angels lost the lead and their shortstop in the third. Casali doubled, and Miller homered to right-center for a 2-1 Rays lead.
Longoria grounded to the shortstop hole, where Simmons, considered the best defensive player in baseball, made a diving stop and threw from his knees to first, Longoria beating the throw for a single. Simmons jammed his glove hand in the turf and came out of the game.
If Simmons goes on the DL, Cliff Pennington would probably move to shortstop, and the Angels would call up a utility infielder such as Rey Navarro or Gregorio Petit from triple A.
"It's a huge blow," Trout said of the potential loss of Simmons. "He's our starting shortstop. The way he handles himself on the field … he's a key part of this team."
mike.digiovanna@latimes.com
Twitter: @MikeDiGiovanna
---
Get the latest on L.A.'s teams in the daily Sports Report newsletter.
You may occasionally receive promotional content from the Los Angeles Times.