Angels pitcher Andrew Heaney joins a new financial world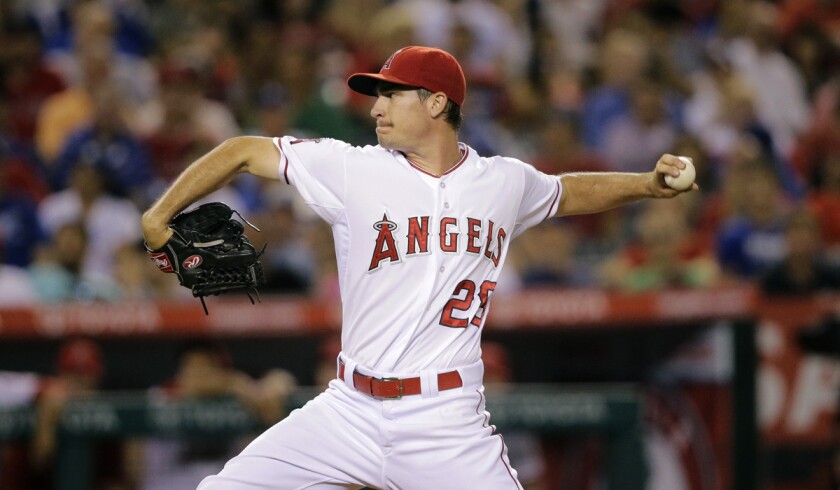 Soon, there will be a need to distinguish between angel investors and Angels investors. The latter would refer to a new stock that could soon hit the market. His name is Andrew Heaney, and he pitches for the Angels.
On Thursday, Heaney became the first Major League Baseball player to sign a contract with the company Fantex. The company will pay Heaney $3.34 million in exchange for a 10% stake in Heaney's "brand income," and investors can soon buy shares of a stock linked to his earnings.
Heaney confirmed the deal Friday and declined further comment, citing Securities and Exchange Commission regulations. The deal is pending Fantex's acquiring the necessary financing.
Investors can buy and sell Heaney's stock on Fantex's exchange. The company will issue regular earnings reports. It is a novel concept, one players are still figuring out. Heaney evidently thought it was a sound financial decision, while a teammate, closer Huston Street, thought it was "the dumbest deal I've ever heard."
For players, the appeal is a guaranteed source of income to hedge against an uncertain future. The Fantex contract offers security similar to an insurance policy, but it doesn't require an upfront payment, and it helps protect against risks like underperformance as well.
"A bird in the hand vs. two in the bush," explained Buck French, Fantex's CEO.
Fantex also touts its ability to help players earn more money overall by serving as an advisor. French said they can offer something most agencies cannot: a team of analysts that can evaluate financial decisions and account for risk.
Major League Baseball and the players' union agreed to Heaney's deal, and other players could soon follow.
Fantex has taken steps to address concerns over their potential to influence a player or the sense that individuals are being bought and sold. French said players retain full control of their own decisions.
"We basically have a seat at the table," French said. The company acts as a "trusted advisor," he said but, "the athlete has all the say."
An investor won't be able to purchase a player directly, but instead a share of each player's stock buys a piece of Fantex, which uses the player's income to issue dividends.
Fantex cannot legally discuss Heaney's stock. French said they offer contracts after conducting a background check, examining the player's medical history and performing quantitative analysis to find a player's value, adjusted for risk. Their contract with Heaney puts his market value, for his contract, endorsements and other brand-related income, at about $33 million.
As a rookie, Heaney will also earn close to the league minimum. He is not eligible for arbitration until the 2018 season and will not be a free agent until the 2021 season. But if he reaches that point without a major injury or significant regression, the payoff could be far more lucrative than the valuation.
For that reason, upon learning of the contract, Street was highly critical of Heaney's decision.
"A starting pitcher that's left-handed and throws 95?" Street said. "No chance I'd do that deal."
"I'm gonna own Heaney before the day's over!" he laughed. "That's the easiest investment of my life."
Short hops
Right-hander Matt Shoemaker, who has been nursing a forearm strain, threw on flat ground Friday and hopes to throw a bullpen over the weekend. Manager Mike Scioscia said he will not be ready by his scheduled start Tuesday. … Albert Pujols, who has an injured right foot, was the designated hitter Friday, and his running appeared significantly hampered.
---
Get the latest on L.A.'s teams in the daily Sports Report newsletter.
You may occasionally receive promotional content from the Los Angeles Times.