Billy Eppler is working to upgrade Angels bullpen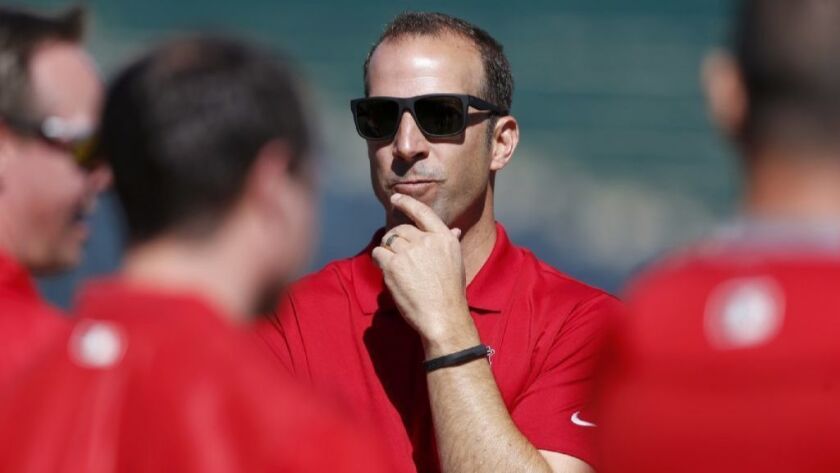 Reporting from Carlsbad —
The Angels are making early strides this offseason to enhance a bullpen that, like the rest of their pitching staff, experienced too much turnover for comfort last season.
Billy Eppler said Tuesday during the first official day of MLB's general managers meetings in Carlsbad that he has approached player agents and other teams about available relievers.
There are about 10 pitchers on the current major league depth chart, which is about three pitchers shy of what Eppler would like.
The Angels are not seeking to fill a specific role, which frees them to consider multi-inning relievers and closers. The candidates can hail from multiple channels, including the waiver wire on which they've already found an affordable option in former Cincinnati Red Austin Brice.
The Angels have internal candidates to close games. Among them are Hansel Robles, who flashed a 100-mph fastball in save situations in the final week of the season, and Ty Buttrey, a July trade acquisition who converted four of six save opportunities after his rookie debut in mid-August.
There's also Keynan Middleton, who was the Angels' closer before undergoing elbow ligament-replacement surgery in May. He is expected to return to the majors around the All-Star break.
"Probably not what everybody wants to hear," Eppler said. "But if you can find players that are not prohibitive from a salary standpoint and have flexibility, those are shots we should take 100% of the time. There's very little downside to those shots.
"That being said, if you can still land somebody that, in your risk assessments, will provide impact and the risk is at a tolerable level and there's more track record, then absolutely that [veteran] guy makes sense."
Angels won't overwhelm Shohei Ohtani in rehab
In the 24 hours since he last received an update on the Angels' candidate for rookie of the year, Eppler learned that Shohei Ohtani, who underwent elbow ligament-replacement surgery at the end of the season, is now able to fully extend his right arm.
"His range of motion is ahead of schedule, which doesn't surprise me when it comes to Shohei," Eppler said. "He tends to be ahead of schedule on a lot of things."
There still is no clear timeline for when Ohtani will be cleared by doctors to begin hitting or throwing motions, but the speed at which Ohtani is recovering could mean an optimistic schedule for his return.
Once Ohtani reaches the next stage of the rehab process, the Angels intend to alternate his activities. One week he'll focus on throwing and the next he'll focus on hitting.
"We'll be careful to not introduce too many things at the same time," Eppler said.
Young pitcher signed to minors deal
The Angels signed right-hander Yelmison Peralta to a minor league contract.
Peralta, a 23-year-old from the Dominican Republic, was signed by the Chicago White Sox as an international free agent in 2012. He made slow progress in the organization and has never pitched above Class A. Last season was his third in a row playing at that level for the White Sox. He has a 5.16 earned-run average in 146 games.
An injury forced Peralta to the disabled list in June. He did not pitch again in 2018 and became a minor league free agent at season's end.
---
Get the latest on L.A.'s teams in the daily Sports Report newsletter.
You may occasionally receive promotional content from the Los Angeles Times.