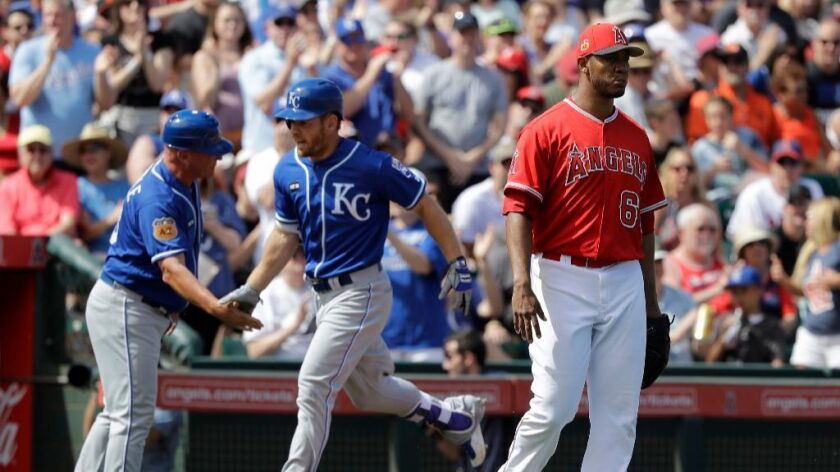 Tempe, Ariz. —
The Angels lost, 8-7, to Kansas City on Sunday at Tempe Diablo Stadium. They took the lead in the fifth, then ceded it in the ninth and are now 16-13 in the Cactus League.
Royals 8, Angels 7
AT THE PLATE: Yunel Escobar singled and Mike Trout doubled to produce a first-inning run, and the Angels rallied for six runs in the fifth. They strung together four singles, a hit-by-pitch, a walk, and then a three-run double by Jefry Marte. … Escobar and Trout logged two hits apiece. … Catcher Martin Maldonado struck out in his lone at-bat and has hit 4-for-40 this spring. All four of his hits have been singles. He has worked five walks.
ON THE MOUND: Right-hander J.C. Ramirez cruised through his first three innings before encountering trouble in the fourth. There, he yielded two singles and two homers for four runs, and another run in the fifth on back-to-back doubles and a hit-by-pitch. He said he went away from his fastball during his second time traversing the Royals' order, and he regretted the decision. … Among relievers, right-hander Yusmeiro Petit recorded four outs without allowing a run, right-hander Jose Valdez gave up one run in his inning, and right-hander Austin Adams threw a scoreless inning. … Minor league right-hander Justin Anderson blew the save in the ninth.
EXTRA BASES: Albert Pujols stole second base amid the Angels' fifth-inning rally. Royals second baseman Raul A. Mondesi gave him a hug at the base. … The Angels on Sunday reassigned infielder Matt Williams to minor league camp. Their roster stands at 40 men. Fifteen must be removed in the next week, but most of the extras will travel to Southern California for the Freeway Series that begins Thursday.
UP NEXT: Angels vs. Arizona Diamondbacks, 1 p.m. Monday at Salt River Fields. TV: FSW; Radio: 830.
Follow Pedro Moura on Twitter @pedromoura
---