Angels' two-way player Ohtani will pitch and be a DH, but he won't be allowed to slide head-first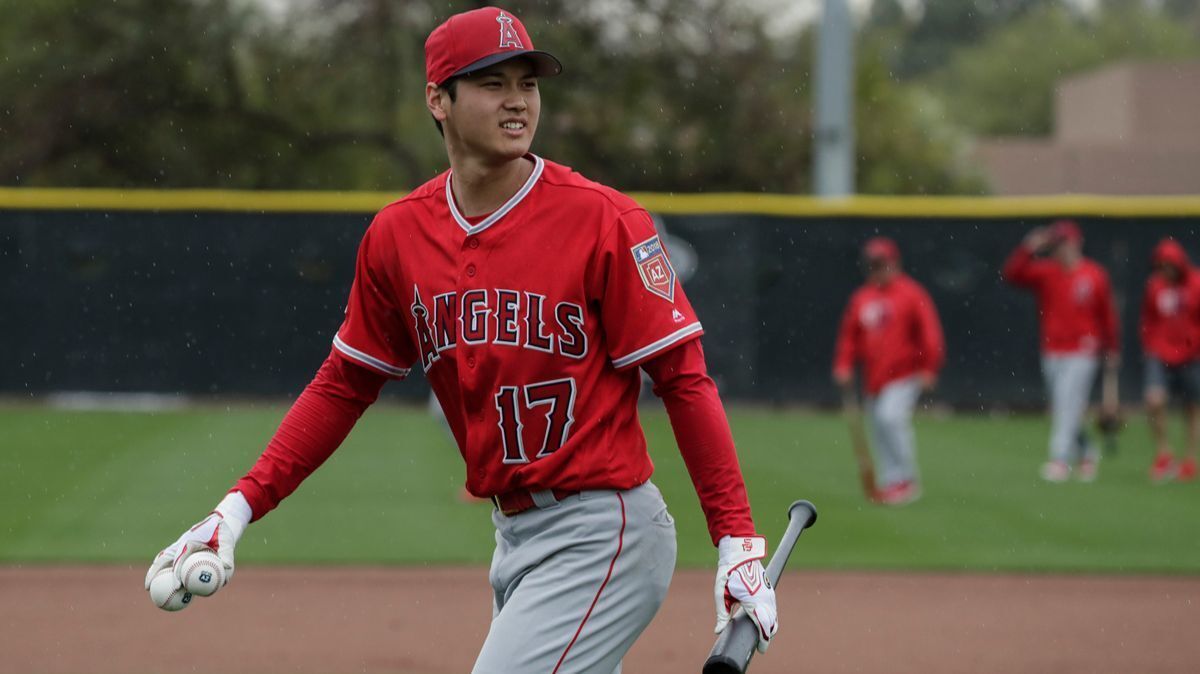 Reporting from Tempe, Ariz. —
The Angels plan to give Shohei Ohtani every opportunity to be an impact pitcher and hitter, but his pursuit of two-way stardom in the major leagues will come with some boundaries.
Manager Mike Scioscia said Wednesday that Ohtani will not work out in the outfield this spring, even though the 23-year-old played the outfield in 62 of 164 games for the Nippon Ham Fighters in 2013 and 2014. All of his at-bats will come as a designated hitter or pitcher.
"He'll shag with his pitchers' group," Scioscia said, "but we're not looking for him to play a position."
And though the left-handed-hitting Ohtani will be one of the team's fastest players and is an above-average base-runner — he stole 13 bases in five seasons in Japan — he will not be given free rein on the bases.
"There will be no head-first sliding, obviously," Scioscia said, "but he's a special athlete, and he had great success in Japan running the bases and doing the things a player needs to do to get himself into a position to score runs. He has great stride, tremendous speed, he can steal a base. There's a lot of things he can do."
The Angels lost two-time American League most valuable player Mike Trout for seven weeks last season when the center fielder tore a ligament in his left thumb on a head-first slide into second.
Ohtani, who hopes to DH two or three times a week between starts, won't have to change his approach to accommodate Scioscia.
"The Fighters banned head-first sliding, so it shouldn't be much of an adjustment," Ohtani said through an interpreter. "The only time it would happen would be when it was reactionary."
The 6-foot-3, 190-pound Ohtani was limited by a right-ankle injury to 65 games as a hitter and five starts as a pitcher last season. He underwent surgery on the ankle after the season.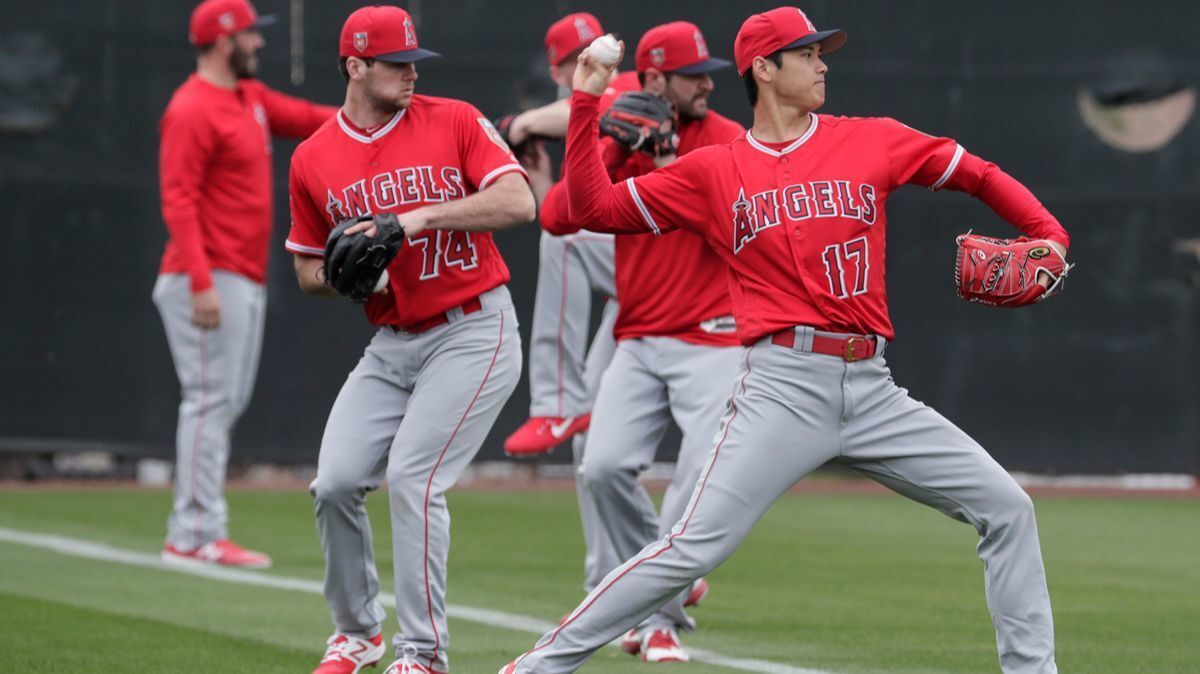 Tomonori Maeda, who played 23 seasons (1990-2013) in Japan and follows Ohtani as a commentator for TV Asahi, believes some extra weight Ohtani carried in 2016 and 2017 may have contributed to his injury.
"Two years ago, he gained a lot of weight in terms of building his physique, and he had some weaknesses in his lower half," Maeda, who attended Ohtani's first workout with the Angels on Wednesday, said through an interpreter.
"Last year, he wasn't able to play to his full capacity. But in watching him today, it seems like he's controlled his body weight and muscle gain, and I'm sure the people surrounding him are helping him a lot."
Ohtani raised a few eyebrows during his press conference Wednesday when he said he's been "playing golf with my teammates and playing basketball pretty often and having a good time so far."
Don't worry, general manager Billy Eppler said. Ohtani is not at risk of twisting an ankle, bruising a knee or taking an elbow to the face.
"He's been playing H-O-R-S-E," Eppler said. "He's just shooting baskets. There have been no games, no running."
Pick up the pace
Commissioner Rob Manfred is expected to address the contentious pace-of-play issue at the Grapefruit League media day on Thursday. Pitcher Matt Shoemaker is bracing for change, "but we don't know the severity of it," he said.
The players' association in January rejected a proposal from Manfred that would have instituted a pitch clock — most likely 20 seconds — and limited the number of mound visits by coaches and players, probably to six a game.
Shoemaker, as the Angels' union representative, is involved in negotiations. While he agrees players could do more to speed up the pace of play, he strongly opposes awarding a hitter an automatic ball for any kind of pitch-clock violation.
"One of our biggest concerns was, we can't have balls and strikes as a penalty," Shoemaker said "That completely takes away from the integrity of the game. It's completely wrong. That's how players feel. That's why there's a stalemate.
"We want the games to be quick, but at the same time, it's baseball, and stuff develops in a game. Sometimes games take two hours, sometimes they take three-plus hours, but you can't mess with balls and strikes."
Short hops
The Ohtani signing is already paying dividends off the field. The Angels announced a partnership agreement with Funai Electric Co. of Japan to the exclusive advertiser on the Angels media backdrop. The company will also receive advertising on the home-plate rotational sign in Angel Stadium and Tempe Diablo Stadium. … The Angels have hired Grace McNamee as a senior manager of communications to serve as a liaison between Ohtani and the media. She served in a similar capacity with the Dodgers and Hideo Nomo from 1995-98.
---
Get the latest on L.A.'s teams in the daily Sports Report newsletter.
You may occasionally receive promotional content from the Los Angeles Times.