Russian Fedor Emelianenko, 42, fights Saturday at the Forum as career nears end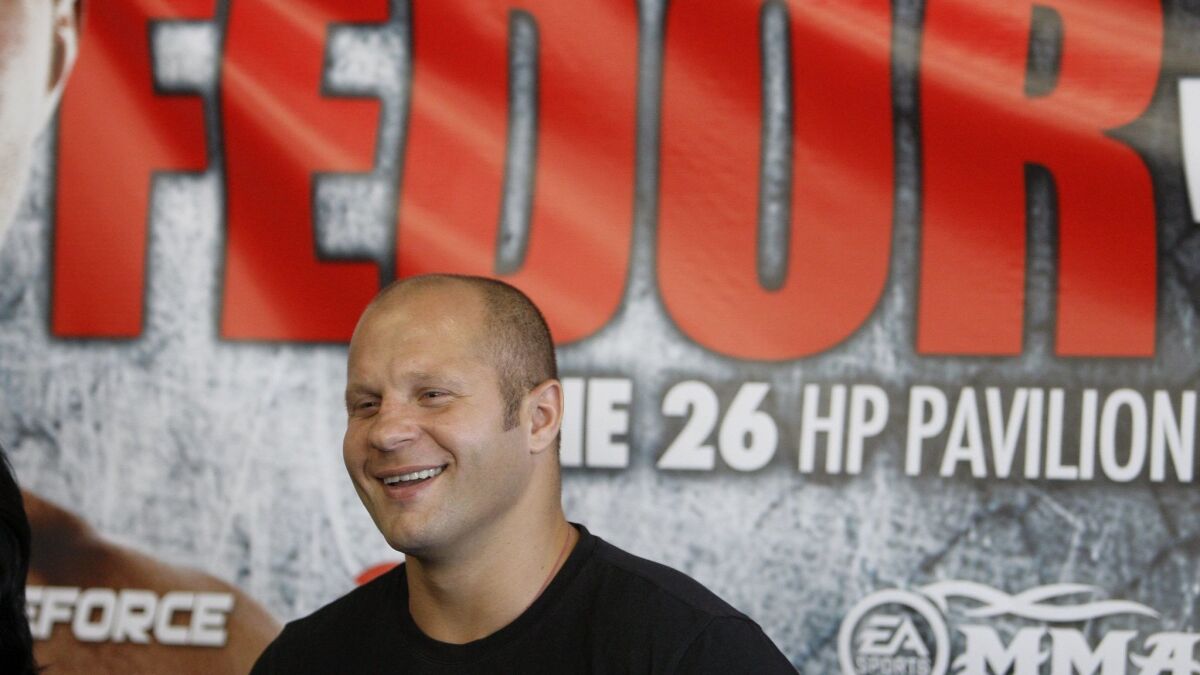 As mixed martial arts rises to a new peak in exposure and popularity, one of the men who helped build the sport to its prominence is nearing his expiration date.
Russian heavyweight Fedor Emelianenko, 42, a former champion in Japan's former Pride Fighting Championships, a former Strikeforce title contender and the prized free agent whom the UFC could never land, finds himself in Saturday night's Bellator MMA grand prix heavyweight final against Ryan Bader at the Forum.
At a Viacom rooftop workout session in Hollywood that brought to mind the Beatles' last live show on that cloudy day in England, Emelianenko told reporters that retirement "is what I'm thinking."
Emelianenko, known as "The Last Emperor," was unbeaten for 27 fights between a December 2000 MMA tournament loss and a June 2010 submission upset at the hands of Brazilian Fabricio Werdum in San Jose.
When someone asked the MMA legend how many more times he believes he'd be capable of defending the Bellator heavyweight belt he'd win by defeating Bader, 35, Emelianenko revealed his fighting mortality is at the forefront of his thoughts.
"To tell the truth, at my age right now, more and more I'm thinking about retiring," Emelianenko said. "And it is not because I don't want to fight. It's definitely because of the age and all the injuries that speak.
"There's been no adjustments, no changes in the training process. But it takes more time to recover."
Emelianenko's workout took place after UFC legend and former long-reigning middleweight champion Anderson Silva conducted a similar session Tuesday in West Hollywood as Silva prepares for what most view as a passing-of-the-torch Feb. 9 pay-per-view fight in Australia against rising phenom Israel Adesanya of New Zealand.
Silva said he has no regrets that the performances that clinched his legacy came at a time when the riches now possible in the sport did not exist.
Emelianenko (38-5) echoed that.
"I'm very grateful and thankful to God that things worked out the way they have," he said.
He's watched this past week as Manny Pacquiao won his first boxing match as a 40-year-old and as Tom Brady reached his third consecutive Super Bowl at 41.
"Until this very moment, we did manage to keep this at a high level, and we'll see [if it continues]," Emelianenko said about his own durability. "To tell the truth, there are no secrets. You have to put the goal in front of you and move toward it and work a lot."
A close friend of Russian President Vladimir Putin, Emelianenko was asked about how he envisions his life in retirement.
"More time with my family, rest a bit and then I'll be back with my team – some of whom are in Bellator – and I'll work with them," he said.
He said he's pushing for MMA to become an Olympic sport.
Sign up for our daily sports newsletter »
Emelianenko, whose legend was built by his hardening training sessions in the solitude of Russia, also could serve as a sporting ambassador for Putin, whose country has been heavily scrutinized over the systemic doping program revealed in 2015 that threatens Russians participation in the 2020 Summer Olympics in Tokyo.
Doping controls do not exist in most Russian fights, but Emelianenko has been subjected to performance-enhancing-drug tests in what's now his fourth Bellaor event, a company spokesman said.
"I think that Russian sportsmen do not need just [one person] to make them clean. They are clean," Emelianenko said. "There are a lot of accusations without ground, without proof and there have been a lot of sanctions against Russia … there is no truth behind a lot of it."
That opinion is likely a result of propaganda spawned by Putin, but Emelianenko says he was never approached in Russia to engage in doping.
That's happened, he said, but "only in the United States," eliciting a laugh that showed, for many, the Cold War is alive and well.
Bellator Heavyweight Grand Prix
Main Event: Fedor Emelianenko (38-5) vs. Ryan Bader (26-5) for Bellator heavyweight title
When: Saturday
Where: Forum
Television: Paramount Network, 6 p.m. Pacific
Undercard: Aaron Pico (4-1) vs. Henry Corrales (16-3), featherweights; Jake Hager (pro MMA debut) vs. J.W. Kiser (1-1), heavyweights; Juan Archuleta (21-1) vs. Ricky Bandejas (11-1), bantamweights; Adel Altamimi (7-5) vs. Brandon McMahan (5-6)
---
Get our high school sports newsletter
Prep Rally is devoted to the SoCal high school sports experience, bringing you scores, stories and a behind-the-scenes look at what makes prep sports so popular.
You may occasionally receive promotional content from the Los Angeles Times.