Clippers and Utah Jazz ready for a Western Conference showdown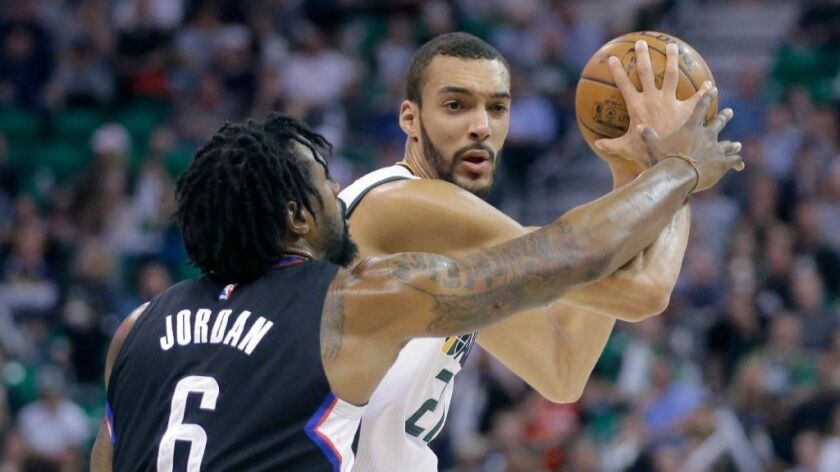 The Clippers admit Saturday afternoon's encounter with the Utah Jazz at Staples Center is important for their playoff seeding. What they won't admit, though, is that the outcome of the game will have significant impact on the outcome of the season.
The reality is that the game carries weight because there's a good chance the teams could meet in the Western Conference playoffs and both are jockeying for home-court advantage in that potential first-round series.
"Yeah, yeah, it's a big game," Clippers Coach Doc Rivers said Thursday night after his team's disappointing loss at Dallas. "Yeah, it's great. But like I say, it's a big game during the game. Then right after the game, whether we win or lose, it was just a game."
But here's the rub:
The Clippers are in fifth place in the West, 1½ games behind fourth-place Utah, two in the loss column.
The Clippers hold a 2-1 edge against the Jazz in the four-game regular-season series.
A victory for the Clippers gives them the tiebreaker over the Jazz; if the teams ended the season with identical records, the Clippers would be seeded higher in the playoffs.
A victory for the Jazz would tie the series at 2-2 and increase their lead for a better overall record.
"But, I think they're all big now," Rivers insisted. "Not just because of the standings. I think they're big now because we've had injuries all year and we haven't had a chance to get right, to get going. So we have to view every game as preparation, and we can't take one game off.
". . . So, I don't look at it as big games for playoffs for us. I look at them as big games to get right. And we're right there. We're right on the edge. You can see it. But we've got to do it."
The Clippers have nine regular-season games left to get it right.
They had defeated the Jazz 17 times in 18 games, and nine straight in Salt Lake City, before Utah broke through with a 114-108 victory at home almost two weeks ago.
"It's a big game," the Clippers' Blake Griffin said. "The last time I thought we played well for maybe three quarters, maybe two. But obviously we're probably going to face them more than likely in the playoffs. So, it's good for momentum going into the playoffs, confidence, all that. But it ultimately comes down to whoever we do face in the playoffs."
The game March 13 in Uah became feisty. There was trash-talking. It got physical. Chris Paul was hit with a technical foul for shoving Utah center Rudy Gobert. Gobert was assessed a technical for shoving J.J. Redick.
"Yeah, it's going to be chippy from this point on with everybody," Rivers said. "That's the way it should be. I'm fine with that. I just don't want the overreaction of techs and all that. Allow them to play without all the stuff."
CLIPPERS TODAY
VS UTAH
When: 12:30 p.m.
Where: Staples Center.
On the air: TV: Prime Ticket; Radio: 570, 1330.
Records: Clippers 43-30, Jazz 44-28.
Record vs. Jazz: 2-1.
Update: If the Clippers win, they will clinch a playoff spot for the sixth consecutive season, extending their franchise record. The Jazz are the top-ranked defensive team in the NBA, allowing a league-low 96.5 points per game. Jazz center Rudy Gobert leads the league in blocked shots, averaging 2.62 per game. But Utah is ranked 28th in scoring, averaging just 100.4 points per game.
Follow Broderick Turner on Twitter @BA_Turner
---
Get our high school sports newsletter
Prep Rally is devoted to the SoCal high school sports experience, bringing you scores, stories and a behind-the-scenes look at what makes prep sports so popular.
You may occasionally receive promotional content from the Los Angeles Times.