Clippers sticking to routines during 12-day trip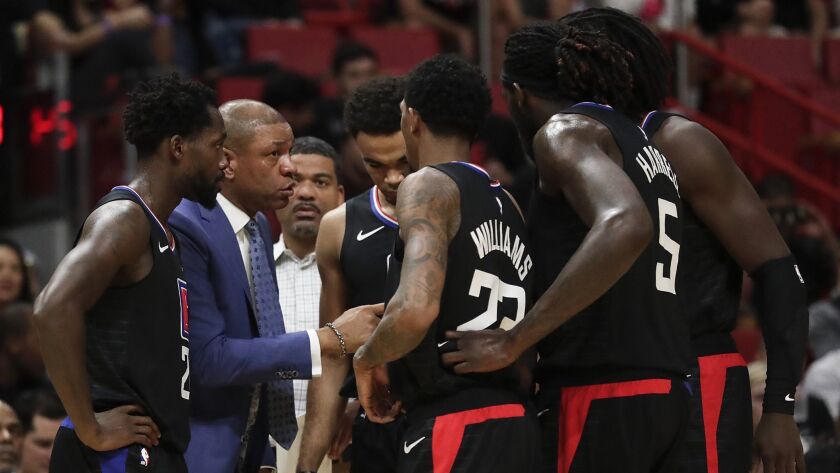 Reporting from DETROIT —
Hall of Famer Robert Parish taught Dee Brown how to survive long NBA road trips in 1990 when Brown was a Boston Celtics rookie.
Nearly three decades later Brown, the Clippers' executive director of integrated development and evaluation, still follows that advice. After the Clippers arrived in Detroit on Friday to begin a 12-day, six-game road trip, Brown was in bed by 9:30 p.m. even though his body felt as though it was still just after dinnertime on the West Coast.
"You have to stay on your same sleeping and getting-up pattern," Brown said. "If you wake up at 6 in the morning on the West Coast, and it's the East, get up at 6 o'clock in the morning."
The NBA has come a long way since Brown's rookie year, when he didn't fly by charter to every game, had never heard of a sleep study and ate late-night room service without a second thought. Even during the 14-year career of team broadcaster Corey Maggette, which ended in 2013, attitudes toward diet and rest changed dramatically, he said. He remembers when beer was still served on postgame flights.
Healthy food now waits for the Clippers after every game. More is available on their chartered flights. If a young player complains about the grind, Brown lets them know how good they have it.
And yet, he said, there is no minimizing the gradual wear and tear that comes with a trip of this length.
"It's still 12 days," Brown said.
By now, everyone knows sleep and hydration are important for adjusting to differences in time zones. But players, coaches and executives lean on the tricks they've learned over the years to handle everything else. Some make annual pilgrimages to the coffee shops and fast-casual restaurants they've found near the team hotel.
Coach Doc Rivers ships his dirty clothes to Los Angeles.
"I started with three pieces of luggage," he said. "By the end of the trip I'll be down to one. The receiver of the dirty clothes is never happy."
Not all long road trips are scheduled equally. Maggette prepared differently when traveling to cold-weather cities.
"You can't get out like you want to," Maggette said. "You're hibernating a little bit more. Going into a cold city I was like, all right, I'm going to make sure that I have a great warmup, my legs are moving. On the bench, I'm going to have a heat pack."
After tipping off in Detroit at 5 p.m. local time Saturday, the Clippers were scheduled to leave for Toronto to prepare for another tip-off 22 hours later.
"I don't know if I've ever had anything like that where you play back-to-back afternoon games, one's at 5, the other's at 3 and you have to go through customs and the team you're playing tomorrow hasn't played in what, two days," Rivers said. "That's a tough one."
The trip also includes stops in Charlotte, Indianapolis, Boston and Minneapolis.
"It's going to be a grind," rookie Jerome Robinson said. "I wouldn't say a make-or-break road trip but it's a trip where you can make a lot of moves."
Missed call
The NBA's acknowledgement that officials should have assessed an offensive foul on the Lakers' Lance Stephenson in the final minute of the Clippers' overtime loss Thursday did little to satisfy Rivers.
Stephenson scored on a layup and was fouled by Clippers center Boban Marjanovic with 45.4 seconds left, a resulting three-point play that gave the Lakers a 123-118 lead. The Clippers were irate he wasn't called for an offensive foul by hitting Marjanovic's jaw with his elbow.
The play was reviewed to determine if Stephenson had committed a "hostile act." The league, in its report on the final two minutes of the fourth quarter and overtime, said referees were correct in determining that no such act had occurred even though the original call was incorrect.
"That was not a hard call to make to me," Rivers said. "… It is what it is but it's nothing you can do about it. That's why sometimes I'm not a big fan of that report because what does it do? It's like the NFL, what are they going to do now? Roger Goodell is going to announce that that call was bad? OK, well Drew Brees is still going to be watching the Super Bowl."
UP NEXT
AT TORONTO
When: Noon Sunday
On the air: TV: Prime Ticket; Radio: 570, 1330.
Update: The Raptors (37-16) are second in the Eastern Conference standings and feature Kawhi Leonard, the forward the Clippers are planning to recruit heavily during free agency this summer. Leonard is averaging a team-high 27.6 points. The game marks a homecoming for Clippers rookie Shai Gilgeous-Alexander, who grew up in the Toronto area before attending high school in the U.S.
Sign up for our daily sports newsletter »
Twitter: @andrewgreif
---
Get the latest on L.A.'s teams in the daily Sports Report newsletter.
You may occasionally receive promotional content from the Los Angeles Times.