Ralph Lawler should be in the Basketball Hall of Fame. Too bad it's not that easy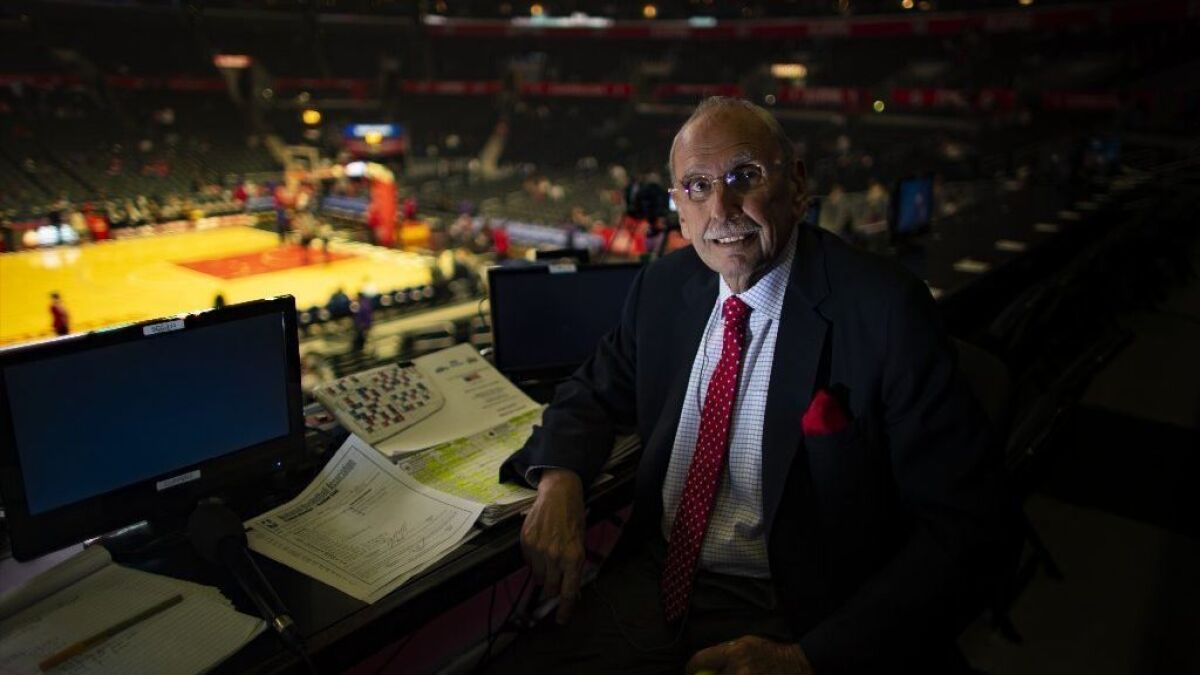 When the Clippers announced last week that Billy Crystal would join Ralph Lawler as a guest analyst for the Jan. 31 Prime Ticket telecast against the Lakers, the actor/season-seat holder offered this quote: "Ralph is a fantastic broadcaster and a wonderful man. I'm looking forward to calling a game with him. He's a Hall of Famer in my book."
Lawler's 40-year run as the Clippers play-by-play man concludes with his announced retirement this summer. It gives the Basketball Hall of Fame enough time to clear a space on a wall in Springfield, Mass., and — bingo — recognize him with the Curt Gowdy Award for a career well spent fostering all that is right and good about its sport.
If only the process were so simple.
"Frankly, all that kind of talk embarrasses me," said the 80-year-old recently. "My goal for this year was we'd go through the season and when it ended, I'd go on Twitter and say, 'Thanks everybody. I'm outta here.'"
The organization and TV partners knew better. They've orchestrated a sendoff that includes reuniting broadcast partners from his past, guest appearances on things like the Chargers' radio broadcast (another team he once covered) and his replica signature tagged onto a "City Edition" alternative jersey. For someone who already has a star on the Hollywood Walk of Fame and the Staples Center media entrance named after him, there's more talk about statues and banners planned, as the Lakers have done for Chick Hearn, the Kings for Bob Miller and, in other ways, the Dodgers did for Vin Scully.
"They really don't have to give me anything," Lawler insists. "The guys who deserve a reward worked 40 years on a job they could hardly stand, living for weekends and vacations. I've had a job that I've loved. I do appreciate all this talk, but I don't know why that includes so much praise."
Appreciate we're in a time when humility is a lost art, loyalty should matter and extraordinary examples of how to navigate through negativity deserves affirmation.
Understand, too, that the Basketball Hall's lifetime achievement recognition may need more concentrated salesmanship. It's not a real transparent process for nomination, debate and eventual voting. The public might embrace it more if it were.
A mash-up of 29 broadcasters are Gowdy award-winners in the electronic category (aside from print), starting with its namesake in 1990. A large constituency is considered -- play-by-play announcers and color analysts, sideline reporters, those in the NBA and the college game, national names and local icons. Many deserving candidates have yet to be recognized.
A third of those honored have had careers mainly with one NBA team or city. Hearn was the third pick in 1992, after the New York Knicks' Marty Glickman and before the Boston Celtics' Johnny Most.
The longevity factor -- which Lawler checks off, having done more than 3,100 games -- validates men such as Al McCoy (Phoenix Suns), Joe Tait (Cleveland Cavs), Jim Durham (Chicago Bulls and Dallas Mavericks) and Bill Schonley (Portland Trail Blazers). Add in Hot Rod Hundley in '03 (New Orleans and Utah Jazz, and Hearn's former Laker partner) and Eddie Doucette (Milwaukee Bucks, plus a season with the Clippers on radio in the mid-'80s).
But let's measure quality over quantity. Effectiveness in a major media market despite any inadvertent shade cast by Hearn and the Lakers. Not getting caught up in a misperception that the Clippers' previous failures frame a broadcaster's legacy.
If this were an online fan campaign, Ralph Lawler might wreck the internet.
"The thing I've appreciated about Ralph – he's never negative," said David Rawson, a season-seat holder since the first season in San Diego, who drove up to games in L.A. with his son, Dan, before deciding to relocate closer. "He gave us an identity. Hall of Famer? If I had a vote, I'd vote 10,000 times for him."
Those in the business validate Lawler's impact even more.
"The years you earn your pay, and even feel as if they're the most rewarding, are the ones when the team is terrible but you've managed to keep people interested in the games," said Mike Breen, the ABC/ESPN national play-by-play man who can commiserate while calling Knicks' local radio and TV games since 1992.
"Ralph has always had such a great spirit. He's not one of those 'old-time' guys who thinks the game was better when he started. His enthusiasm reflects on his impression of today's athletes. That's what I love about him. Over a long period of time, sometimes the hardest thing is to keep that passion year after year. I turn a Clippers' game on League Pass, and it's the same energy and feeling that there's no other place he'd rather be. It's really incredible."
John Ireland, the Lakers' radio play-by-play man since 2011, worked four seasons with the Clippers in the late '90s on radio when Lawler moved to the TV chair on a less regular basis.
"I don't think there's ever been an announcer in any sport who has had to make lemonade out of lemons more than Ralph," said Ireland. "Yet at the end of his run, he's going out with so much respect."
Brian Sieman, working with Lawler for the last decade, primarily as the Clippers' radio voice, says simply that "Ralph breaks all the rules. The Clippers never thought about changing announcers even as the team was going from really bad to really good and changing its identity. Longevity means having a personality to get through the muck and mire. Honestly, why have a Hall of Fame if you don't put in people like him?"
If Bill Walton's testimony means anything – and he could be in the broadcasting wing as well as having a player's plaque – it starts with how Lawler taught him during their 13-year partnership how to overcome a stuttering issue. It was life-changing.
"We can only hope the good men through the ages who try to find the sun will open their eyes and discover the glowing warmth and humanity of Ralph Lawler," said Walton.
The Gowdy Award honoree generally is announced at the NBA All-Star Game, which comes up in less than two months. This shouldn't have to be a fast-break decision.
If more is needed than a formal application, consider the above referrals. Only if you're interested in classing up the Basketball Hall's Class of '19.
---
Get our high school sports newsletter
Prep Rally is devoted to the SoCal high school sports experience, bringing you scores, stories and a behind-the-scenes look at what makes prep sports so popular.
You may occasionally receive promotional content from the Los Angeles Times.