Reporting from PHOENIX —
The kitchen at Camelback Ranch opens at 6:30 a.m., so Chase Utley gets to the complex before the sun. He turned 37 in December, and requires the early-morning hours for "waking the body up."
He has come to enjoy the preparation of lifting weights and tireless stretching in the twilight of his career. He spent the previous 15 springs in Florida as a member of the Philadelphia Phillies, establishing himself as one of the best players of his generation. He has attacked this spring, his first as a Dodger, with the same ethic.
"I still enjoy playing," Utley said. "I still enjoy competing. And I enjoy the grind. That's what keeps me going. I feel like I still have something to offer."
His locker is the first you see upon entering the clubhouse, positioned next to rookie shortstop Corey Seager and two stalls away from Howie Kendrick. With Kendrick back, Utley won't start. But his influence is expected to extend beyond his at-bats.
Andrew Friedman and others referred to his "edge." New Manager Dave Roberts has often mentioned the need for "grit" or "tenacity." The organization considers Utley's presence critical to the ethos of their team.
Utley forgoes fraternization with opponents. He exhibits aggression without shame or apology. He operates with more than a hint of menace.
"He plays emotionless," catcher A.J. Ellis said. "Cold and calculating. I think he knows he has that persona. He embraces that. That's why he's respected, but not liked, by a lot of teams."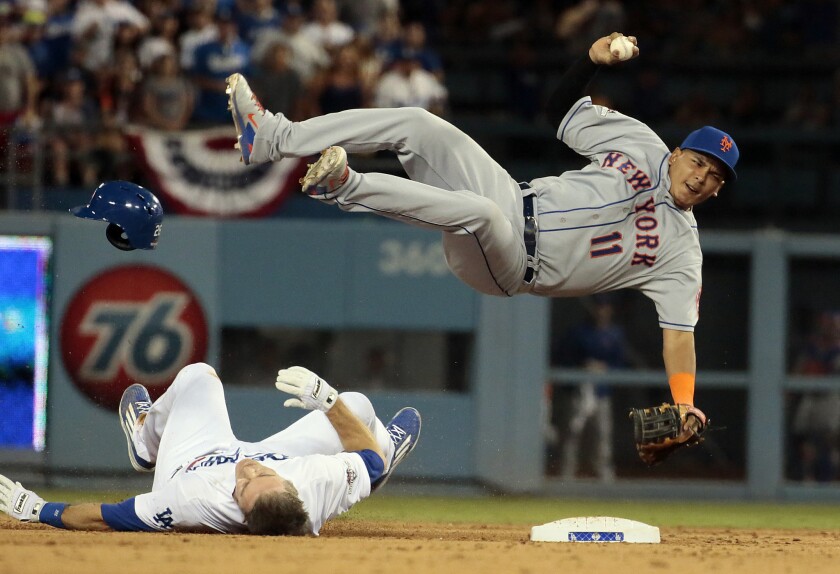 Those qualities led to a combustion last October, when Utley fractured the leg of Mets shortstop Ruben Tejada in the National League division series. He appealed a two-game suspension, and a decision is still up in the air.
When the season ended, the Dodgers declined a team option on Utley and set him free. On the surface, there appeared little reason for a reunion. The front office preaches the importance of youth. Utley batted only .202 as a Dodger and finished with a .629 on-base plus slugging percentage, the worst of his career.
Yet the Dodgers re-signed Utley in early December. Friedman suggested Utley's numbers would give reason for optimism. An ankle injury hampered him early in the summer. In the second half, Utley had an .838 OPS against right-handers. The platoon split fits his place on this roster.
Friedman says Utley still has value, pointing to his edge and mindfulness on the bases.
Justin Turner competed against Utley for years before they became teammates last August. So did Ellis. Neither knew him well. Utley ensured this.
Between pitches, Utley does not talk with the opposing catcher. He does not greet infielders with a handshake or a kind word. His calling card is stoicism, not socializing.
"He's not out there to make friends," Turner said. "He's not out there for any other reason than to do anything he can to win a game. It's refreshing. There's not a lot of that anymore."
Turner sensed a change within the clubhouse soon after Utley joined the team on Aug. 19. He showed intensity and set an example with his preparation.
"When you see Chase out there, and he's all business, playing hard, you're like, 'OK, maybe we should cut a little bit of this [stuff] out,'" Turner said. "He's done everything the right away for a long time. It rubs off on guys."
Turner noticed one other thing.
"Once he got over here, we started running the bases a lot better," he said.
Utley was on six All-Star teams because of his bat and glove. But his legs might be his hidden talent.
He ranks 13th among all players since 1950 in FanGraphs' baserunning runs above replacement. The metric measures a player's efficiency stealing bases and aggression when advancing bases. One of his favorite plays as a Phillie occurred when he scored from second base on a groundout in 2006.
But he'll be remembered for his play on Oct. 10 at Dodger Stadium. Utley entered in the seventh as a pinch-hitter and singled. With runners at the corners and the Dodgers trailing by a run, Kendrick hit a one-hopper up the middle. A double play would end the inning.
The flip from second baseman Daniel Murphy forced Tejada to turn his back as he spun toward first. Utley started his slide as he reached the bag. His lower half smashed into Tejada's right leg as Tejada's left knee connected with Utley's head. Tejada fell to the ground in pain.
"You have two guys desperately trying to make a championship play," Ellis said. "Those two forces collided. And no one felt worse about it than Chase."
On Monday, Utley listened to questions about the slide but indicated he could not comment until his appeal has been heard. "But like I said from Day 1, it was a hard, aggressive slide, to try to break up a double play," Utley said.
His tone was deadpan. He guards his emotions with outsiders, part of the reason Ellis was "shocked" at how quickly he became friends with Utley last season. Utley showed a quick wit, a sarcastic bent and a lot of baseball knowledge.
Utley spent less than two months as a Dodger in 2015. At times, he felt uncomfortable expressing his opinion inside the clubhouse, even as his teammates insisted they wanted to hear his voice. For this coming season, the team will feel even more of Utley's imprint.
"I went from being scared to death of him," Ellis said, "to loving being his teammate."
Twitter: @McCulloughTimes
---