Dodgers clinch home-field advantage through NLCS with win over Padres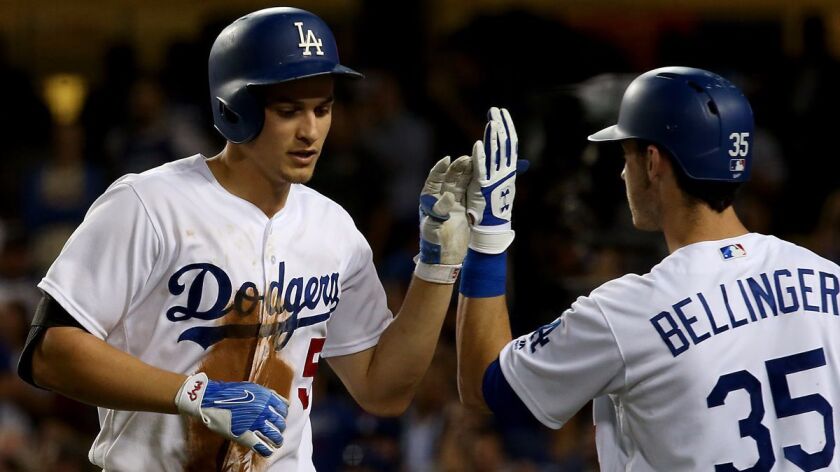 The Dodgers are rolling again. They clinched home-field advantage through the National League playoffs Tuesday with their third consecutive victory. They have won 101 games, including 56 at home, the latter a record since the team moved to Los Angeles six decades ago. They are close to clinching the best record in the major leagues, and with it the home-field edge in a potential World Series.
The march to October is not without its speed bumps. Can the Dodgers win if Corey Seager is not hitting? And do the Dodgers believe their best postseason pitching staff includes Alex Wood in the bullpen?
The first question might be more relevant to the Dodgers' October fate, but that issue has lingered for a few weeks. The second question exploded into the public discussion Tuesday, when manager Dave Roberts said the Dodgers were "not prepared to make a decision" about whether Wood, an All-Star, would be a part of the Dodgers playoff rotation.
"I expect to start," Wood said after the Dodgers' 9-2 victory over the San Diego Padres. "I've been pretty good all year. I think everybody in this clubhouse trusts me with the ball in my hand."
Wood (16-3) gave up two runs in six innings for the victory, a performance he nonetheless called "uninspiring."
The Dodgers were delighted with home runs from Yasmani Grandal and Adrian Gonzalez, thrilled with a home run from Seager, and perhaps most inspired by Cody Bellinger.
Bellinger, moved to center field for a day so Gonzalez could get a start at first base, threw a 99-mph strike to throw out Wil Myers at home plate.
Grandal has 22 home runs, most of any NL catcher. Gonzalez, most likely competing with Andre Ethier for the postseason roster spot of left-handed pinch-hitter, hit his first home run since Aug. 24.
But the home run that made the Dodgers breathe the easiest was the one hit by Seager. He entered the game batting .172 in September, with a .489 on-base-plus-slugging percentage and one home run in his previous 143 at-bats. He homered, singled and drove in four runs in his first multi-hit game since Aug. 25.
Seager attributed the slump not to his sore elbow, which is an issue while throwing, but to the timing he lost when he did not start for 11 consecutive days so he could rest the elbow.
"If you take that much time off, you've got to find it again," Seager said.
In the three postseason series in which Seager has played, he has slugged .270 in the two the Dodgers lost and .435 in the one they won. So, again: Can the Dodgers win in October if he is not hitting?
"Can it happen? Absolutely," Roberts said before the game. "Is it ideal? Absolutely not. You can say that about any team's best player.
"We expect Corey to get out of this funk and be as productive as he's always been."
Wood has a 2.72 earned-run average, ranking fifth among major league starters with at least 150 innings. The top four: Clayton Kershaw, Corey Kluber, Max Scherzer and Stephen Strasburg.
His .842 winning percentage is the best among major league starters.
However, Wood has lost a bit of velocity on his fastball late in the season, with his groundball rate down and his flyball rate up.
That could be a worry against the Dodgers' most likely opponents in the division series, because Wood probably would start in one of two homer-happy ballparks, either in Chase Field against the Arizona Diamondbacks or in Coors Field against the Colorado Rockies.
The Dodgers would have the option to use Kershaw on short rest in the division series, or to use Hyun-Jin Ryu as a fourth starter. Ryu has given up no more than one run in five of his last six starts.
The Dodgers have struggled to identify the middle relievers that might justify inclusion on a playoff roster. They already have said Kenta Maeda will be considered for such a role, although Maeda has four career relief outings in 279 professional appearances. They have ruled out Ryu as a reliever.
Wood has made all four of his postseason appearances in relief. The Dodgers put him in the bullpen at the start of this season, but he soon filled a vacancy in the rotation and emerged as an All-Star.
Twitter: @BillShaikin
MORE SPORTS NEWS
USC assistant coach Tony Bland among 10 charged in college basketball corruption probe
Who is Tony Bland? USC's assistant coach charged with involvement in a federal bribery scheme
Dale Earnhardt Jr. running outside of NASCAR's conservative pack
---
Get our Dodgers Dugout newsletter for insights, news and much more.
You may occasionally receive promotional content from the Los Angeles Times.