Column: It's change and hope for the Dodgers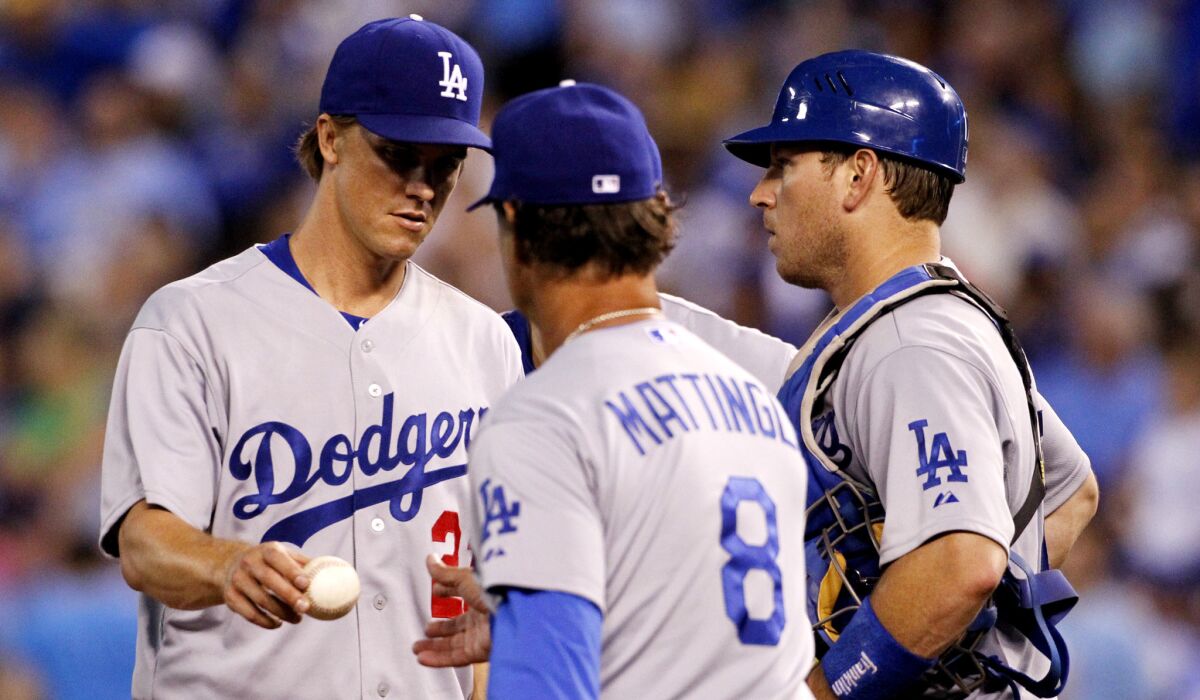 The smell of fresh paint fills the concourse. The sight of ushers dressed in Boston Celtics green rattles the nerves. The giant luxury car hood ornament sitting atop the right-field scoreboard raises eyebrows.
The 2015 version of Dodger Stadium opened its doors for the first time Saturday and changes were as numerous as Angels bats on Brett Anderson pitches.
Missing will be the soothing sound of a ballpark organ, as 28-year veteran Nancy Bea Hefley's workload has been reduced to one song during the actual game. One. She waits for seven innings, plays "Take Me Out to the Ballgame," and goes home.
There is a new clock behind the center-field fence, ticking off 2:25 between innings, an effort to speed the pace of play, as if any of those lolly-gagging lugs are going to pay attention. There is a new voice booming over the public-address system, former radio reporter Todd Leitz replacing Eric Smith, who decided to devote his time to, among other things, announcing for the Clippers, thus gaining revenge for all the time the Clippers were booed at Dodger Stadium.
Of all the changes at Dodger Stadium, though, none seem more unsettled than downstairs, out of sight, in the actual room where the real Dodgers live.
Jimmy Rollins is in Matt Kemp's former locker. Yasmani Grandal is in Hanley Ramirez's former locker. Andre Ethier is in no-man's land, having relocated his locker for the first time since joining the team, halfway across the room, floating around in there as he's doing on the roster.
Yasiel Puig hasn't moved, he still has the locker closest to the door, giving him the best chance to rush inside and get dressed before being marked tardy. Juan Uribe also hasn't moved, he's still on the other end of the clubhouse, which means he can still only sit helplessly while Puig screams joking insults at him from across the room.
Then there's odd little pockets that house some of the most anonymous, important guys in the room. The relievers. A bullpen for the leader of the bullpen.
Along one wall is J.P. Howell and Joel Peralta. Along another wall is Paco Rodriguez, Chris Hatcher, Pedro Baez and Yimi Garcia. The six pitchers have combined for 35 career major league saves, nine fewer than Kenley Jansen accumulated last season, yet beginning with Monday's opening day at the stadium against the San Diego Padres, they will be asked to replace Jansen for at least a month while he recovers from foot surgery.
"It's going to be a fast, fun ride," Howell said.
And a scary one. The other new Dodgers faces have pedigree and production. These guys have wings and prayers.
"Who's it going to be?" Howell said. "It's like, 'It could be you. Or you. Or you. Or all of us.' "
When Rollins leads off on opening day against the Padres, fans know they are cheering a former National League most valuable player. When Howie Kendrick bats cleanup, fans will remember all of his big hits for the Angels. Behind the plate, Grandal will be remembered for some of his battles as a Padre.
But in the ninth inning in a save situation? Folks can only hold their breath.
"I feel pretty good about it, I like the combination of guys, we have a number of guys who have been throwing the ball well," Manager Don Mattingly said.
But, yeah, he'll be holding his breath, too.
The Dodgers would like for the hard-throwing Hatcher, a former Miami Marlins converted catcher, to be the guy. But he has never had a career save and struggled this spring with a 6.23 earned-run average in 10 appearances.
The left-right duo of Rodriguez and Garcia had a great spring, combining to give up only one run in 22 innings. But Rodriguez has but two major league saves and Garcia has appeared in only eight major league games.
Baez, a converted third baseman, has tons of potential and struck out 11 with only two walks in 10 spring innings. But he has yet to record his first major league save.
The two veterans who could most easily work the instant-closer gig are their two best setup men. Howell and Peralta, an important off-season acquisition from Tampa Bay, have combined for 958 major league appearances, but most have come before the ninth inning.
Both guys have pitched in Tampa, in similar closer-by-committee situations under Andrew Friedman, now the Dodgers' president of baseball operations. Both guys say it can work here for the month that Jansen will be sidelined. They said Saturday that they were going to hold a bullpen meeting to get everyone's mind right.
"You don't want to do it long-term, but we know Kenley is coming back soon, and we can figure it out," Howell said. "Sometimes guys complain when they pitch or don't pitch, but we can't have that here. We have to have each other's back and all be ready."
Added Peralta: "We're going to remind guys, be part of this bullpen, be ready for anything, don't ask for innings, don't cry about it, just be ready for it."
The guess here is that Monday afternoon, if a closer is needed, Hatcher gets the first chance. And if he can grab it, he will keep it. But who knows if he can grab it.
It could be the season's coolest new story. Or maybe not. The only thing certain is, the Dodgers biggest nightmare would be to begin this season the way they ended last season, with a defeat resulting from bullpen chaos.
Well, at that point, at least Nancy Bea Hefley could serenade the departing fans with strains of "Tomorrow."
That is, if she were still there.
Get our Dodgers Dugout newsletter for insights, news and much more.
You may occasionally receive promotional content from the Los Angeles Times.