Dodgers' Yasiel Puig seeing (Cardinals) red as he prepares for season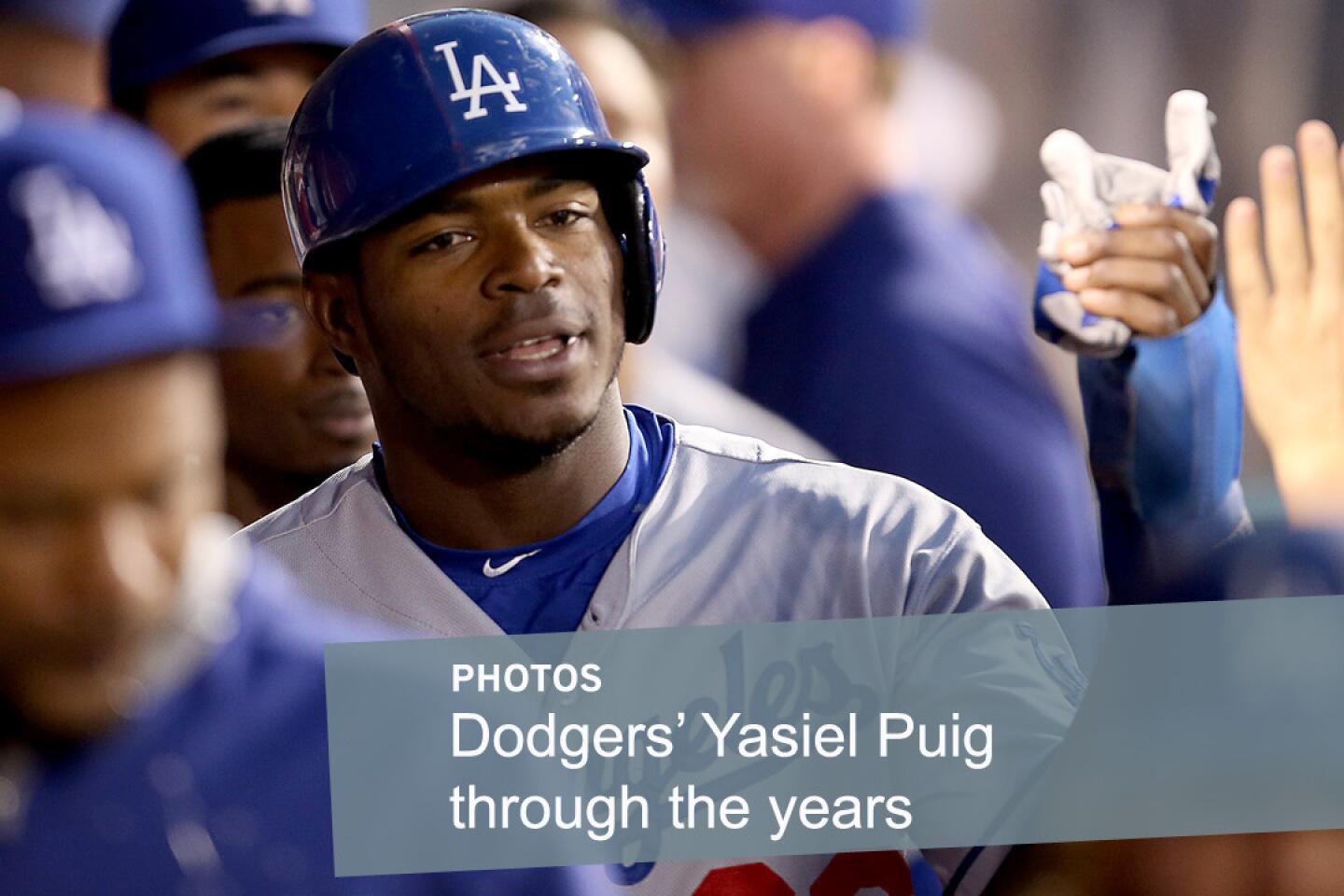 Dodgers center fielder Yasiel Puig is congratulated by teammates after scoring against the Angels during a game in Anaheim last season.
(Luis Sinco / Los Angeles Times)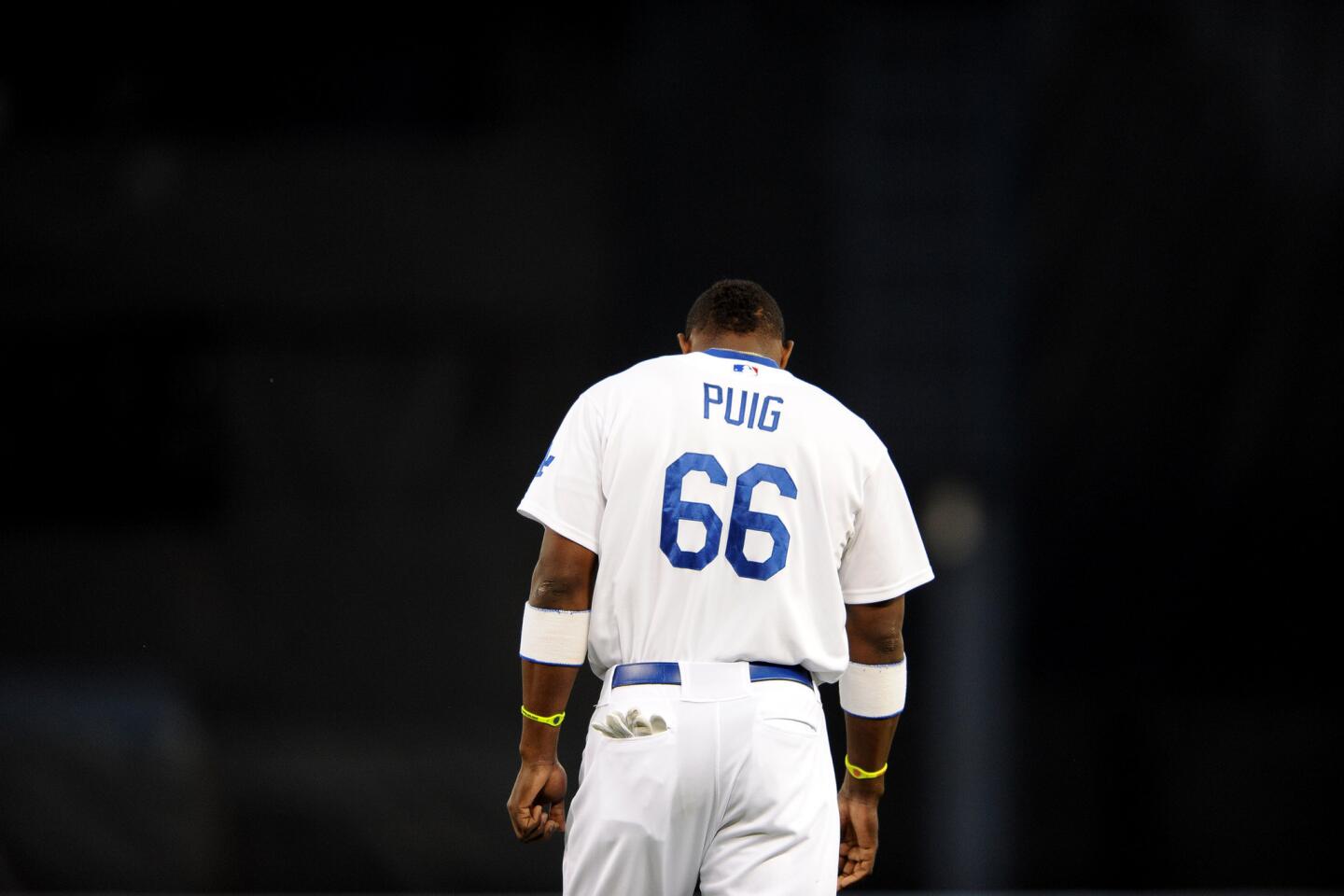 Few baseball players in the Major Leagues have made as big of a splash in their rookie season as Dodgers outfielder Yasiel Puig. After signing a 7-year deal in 2012, Puig made his debut a year later.
(Wally Skalij / Los Angeles Times)
From August 2012 to June 2013, Puig spent his time in the Minor Leagues. In 2012, he played for the Rancho Cucamonga Quakes.
(Wally Skalij / Los Angeles Times)
Puig signs baseballs before his Major League debut against San Diego Padres in June 3, 2013. His much-awaited debut did not disappoint, as Puig hit 2-for-4.
(Harry How / Getty Images)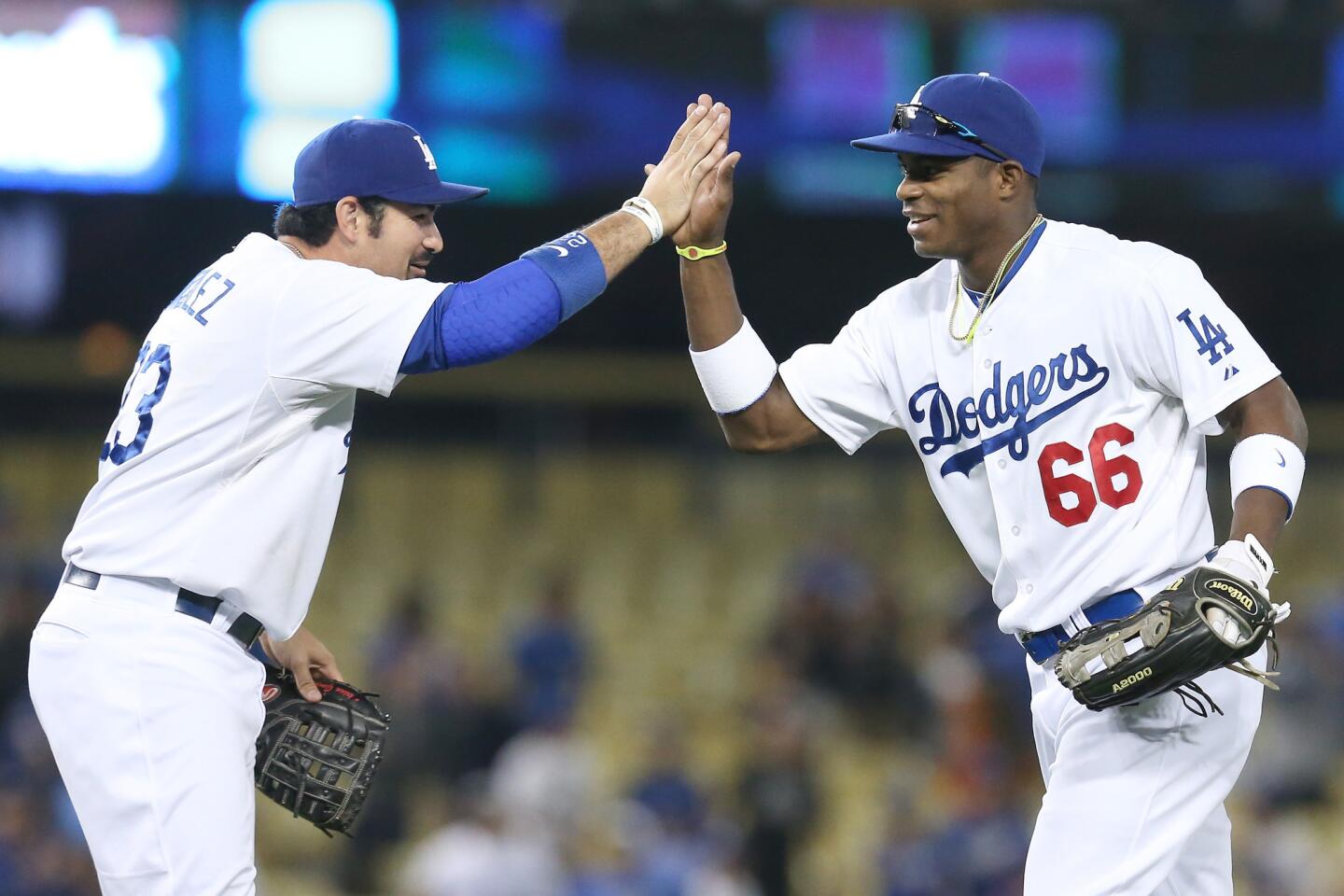 His second game was even better than the first. Puig hit two home runs and a double, driving in five runs.
(Stephen Dunn / Getty Images)
Puig became an instant sensation, winning back-to-back National League Player of the Month in his first two months in the Major League. By July, he was a star for the Dodgers, juggling baseballs with soccer star Cristiano Ronaldo before the game against the New York Yankees.
(Susannah Kay / Los Angeles Times)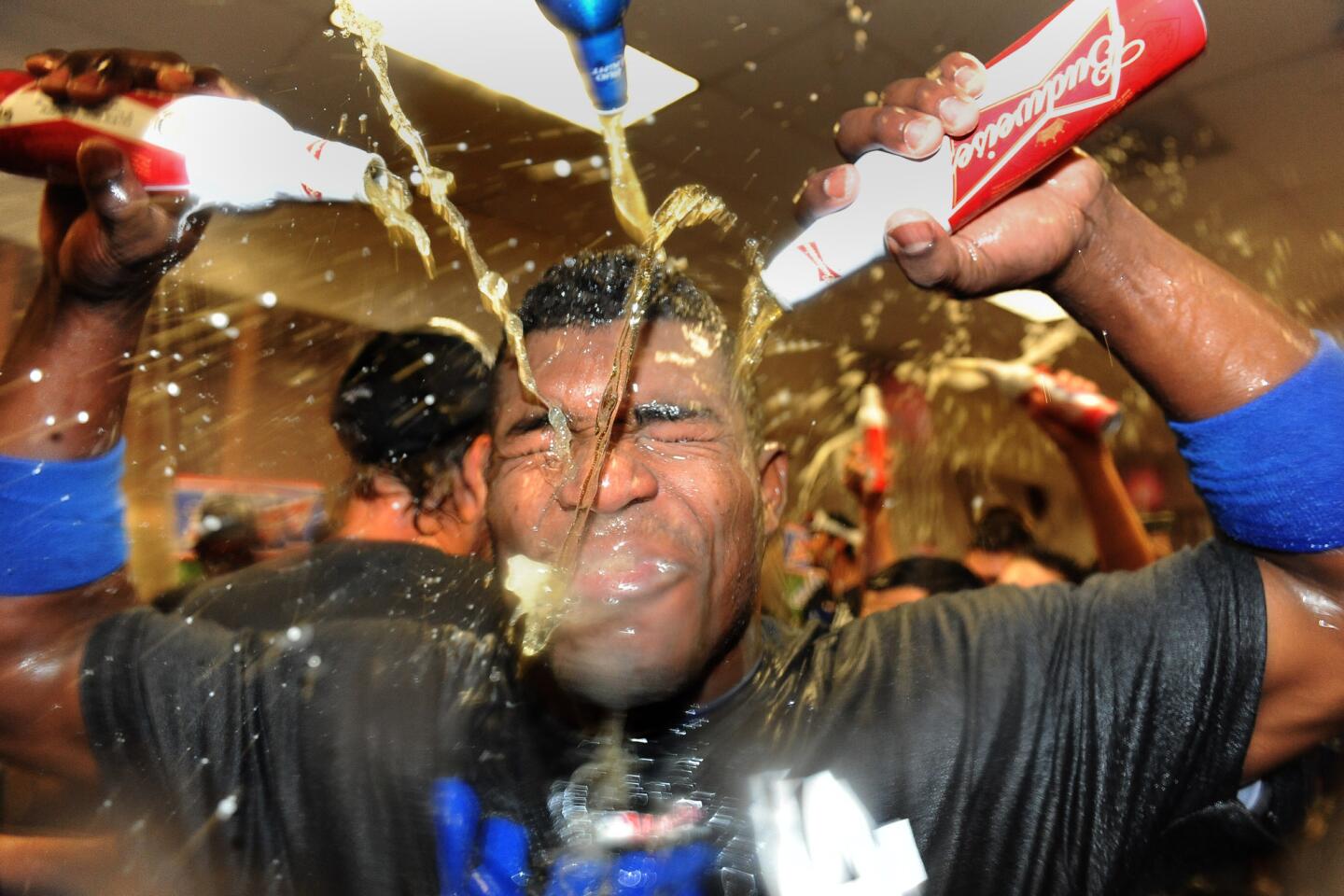 Puig's stellar rookie season was a big factor into the Dodgers clinching the NL West title in 2013. Puig celebrates with his teammates after clinching the division against Arizona on September 19.
(Wally Skalij / Los Angeles Times)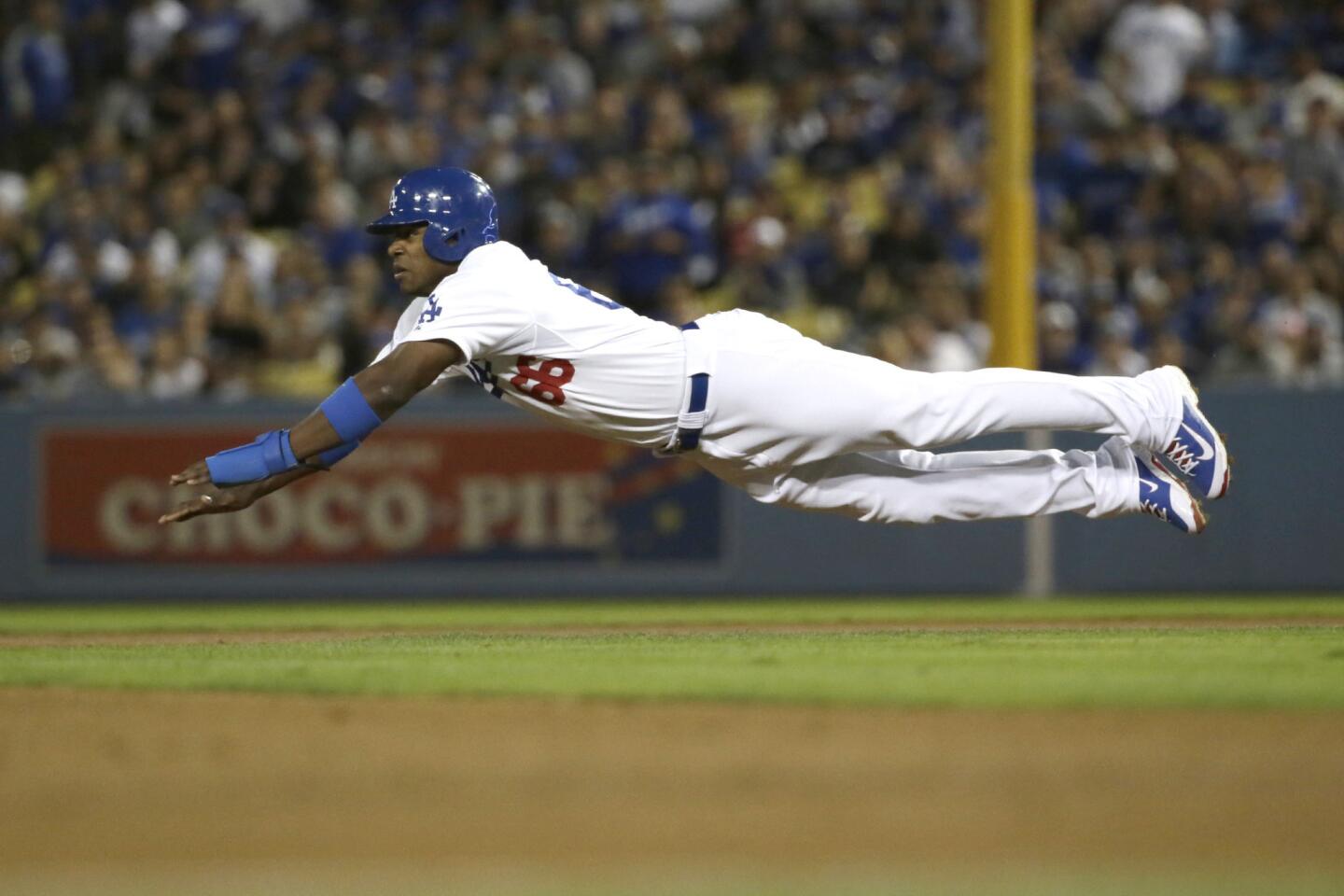 Despite missing out on winning the National League Rookie of the Year, Puig carried his great rookie season deep into October. In 10 games during the postseason, Puig hit .333 and drove in four runs.
(Robert Gauthier / Los Angeles Times)
Puig shows his frustration after being outed on a double playin the bottom of the ninth inning against the St. Louis Cardinals in game 4 of the NLCS. The Dodgers' hopes of reaching the World Series for the first time since 1998 was dashed as the Cardinals won the series, 4-2.
(Allen J. Schaben / Los Angeles Times)
Dodgers right fielder Yasiel Puig signs autographs before the 2014 MLB All-Star Game in Minneapolis on July 15, 2014.
(Craig Lassig / EPA)
Yasiel Puig looks on during batting practice for the 2014 MLB All-Star Game in Minneapolis on July 15, 2014.
(Paul Sancya / Associated Press)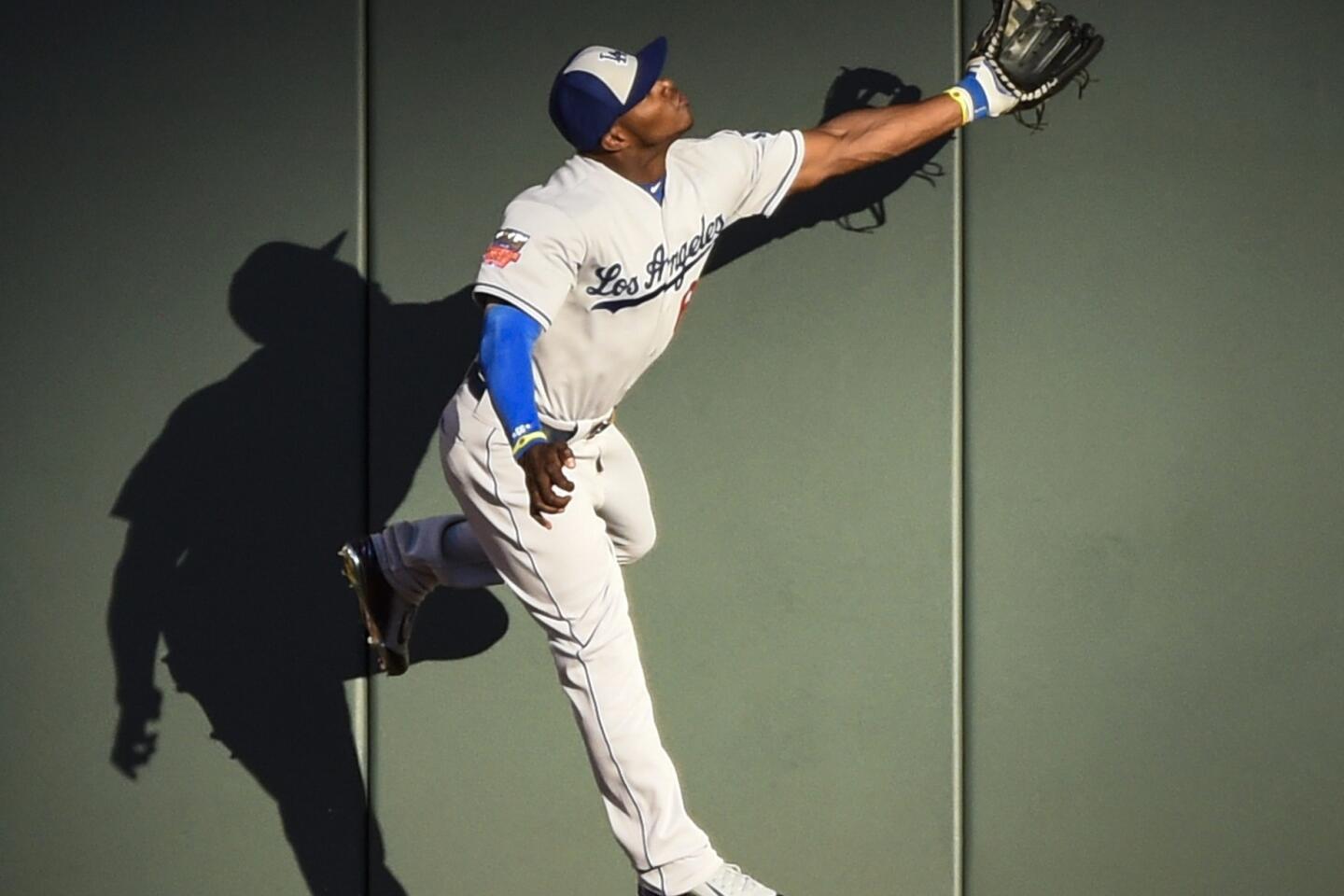 Dodgers right fielder Yasiel Puig tries to make a catch on a run-scoring triple hit by the Angels' Mike Trout during the first inning of the 2014 MLB All-Star Game in Minneapolis on July 15.
(John G. Mabanglo / EPA)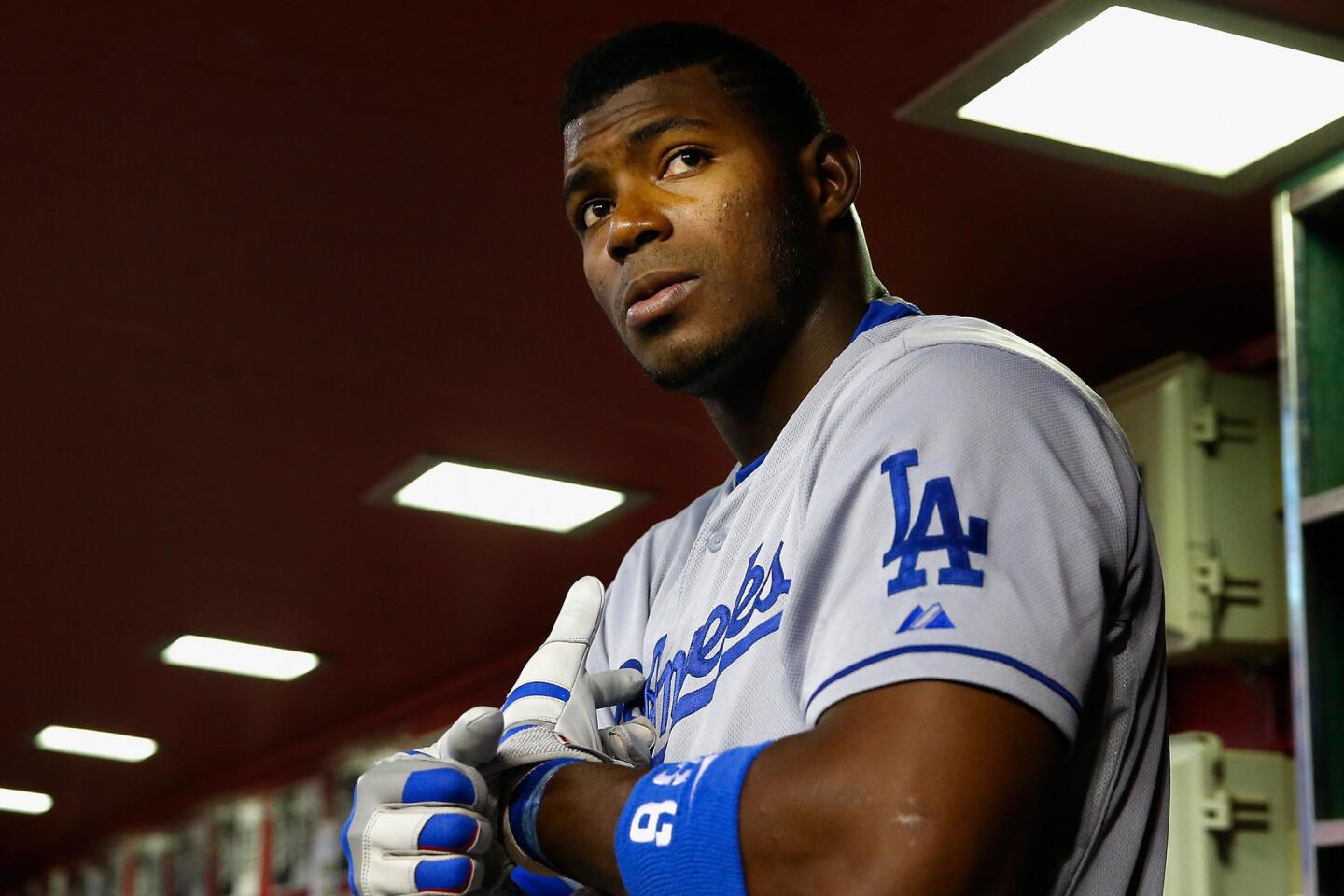 Dodgers right fielder Yasiel Puig puts on his batting gloves in the dugout during a game against the Arizona Diamondbacks on April 10, 2015.
(Christian Petersen / Getty Images)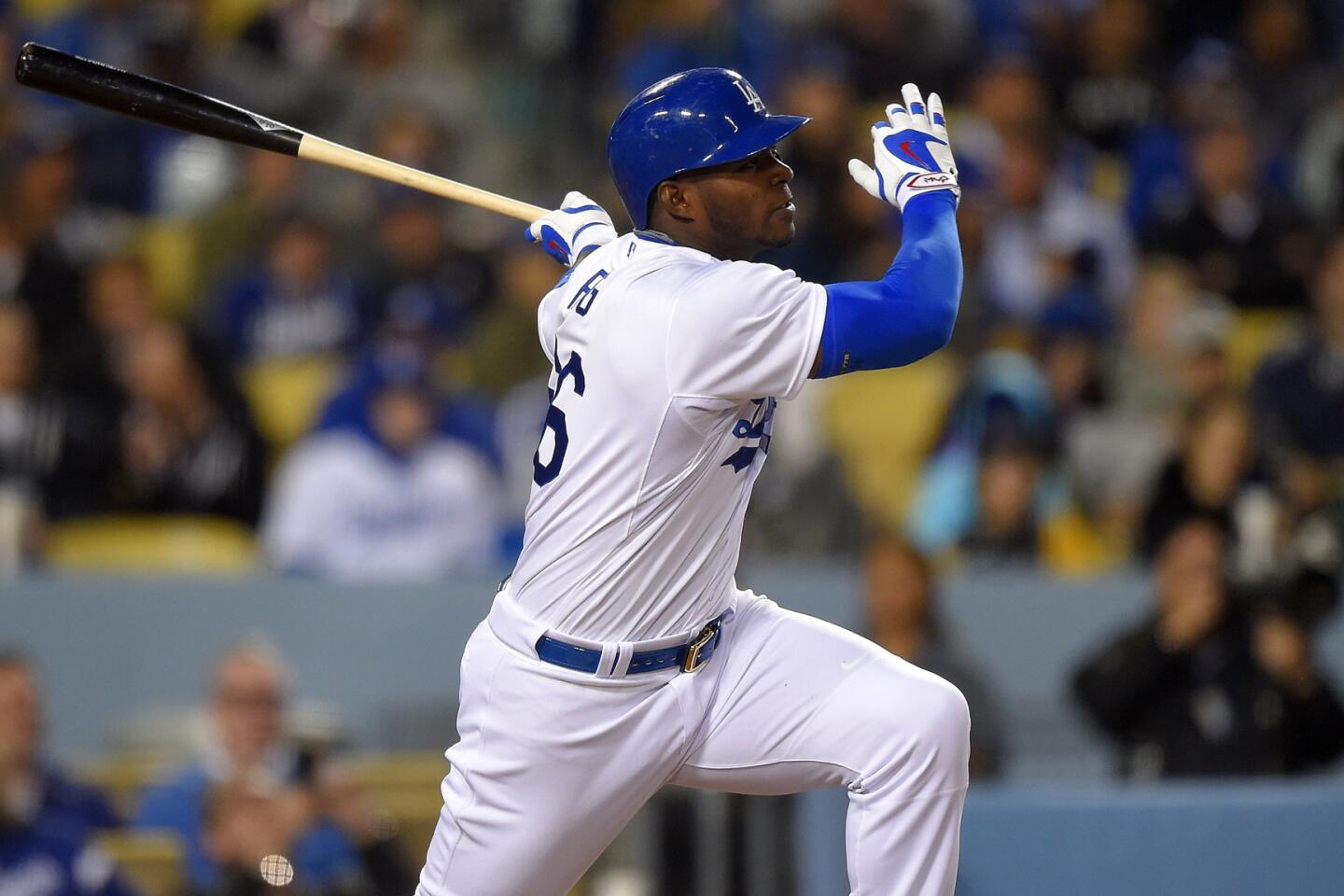 Dodgers right fielder Yasiel Puig hits a double against the San Diego Padres on April 7, 2015.
(Mark J. Terrill / Associated Press)
Dodgers right fielder Yasiel Puig hits a solo home run during a win over the Arizona Diamondbacks in Phoenix on April 12.
(Christian Petersen / Getty Images)
As Yasiel Puig shared a story about a friend's 10-year-old son, he started to laugh.
The boy is a fan of the St. Louis Cardinals. He likes to wear red clothes. The color of his bedroom is red.
Puig playfully threw up his hands and rolled his eyes. "Can you imagine?" he said in Spanish. "It drives me crazy."
Speaking Friday at City Hall, where Dodgers players met with city leaders and wounded military servicemen, Puig said he dreams constantly about the Cardinals, who eliminated his team from the playoffs in each of the last two seasons.
"If we can beat them, we can win the World Series," Puig said. "We have to pass through them. They're our principal rivals, not San Francisco, not anyone else."
Puig had a particularly hard time against the Cardinals in the National League division series. Limited to three hits in 12 at-bats over the first three games, Puig started Game 4 on the bench. The Dodgers lost that game to end their season.
Puig said the pitching he faced in the playoffs was similar to what he faced during the regular season.
"But I can't say there's no pressure because that would be a lie," he said.
Puig disputed the notion that his problems at the plate were distinct to him. To a certain extent, he was right. There were five or fewer runs scored in each of the last three games of the series. Adrian Gonzalez batted .188 in the series and Juan Uribe .118.
"We have to calm down — me, Adrian, Uribe," Puig said.
They also have to play fundamentally sound baseball like their adversaries, starting with him. "We have to be intelligent on the field," he said.
Puig acknowledged the Dodgers will have to overcome plenty of obstacles before another potential October showdown with the Cardinals.
"In the regular season, we have to battle San Francisco so we can win the key to the playoffs," he said. "When we win that key, we'll go for St. Louis."
Puig said he has intensified his off-season training program, in part because of advice from fellow All-Stars such as Miguel Cabrera and Jose Altuve. He has also drawn inspiration from teammates Gonzalez and Clayton Kershaw, of whom he said, "I want to have the discipline they have for baseball."
This might be the only part of baseball that doesn't come easily to Puig, who admitted, "I don't like working out. It's like they have to pay me to get in the gym."
With less than a month remaining until the Dodgers' first full-squad workout, Puig said he was uncertain of how much he weighed.
"I weigh 255 pounds," he said. "I don't know. Maybe 260."
He laughed and continued, "You can put in the newspaper, 'Puig came fat.'"
Puig reported to spring training last year at 251 pounds. By the start of the season, he was close to what the Dodgers consider his optimal weight, around 240.
"The weight at which I report doesn't matter," he said. "Uribe is fatty. He weighs like 400 pounds, but he saves us in all games at third base. It doesn't matter: fat, skinny, dwarf, big. We all have different abilities."
Puig said he is focused on improving his speed; he intends to steal more bases this season. He stole 11 in each of his first two seasons.
He said he also wants to be more consistent. While he finished with a .296 average, he endured a couple of crippling slumps.
"Consistency is what will take you to what you want," Puig said.
Consistency from Puig could be crucial for the Dodgers, who didn't re-sign Hanley Ramirez and traded Matt Kemp. Puig said he would miss his departed teammates, including Dee Gordon (also traded), and wished them well with their new teams.
Puig said he didn't feel any added pressure because of the changes to the lineup.
He said he hasn't been told where he might bat or where he might play on defense. His preference is to return to center field, where he played 52 games last year. Management envisions rookie Joc Pederson in center, with Puig in right. Puig said he would accept whatever role is assigned to him, though he made one request.
"I'd like to play one position this year," he said. "I have a very big room in my house and I don't have a Gold Glove. I have nothing. I need a Gold Glove."
Twitter: @dylanohernandez
Get our Dodgers Dugout newsletter for insights, news and much more.
You may occasionally receive promotional content from the Los Angeles Times.