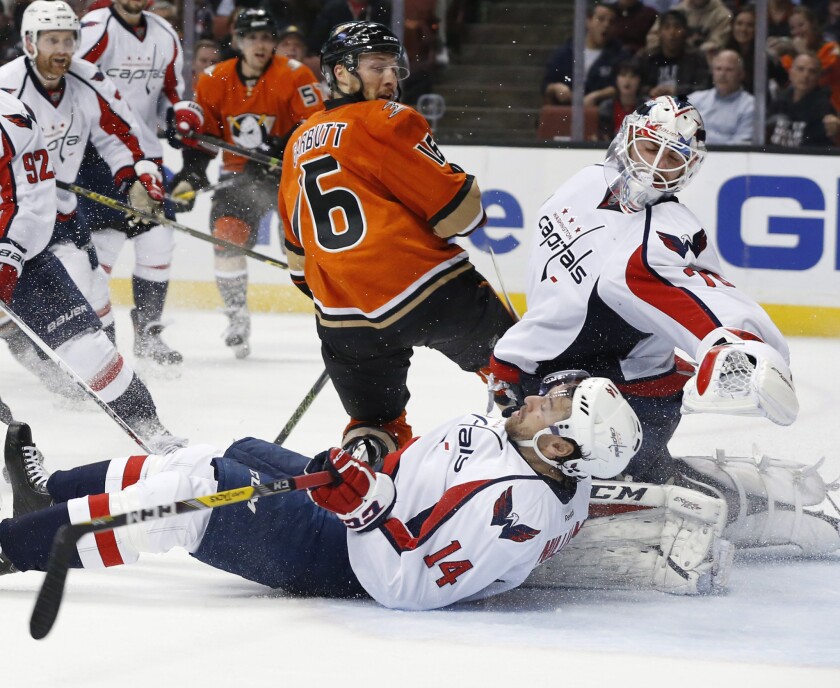 In modern-day parlance, it's called big-boy hockey. Unfortunately, under modern-day format, it required a shootout.
Otherwise, if this were June, the Ducks and Washington Capitals might still be playing one of those triple-overtime playoff games.
"It would probably be, like, eight or nine overtimes," Ducks defenseman Kevin Bieksa said.
A June meeting in the Stanley Cup Final seemed realistic given the high level of play Monday. It took goalie Braden Holtby backstopping the NHL's best team to end the Ducks' franchise-record 11-game winning streak with a 2-1 shootout win at the Honda Center.
Nicklas Backstrom scored in the third round to end a game that lived up to its billing.
"We played against, in my opinion and a lot of people's opinion, the best team in the East," Bieksa said. "We matched up well against them. It was a good game… We play that game over again, who knows? It could be a different result."
The Ducks got a point and are 25-4-3 since the holiday break but took their first loss in nearly a month. Also ended was their streak of 11 straight games with a power-play goal.
Ducks Coach Bruce Boudreau acknowledged the weight of the streak but appreciated the intensity of the effort against a Capitals team that leads the NHL with 102 points.
"It's stressful winning every game because you try so hard to keep that thing going," Boudreau said. "It fatigues you out.
"But there were two good teams playing chess a lot of times out there."
Holtby stopped David Perron and Jakob Silfverberg in the shootout to set up Backstrom. It ended a duel with Ducks goalie John Gibson, who made 31 saves but was beaten twice in the shootout.
Ryan Getzlaf scored 60 seconds into the game on a slap shot that beat Holtby cleanly, on a delayed penalty to Alex Ovechkin, who tripped Ryan Kesler on the opening shift.
Washington tied the score when Andre Burakovsky's flutter shot went past Gibson in the third period. In between, there were countless edge-of-your-seat plays.
Holtby kept Washington in it early with a doorstop save on defenseman Sami Vatanen during a Ducks power play.
Anaheim could have added to its 1-0 lead in the first but it couldn't convert a four-one-one when Corey Perry's shot deflected off Capitals defenseman Mike Weber's skate.
See you in June?
Well, the teams play April 10 in Washington as a makeup game originally scheduled for Jan. 22. The first installment didn't disappoint.
"Tonight was a high-paced game," Washington's T.J. Oshie said. "It felt a lot like playoff hockey."
Stewart update
Chris Stewart skated for the first time since he broke his jaw in a fight with Dalton Prout of the Columbus Blue Jackets on Feb.11. He said he had wires taken out last week and that a return in four to six weeks would be "ideal."
"It's been a blessing in a disguise," Stewart said. "I'd rather it be in the jaw and not a hand or a leg or something like that. I can still work out and get what I need on the ice."
Stewart said he can protect himself better but that it was a square hit. "In hindsight, it obviously could have been different," he said. "To be honest, it just got me clear in the jaw, obviously the right spot."
---