What we learned from the Ducks' 5-4 overtime loss to the Arizona Coyotes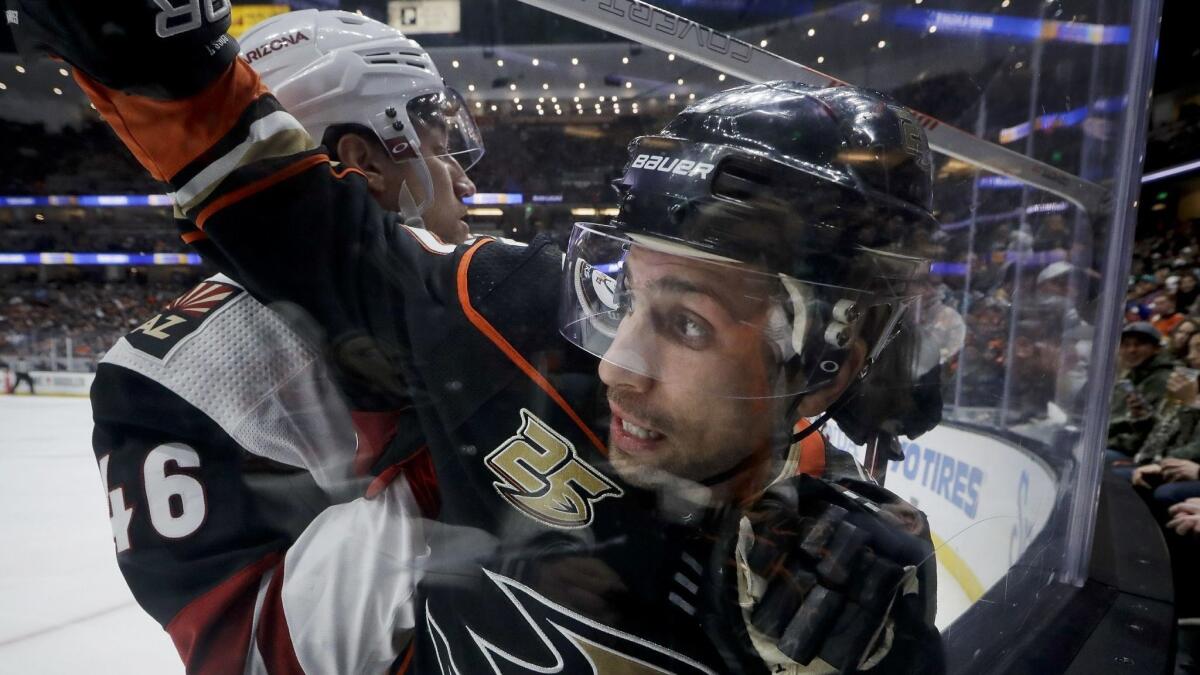 What we learned from the Ducks' 5-4 overtime loss to the Arizona Coyotes on Saturday night at the Honda Center:
You never know which Ducks team will show up
Will it be the defensively diligent and offensively opportunistic team that won 11 of 13 games earlier this season, or the mistake-prone group that has now gone winless in five games? Their lack of consistency within the season and within games has been astounding. It's not a physical problem: They had good jump in building two-goal leads over the Coyotes three times Saturday.
Is it coaching? Leadership? Strategy? Probably some combination of those factors and their constant injuries, which have forced them to play several young defensemen. Consistency is a big hurdle for young players, but the Ducks have enough veterans that this much inconsistency shouldn't happen.
Cam Fowler can't return fast enough
The Ducks miss his leadership, experience, ability to play big minutes and his puck-moving skills on defense. Fowler, who suffered facial fractures when he was struck by a deflected puck on Nov. 12 and underwent surgery a few days later, has resumed practicing but is still probably a few weeks from returning.
This is who they are
The Ducks, as currently built, are a team with a short attention span. Or, as coach Randy Carlyle said Saturday, short-term memory. They know what they should do in terms of playing the gritty defensive style Carlyle wants but they can't remember to do it—or want to do it urgently enough--on a consistent basis.
Goaltender John Gibson has been their best player throughout the season but he needs more scoring support than he has been getting. Center Ryan Kesler, plagued by a hip injury, tries hard but can no longer be the fiery presence he once was. Ryan Getzlaf tunes out of more games than he should.
The Ducks will hit the halfway point on Monday when they face top-ranked Tampa Bay and there's no telling if the good Ducks or the bad Ducks will show up for that game or the second half of the season. At least they keep it interesting.
Get the latest on L.A.'s teams in the daily Sports Report newsletter.
You may occasionally receive promotional content from the Los Angeles Times.