Ducks goalie Ryan Miller's patience pays off with satisfying wins mark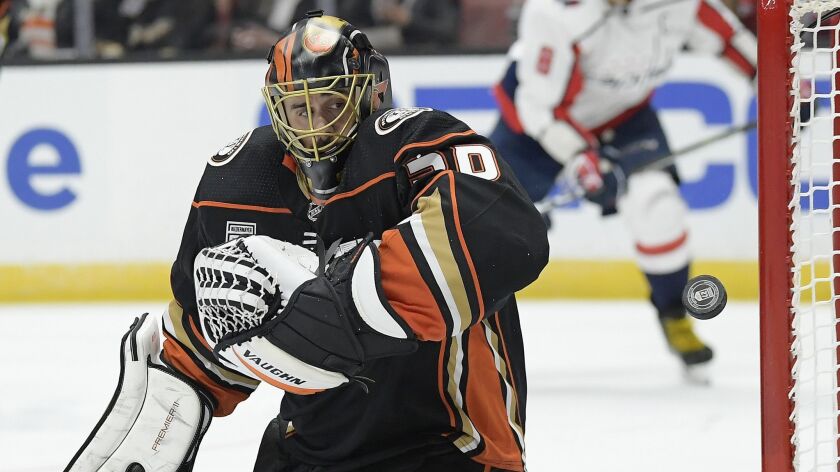 Here's what we've learned over the last week in the NHL:
Good things come to those who wait
Ducks backup goaltender Ryan Miller tied John Vanbiesbrouck's record for the most NHL wins by an American-born goalie with a victory over the Washington Capitals on Dec. 2. Miller had a chance to set the record Dec. 9 but sprained his knee and had to wait until Sunday for another chance to earn his 375th victory. Facing the Capitals again, he made 23 saves in the Ducks' impressive 5-2 victory at Honda Center and finally passed Vanbiesbrouck. Miller gave up goals to Alexander Ovechkin (from the Russian winger's trademark spot in the left circle, his league-leading 40th goal), and a long shot by John Carlson. Miller, 38, ranks 16th on the all-time wins list and is 375-270-80 with a 2.61 goals-against average, .916 save percentage and 43 shutouts in 748 games. "A little delay in the season but very satisfying to be able to come off injury and make a difference in a game," said Miller, a native of East Lansing, Mich. "It's pretty emotional for a couple reasons. When you have a knee injury you're always uncertain what's going to happen. It took a lot longer than I had hoped. But there's satisfaction tonight. The boys played a good game and I was able to get back in. I had a few clunky moments but worked through it and it's quite a nice feeling to get the win."
Jonathan Quick of the Kings ranks second in wins among active U.S.-born goalies and fourth overall with at 304. He might not catch Miller, but Miller expects someone will overtake him. "I don't think this will be a record that sticks around too long," Miller said. "There's just too many guys coming now and I think that's exciting for me because growing up, there were only a handful of guys who were able to push through who were American and it's good to know there's so many guys out there." One of them is teammate John Gibson, who has 110 wins at age 25. Gibson is on injured reserve because of an upper-body injury. "He's certainly a candidate," Miller said. "He's already playing great hockey. … It took me a little while, though."
Blues are making their move
The St. Louis Blues were 7-9-3 and near the bottom of the overall standings when they fired coach Mike Yeo in November and appointed former enforcer Craig Berube as interim coach. They seemed headed for another disappointing season but they've made significant improvements defensively and have dramatically reversed course. Their 4-0 victory at Minnesota on Sunday was their 10th consecutive win, matching a franchise record and solidifying their hold on third place in the Central Division behind heavyweights Winnipeg and Nashville. Goalies Jordan Binnington and Jake Allen have earned three consecutive shutouts, blanking opponents for 187 minutes 16 seconds. Supremely talented Vladimir Tarasenko, who scored only two points (both goals) in December, has awakened. He has a 12-game scoring streak that includes four goals and 10 points in his last four games and game-winning goals in each of the last two games. The Blues have outscored their opponents 40-14 during the streak. "I think the team's really caught their stride," Binnington told the St. Louis Post-Dispatch. "We're playing well every game, having great starts and setting the tone. Hopefully we continue our success. It's definitely fun. We're playing disciplined and selfless and it's really helping. We're having a great time playing with each other and for each other."
Who's the real attention seeker?
Bombastic Canadian broadcaster Don Cherry — he of the outrageously patterned jackets — recently called the Carolina Hurricanes "a bunch of jerks" for staging exuberantly creative victory celebrations. The Hurricanes wait for visiting teams to exit the ice before the revelry begins; their "Storm Surge" merriment has included shimmying under a limbo bar of hockey sticks, a simulated baseball game with the "batter" hitting a home run and skating around the bases, and human bowling. "It's about our players engaging our fans and thanking them for sticking with us, being there, and trying to provide a little levity to a pretty serious game," coach Rod Brind'Amour said Monday. "It's fun, people." The Hurricanes cleverly capitalized on Cherry's grumpiness: they're selling T-shirts with the words "Bunch of Jerks" printed on the front. "If that's the only way they'll talk about our team then that's fine," said Brind'Amour, whose Hurricanes have won eight of 10 games and are pushing for an East wild-card spot. "The fans are enjoying it. You've got to remember that's what we're here to do." Amen.
Promises, promises
Minnesota Wild coach Bruce Boudreau went out on an icy limb during an interview last week with Minneapolis radio station KFAN. "I can tell you right now, I'm not Joe Namath but we are going to make the playoffs," Boudreau said, invoking memories of the New York Jets quarterback's bold prediction for the 1969 Super Bowl against the heavily favored Baltimore Colts. "And we're going to be somebody hard to deal with." He might end up being right about the playoff berth, but by default. Minnesota has lost eight of its last 10 games and holds the second West wild-card berth mainly because their closest pursuers have been struggling, too. Their biggest worry could come from the Chicago Blackhawks, who have come alive and have moved within a few points of a wild-card spot.
Sign up for our daily sports newsletter »
---
Get the latest on L.A.'s teams in the daily Sports Report newsletter.
You may occasionally receive promotional content from the Los Angeles Times.