Column: Scott Niedermayer sets tone for Ducks' 5-2 victory over Capitals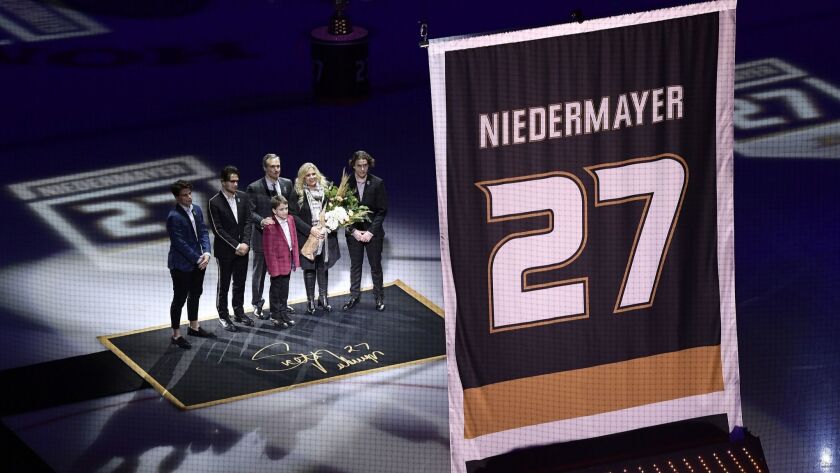 As much as Scott Niedermayer's effortless skating defined him as a great player, his class and humility define him as a quality human being. With his friends and family gathered at Honda Center on Sunday to celebrate the retirement of his No. 27 Ducks jersey, the Hall of Fame defenseman took care to recognize the team's equipment managers, trainers, and public relations officials — by name. "I don't know what else you're supposed to do," he said. "I think the longer I've been retired the more you recognize the input from so many people that help make these things happen."
While apologizing to the Ducks and Washington Capitals for delaying their game, he also read aloud the name of every player on the Ducks' 2007 Stanley Cup championship team — his fourth Cup title — and added a few words that made each player stand clear in memory. The crowd chanted his name. He smiled back, embarrassed, and watched as a banner bearing his number rose to join banners honoring Paul Kariya and Teemu Selanne. Small red lights placed on each seat twinkled brightly in the darkened arena.
Niedermayer's presence and videos of him lifting the Cup inspired the current Ducks to emerge from this mess of a season, at least for a few hours. Their 5-2 victory over the defending-champion Capitals was their fourth triumph in their last 24 games and stirred memories of when they did this routinely. Their power play connected twice, only the fourth time this season (and second against Washington) they've scored more than one power-play goal in a game. Adam Henrique, whose NHL stops are the same Niedermayer made — New Jersey and the Ducks — scored twice. "The game itself, the way we played the entire 60 minutes is what really felt great," Henrique said.
There were more Niedermayer connections. Cam Fowler, who lived with Niedermayer's family during his rookie season, recorded his 205th assist to pass Niedermayer for most assists by a Ducks defenseman. "I kind of wish it didn't happen tonight," Fowler said. "It's nice, but tonight's more about him. He left quite the legacy here, one that nobody can fill. I hope he had a heck of a night, because he deserves it."
Corey Perry, Niedermayer's teammate on the 2007 Cup team, scored his first goal since last March as the Ducks beat Braden Holtby three times in the third period. And Ryan Miller, playing for the first time after injuring his knee on Dec. 9, took the career lead among U.S.-born goaltenders by earning his 375th win. "It started off a special night and it ended with a big win, and everything with [Miller], too, made it that much more special," Henrique said.
Each player wore a replica of Niedermayer's jersey during the warmups. Maybe some of his spirit remained after they put on their game jerseys. "They were all out there before the game and listening to everybody talk about Scott Niedermayer and how much of a competitor he is and a winner," assistant coach Marty Wilford said. "I don't think they wanted to let him down, to be honest with you, so it kind of fed off of that."
Niedermayer was a winner at every level. He was the first player to win the Stanley Cup, an Olympic gold medal, world championship, World Cup, Memorial Cup (junior hockey supremacy) and a world junior title and is the only player to win four Cup titles and two Olympic gold medals.
He won his third Cup championship in 2003 by beating his younger brother Rob and the Ducks, a battle that led him to leave New Jersey in 2005 and take less money than the Devils offered so he could play with Rob.
The Ducks' history changed because Scott got along with Rob, a key contributor on the superb third line. "There's been a lot of times probably when I didn't like him," said Scott, now a special assignment coach for the Ducks. "We were typical brothers growing up. It really does stem back to when we played against each other, how hard that was. When we were 10 years old we would have loved to beat the heck out of each other in a Stanley Cup game and rubbed it in the other guy's nose, but when we were 30 or however old we were in '03 it was difficult and I think that really changed, I know my perspective, on our relationship."
In 2005 the Ducks changed owners, from Disney to Henry and Susan Samueli, and had a new general manager — Brian Burke — and new coach, Randy Carlyle. "Two short years later to win the Stanley Cup, needless to say, probably exceeded what I thought was going to happen," said Niedermayer, who was voted the most valuable player in the playoffs.
It wouldn't have happened without him. "In that year, '07, there was never any doubt, I think," said Jean-Sebastien Giguere, one of many former Ducks who attended Sunday's ceremony. "That team was so powerful. ... So it was a thrill, but we were really led by an incredible leader."
Niedermayer's leadership ability extended to Sunday night, nearly nine years after he retired.
The best tribute the Ducks can give him would be to continue to play with the professionalism he showed. It's too late for them to do much more than that this season, but it would be a good start toward a better future.
---
Get the latest on L.A.'s teams in the daily Sports Report newsletter.
You may occasionally receive promotional content from the Los Angeles Times.