What we learned from the Ducks' 5-2 victory over the Washington Capitals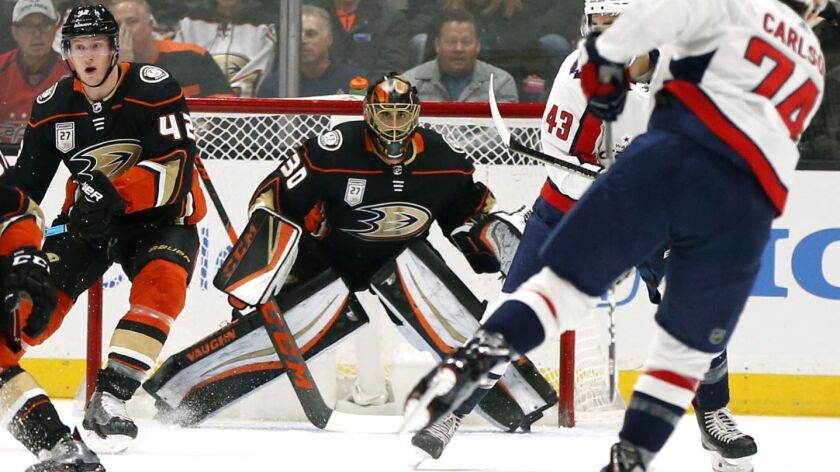 What we learned from the Ducks' 5-2 victory over Washington on Sunday:
Scott Niedermayer is still an inspiration
The Ducks retired Niedermayer's No. 27 jersey, and it seemed to inspire them to play a complete and thorough game. That has been rare lately. The tributes from Paul Kariya and Teemu Selanne created a respectful and jovial mood, with Kariya calling Niedermayer "the greatest champion of our generation," but also calling him out for his frugality. Selanne stayed in a more serious vein. "When he joined the Ducks in 2005 I really realize how good he was," Selanne said.
The most heartfelt comments came from defenseman Cam Fowler, who lived in Niedermayer's Orange County home during his rookie season. "I think it was a pretty special night," Fowler said after he broke Niedermayer's franchise record by recording his 205th assist. "As players here we have to pay tribute to the guys that came before us and some of the legends that have really helped grow the game around this area, and nobody's bigger than Scotty. So to wear his jersey in warmups, listen to him speak, listen to the guys talk before the game, was really special. I don't know if it gave our guys a jolt or not but it was one of our best games in a long time, so it was a good night all around."
Patience paid off for Ryan Miller
The veteran goaltender played Sunday night for the first time since he injured his knee on Dec. 9. He had been tied with John Vanbiesbrouck for the most wins by an American-born goalie but on Sunday night took possession of that record with his 375th career victory. Miller, 38, ranks 16th on the all-time wins list for NHL goalies.
"A little delay in the season but very satisfying to be able to come off injury and make a difference in a game," said Miller, who made 23 saves against the defending Stanley Cup champions. He gave up Alexander Ovechkin's 40th goal of the season, a laser from the left circle four minutes, 58 seconds into the game, and a blast by John Carlson at 17:01 of the second period that tied the score at 2-2. "It's pretty emotional for a couple reasons," Miller added. "When you have a knee injury you're always uncertain what's going to happen. It took a lot longer than I had hoped. But there's satisfaction tonight. The boys played a good game and I was able to get back in. I had a few clunky moments but worked through it and it's quite a nice feeling to get the win."
The Ducks can score goals
Their five goals against Washington equaled the total they'd scored in their previous six games. Two came on the power play, one by Adam Henrique to give the Ducks a 3-2 lead after the Capitals couldn't clear the puck out of their zone 37 seconds into the third period, and by Corey Perry at 3:40 of the third period. "We competed all night long," Fowler said. "We're starting to play for one another. We've been trying here for the last while but we weren't as cohesive as I think we could be. We're starting to play for one another and play with a lot of energy and we've started to see some of the benefits of doing that. It was a good effort by our guys tonight."
He also said players felt rewarded for the efforts they've made since general manager Bob Murray took over as coach. "Bob kept saying eventually we'll be rewarded if we continue to work, continue to do the things properly and not take any shortcuts and I thought defensively tonight we were excellent," Fowler said. "You have to start in your own end to have control of the puck and build your game offensively. You can't cheat because that's when you make things worse. I thought we played a full 200-foot game tonight and it was nice to see some more goals go in."
Assistant coach Marty Wilford, speaking for Murray after the game, agreed that their offensive spree came from playing solid defense. "We put a lot of things together. We've harped on it quite a bit," Wilford said. "In our own end, playing faster, holding your position and being a good defensive hockey team. You can say a lot about our offense tonight but [defense] is where it started."
---
Get the latest on L.A.'s teams in the daily Sports Report newsletter.
You may occasionally receive promotional content from the Los Angeles Times.