In case the crowd's roar during the pregame introductions wasn't a clear enough welcome-back message for Kings goaltender Jonathan Quick after a 59-game absence, Ducks winger Corey Perry was happy to provide him another welcome later in Saturday's game. Perry's version was of the rude variety, taking the form of a swift, nasty slash to Quick's leg during a goalmouth scramble during the third period.
"Didn't take long," Quick said, with a half-smile.
Nor did it take long for Quick, the backbone of the Kings' Stanley Cup championships in 2012 and 2014, to get into top form after returning from the groin injury he had sustained on opening night.
Quick's contributions to the Kings' 4-1 victory at Staples Center on Saturday went far beyond a 32-save performance that included 14 stops in the third period. His confidence gave his teammates a renewed sense of security, launching them toward a four-goal third period and a come-from-behind win they urgently needed in order to stay close to a playoff spot. His feistiness and mere presence became rallying points for the Kings, who had drifted dangerously near oblivion by losing six of their previous eight games.
"He's probably the emotional leader in a lot of ways for our hockey club," Coach Darryl Sutter said. "It's good to have him back in the room."
And even better to have him back in the starting lineup.
"Something about that guy, when you have him in net, obviously it's a calming effect," center Anze Kopitar said. "And I think any time you can get a player of his caliber — not necessarily the goalie — getting back in the lineup, I think it kind of sparks the team, too. Not so much in the first two periods, but I think obviously the third period was the one we pushed through and showed some glances of the old team and the team we need to be."
Performances like this, with Tyler Toffoli scoring twice, Dustin Brown scoring on a deft redirection in front of the net, Jeff Carter busting a slump with a goal and an assist, and a noticeably physical middle period, make it impossible to write off the Kings' postseason chances. Not every result will be as favorable as it was on Saturday, and Sutter indicated he will manage Quick's workload carefully.
"The guy hasn't played in four and a half months. You're not going to fatigue him or anything like that," Sutter said.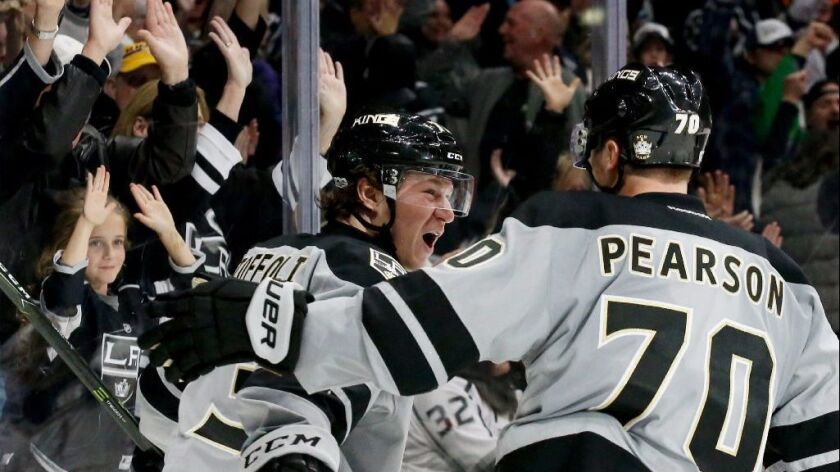 Still, the Kings' ability to capitalize on the Ducks' defensive mistakes — several by a shaky Sami Vatanen — and their efficiency in the third period were reminders of how they played when they were at their best and stand as a blueprint for how they must play if they're going to make up ground over their final 21 games.
It won't be easy. But having Quick back means they believe they can give it their best shot, and that could make it interesting.
"It's exciting having Quickie back. He's one of the best, if not the best goalie in the league," said Toffoli, who tied the game at 3:37 of the third period on a second effort and scored the winner at 7:48 after Carter threaded a pass to him beneath the legs of diving Ducks defenseman Cam Fowler. "He stood on his head and made some big saves when we needed them."
It was just like old times on the ice. The same was true in the Kings' locker room, where Quick was, as always, the least outwardly emotional guy in the place.
Complimented on having given up only one goal, he shrugged. "We won. We found a way to win," he said. "Scored four goals. You score four, you should win most nights. We were able to do that."
Nor was he nervous, he said, and he couldn't pinpoint a moment when he made a save or pushed off on one leg forcefully enough to assure himself his groin injury had healed and he'd be physically able to handle what became a rough-and-tumble game.
"No, we tested it in practices. They wouldn't have given me the green light if we didn't try everything during practice," he said of the Kings' medical staffers. "I was completely comfortable with that. With the injury I had no issues at all. It was just more of not playing a game in four and a half months, whatever it was. You're trying to make the saves and get a routine going and get a rhythm out there and try to help the team win."
He dropped his guard only when he acknowledged having wondered whether he might not return this season. "When you first get hurt, everything runs through your mind. You start thinking thoughts that maybe you shouldn't," he said. "I'm just glad it worked out that I was able to come back and play here…. I got to spend a little more time with the family but at the same time you feel like something is missing, so it's good to be back."
Good for him, and even better for the Kings' playoff chances.
Follow Helene Elliott on Twitter @helenenothelen
---