Kings' kids are all right with ageless Carter on their line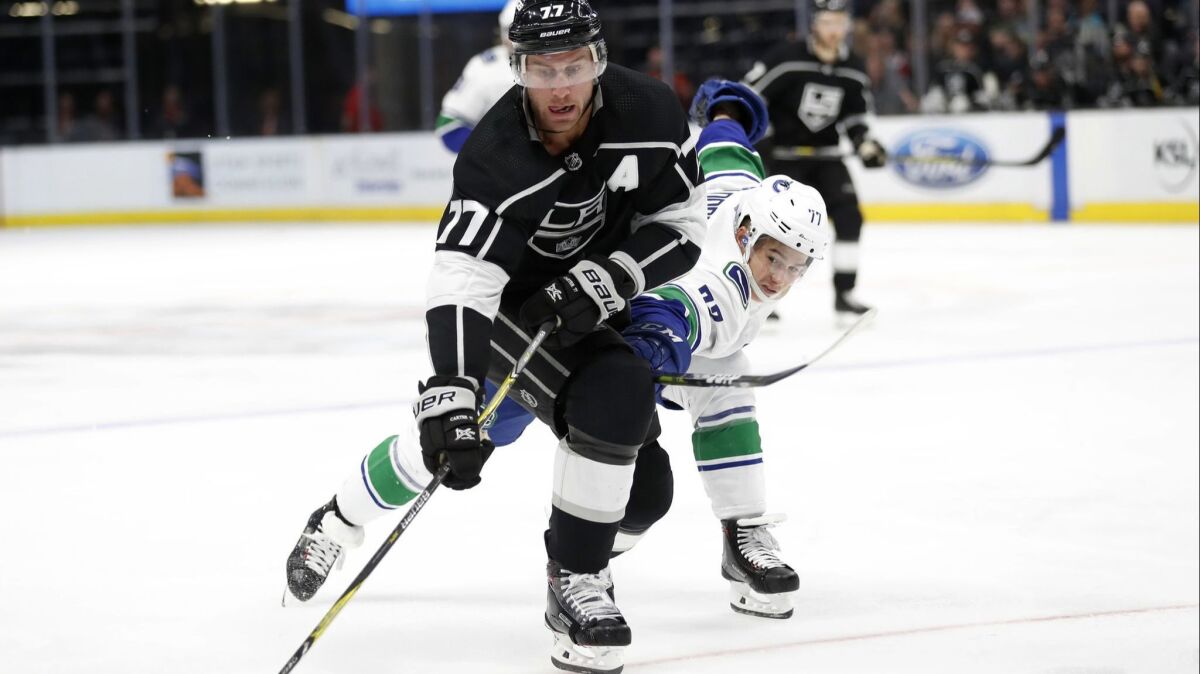 Reporting from Toronto —
If it were a movie, it would be called "The Curious Case of Jeff Carter." As he gets older, his linemates get younger.
For years Carter was, semi-jokingly, a father figure to Tyler Toffoli and Tanner Pearson. Lately, it's Jaret Anderson-Dolan, 19, and Michael Amadio, 22, next to the 33-year-old Carter.
"[First it was] Tanner and Toff," Anderson-Dolan said. "I can't imagine what he's saying [about us]. We must be grandkids to him then."
The three comprise one of the more effective lines for the Kings. They're at different stages of their careers but they complement each other. Carter supports the puck. Amadio distributes it. Anderson-Dolan leads the forecheck.
"Those kids have been good for him," Kings coach John Stevens said of Carter. "I think he really communicates well with those kids. They've been good energy. They both make a lot of plays and have a lot of poise with the puck … it's not surprising that the kids would get along with him and play well with him because I think he's an easy guy to play with."
Carter's goal Thursday was his first since March 29. In training camp he said his legs weren't fully under him following his recovery from a lacerated ankle tendon a year ago, but Stevens said he's skated well and moved better with the puck.
Carter recently said it's been fun with his new linemates.
"Amadio's a highly skilled guy, he can make very good plays in the middle and AD's AD – he works his [butt] off and hunts pucks down and creates turnovers and plays the game the right way," Carter said.
Amadio got the third-line center job with a dedicated offseason training strength program spent working on quicker first strides and spinning off defenders in corners, among other aspects.
"I knew what I had to do," Amadio said. "Camp was just coming to work over the summer and putting it all together during camp, which I think I did. It all came together for me. I thought I was playing my best hockey there."
Anderson-Dolan played a season-high 17 minutes, 57 seconds on Saturday and seems to be getting more acclimated to the NHL with each game. Stevens said they'll be conscious of the schedule and track his fatigue but also that "he's a really well-trained guy for a young player and we'd have no problem keeping him in."
A decision will have to be made soon on keeping Anderson-Dolan with the Kings or returning him to his junior team. So far, he's made a case to stay. But he's not satisfied there.
"It's not just that I'm in the lineup," Anderson-Dolan said. "I want to make a difference when I'm in. I want to stay in the lineup. I think I'm building toward that step, for sure."
Kovalchuk maintenance
Ilya Kovalchuk left practice early Sunday for an apparent ongoing issue.
"He's just got something that was nagging him," Stevens said. "It was better to give him a maintenance day than it was to have him go out there and skate on a day between games."
It was an otherwise a quiet scene at suburban MasterCard Centre . That will change Monday when the Kings take on the Maple Leafs, also known as the Auston Matthews and John Tavares show.
Stevens' youngest son, Nolan, played briefly with Matthews for the U.S. national team in 2013-14. Nolan didn't give him a scouting report on league scoring leader Matthews.
"I'm not sure you need one," Stevens said.
TODAY AT TORONTO
When: Monday, 4:30 p.m. PST
On the air: TV: FSW; Radio: iHeartRadio (LA Kings Audio Network)
Update: Matthews and Mario Lemieux are the only players in the past 30 years with at least 10 goals in their teams' first six games. Tavares has six goals in six games with Toronto, which is averaging 4.8 goals per game. Morgan Rielly is the third defenseman in NHL history to record at least 13 points through his team's first six games.
Twitter: @curtiszupke
Get the latest on L.A.'s teams in the daily Sports Report newsletter.
You may occasionally receive promotional content from the Los Angeles Times.