Kings earn fifth straight win with 2-0 shutout of Buffalo Sabres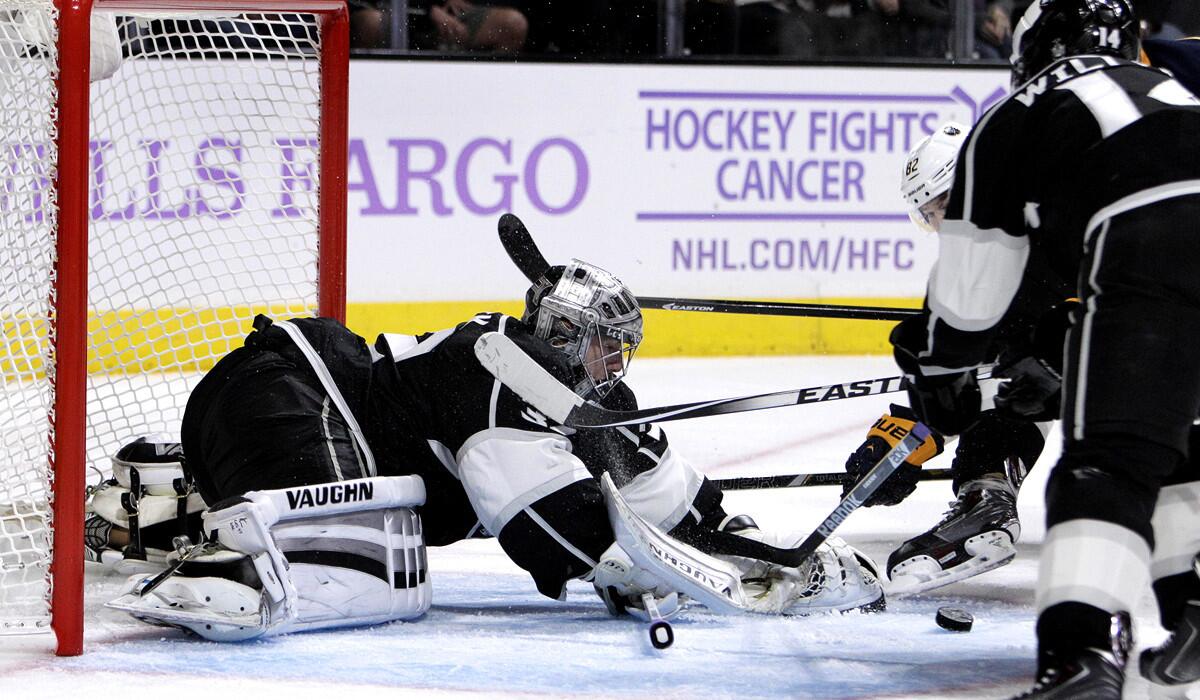 Three days felt like 30.
Three full days passed between Kings games at Staples Center. They were three days of emotions, starting with confusion and unanswered questions after their teammate, defenseman Slava Voynov, was suspended indefinitely after an alleged domestic violence incident this week.
Confusion and the unanswered questions didn't disappear; no one anticipated that. But they could control some things on the job, on the ice. And the Kings did just that, beating the Buffalo Sabres, 2-0, at Staples Center on Thursday night behind power-play goals by Jeff Carter and Anze Kopitar. Carter had the only assist on Kopitar's second-period goal.
They could celebrate another major accomplishment by goalie Jonathan Quick, who recorded his 33rd career shutout, taking sole possession of the franchise mark. Quick, who faced 29 shots, had been tied with legend Rogie Vachon with 32.
Quick has hit midseason form in the first month of the season, recording two shutouts in the last three games. He may not have been tested as frequently as he was under a barrage of shots by Minnesota and St. Louis last week, but he was sharp early, stopping the Sabres' Chris Stewart on a breakaway less than eight minutes into the game.
Quick has allowed two goals in the last four games — stopping 143 of 145 shots. He was asked about the special accomplishment. "Without a doubt," Quick said of the shutout milestone. "It takes 20 men to do that, to shut a team out for 60 minutes."
And, as his custom, he started talking about the next opponent, Columbus. The Kings will play the Blue Jackets on Sunday, as they go for their sixth straight victory.
Quick had off-season wrist surgery and felt increasingly comfortable as the preseason moved along.
"I think the concern was addressed during preseason," he said. "Getting in games, game action. I felt 100% confident. It really wasn't something I was looking to be reassured [about]. If we had started off not winning games, it wouldn't have been a concern because of my wrist. It would have been just trying to figure out the game here."
The Kings have won five consecutive games since opening the season with a loss in regulation and a defeat in overtime.
They also welcomed the return of shutdown defenseman Jake Muzzin, who made his season debut after suffering an upper-body injury during preseason. The timing was fortuitous, given the depleted state of the defense. Muzzin was back with his usual partner, Drew Doughty, and picked up where he left off last season, logging about 20 minutes of ice time.
Understandably, there was more focus on the reconfigured defense with the return of Muzzin and the indefinite absence of Voynov. Veteran Robyn Regehr, who had been paired with Voynov, was with Alec Martinez and the third pair featured Matt Greene and youngster Brayden McNabb.
The immediate pressure on the defense was eased with Carter's power-play goal, just 36 seconds into the game, beating Sabres goalie Jhonas Enroth from the top of the left circle with his vaunted wrist shot.
Carter was the facilitator on the other Kings' goal, setting up Kopitar, who scored his second of the season, at 15:11, also on the power play.
Kings Coach Darryl Sutter spoke about the tumultuous week. "We've had a lot to deal with this week," he said. "And we handled it tonight."
Get the latest on L.A.'s teams in the daily Sports Report newsletter.
You may occasionally receive promotional content from the Los Angeles Times.