What we learned from the Kings' 2-1 loss to the Jets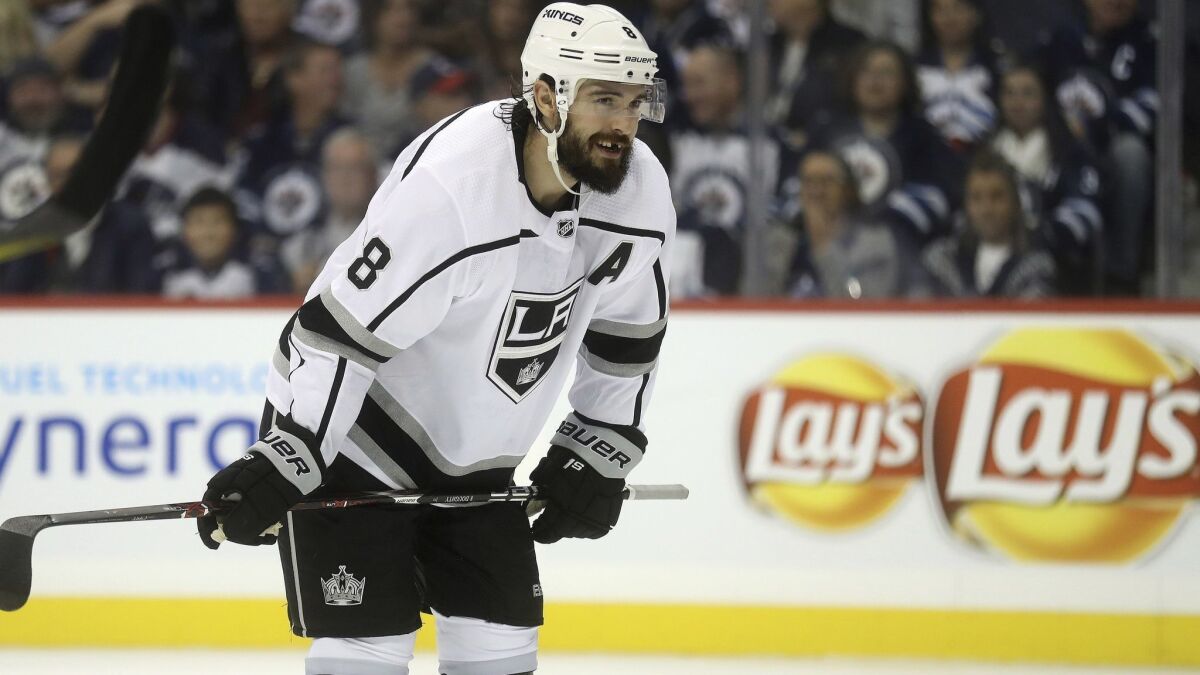 The Kings were actually fortunate to get through the second period with only one goal allowed Tuesday, considering how much the Winnipeg Jets owned the ice for nearly all of those 20 minutes.
It was a demonstration of why Winnipeg has designs on a long playoff run while the Kings remain a work in progress three games into the season. They walked out of Winnipeg's Bell MTS Place with a 2-1 loss Tuesday and a duffel bag full of frustration because they found their game too late.
Here's what we learned:
They need to shoot more. Coach John Stevens has mentioned this multiple times in the last week, but the Kings looked like they passed up shots or made an extra pass several times.
On their six-on-four power play, they played catch up top with the clock winding down. The Jets are skilled at shutting down lanes, but shooting more is on the Kings' to-do list.
"Maybe," Ilya Kovalchuk said. "We've got to figure that out. That's the problem."
The Kings are 0-for-10 on the power play and have averaged 21 shots per game through three games.
Kovalchuk's hands haven't gone away. His first goal as a King was a pretty finish of Drew Doughty's pass as he rushed to the net behind Jets defenders. Kovalchuk has also made some deft passes and shown moves that made him a prolific forward earlier in his career.
Kovalchuk said the league hasn't changed much from when he last left it. He seems to be more acclimated with each game.
"I feel pretty good, from the first game," said Kovalchuk, who scored his first goal with the Kings and first in the NHL since April 25, 2013. "But my legs, you know ... it will take a little time. Like I said, on the power play, that creates a lot of momentum for our team and, the way we play, we didn't do that. We've got to be much better."
Winnipeg is as good as advertised. The Jets play a detailed game, skate fast and still have a tight-checking identity that makes them a contender.
They can also match the Kings down the middle, starting with center Mark Scheifele, who won 15 of 24 face-offs and played nearly 25 minutes. Third-line center Adam Lowry won 14 of 18 face-offs and heads up a checking line with Brandon Tanev and Andrew Copp.
The Kings won't return to Winnipeg this season unless the teams meet in the playoffs. The Jets look like they won't let much stand in their way.
Twitter: @curtiszupke
---
Get the latest on L.A.'s teams in the daily Sports Report newsletter.
You may occasionally receive promotional content from the Los Angeles Times.