Column: President Obama recognizes golf pioneer Charlie Sifford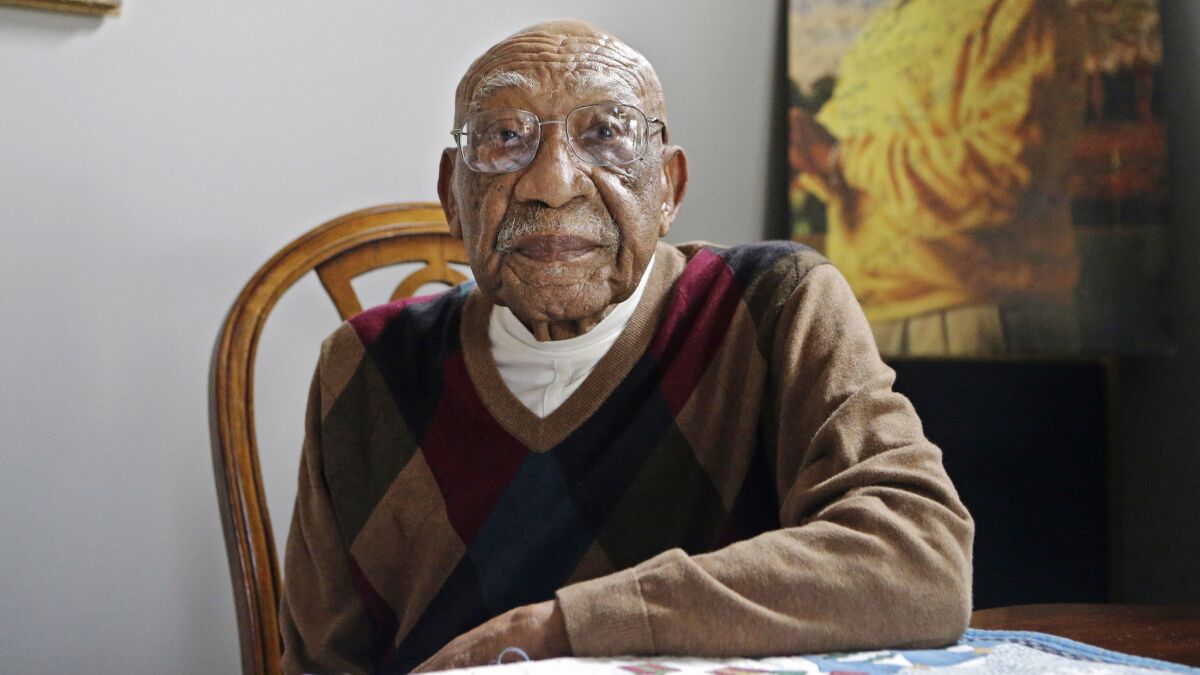 For years, Charlie Sifford fought for the right to be on the biggest stages. Monday, he was.
In a ceremony at the White House, Sifford came before President Obama to accept one of the 18 Presidential Medals of Freedom awarded this year. In the group were judges and journalists, families of civil rights leaders, actresses, artists and activists. Ethel Kennedy was a recipient.
The medal is given to those who have made "especially meritorious contributions to the security or national interests of the United States."
Sifford is a 92-year-old black man. He was also a star golfer.
To better understand Sifford's era and legacy, we quote one legend, writing about another.
Times Pulitzer Prize-winning columnist Jim Murray, Jan. 9, 1969, four days before Sifford won the L.A. Open at Rancho Park: "Prior to Charlie, pro golfers had the effrontery to have a 'Caucasians Only' clause in their bylaws. It was the recreational arm of the Ku Klux Klan."
Because of that clause, Sifford didn't hold a PGA Tour card until 1961, when he was 38.
Jaime Diaz, editor-in-chief of Golf World magazine, characterized that Monday. "Charlie got his card," Diaz said, "but he was way behind the eight-ball."
Diaz, in a 1992 article in the New York Times, described Sifford's frustration, writing that his "suppressed anger over past indignities and the desire to prove people wrong made the most difficult game even harder."
After Sifford received his PGA card, for the next nine years he was in the top 60 in winnings on the tour. In 1967, he became the first black player of the modern era to win a PGA event, the Hartford Open. He eventually was inducted into the World Golf Hall of Fame and won the PGA Seniors title in 1975.
But his most memorable moment may have come in that '69 L.A. Open, previewed in Murray's column.
On hand that day was the Dodgers' legendary pitcher Don Newcombe, who spoke of his memories Monday from his home in Sherman Oaks.
Newcombe and Sifford were close friends. They golfed together, dined together, shared the pressures of being black athletes at a time when that was, somehow, not acceptable.
"That last day of the tournament, I could just feel something good was going to happen," Newcombe said. "I had a silver dollar I kept with me when I was pitching, my good luck charm. Before he went out, I gave it to Charlie. I hope he still has it."
When Sifford won the tournament, Newcombe was among those running out to him to celebrate the moment.
Murray: "Golf was not a game for ghettos. Neither did it leave any time for carrying picket signs, joining demonstrations or running for office. Charlie birdied, not talked, his way through society prejudice. He broke barriers by breaking par. His weapon was a nine-iron, not a microphone."
Among Sifford's closest friends was Billy Eckstine, the late singer and band leader. Sifford's only nickname — and it was known mostly to his closest friends — was Little Horse. That's what it said on the necklace he wore, the one that Eckstine gave him.
Sifford grew up caddying at a country club in Charlotte, N.C., and learned the game so well that he won six Negro Opens. His game was one of consistency. He was not long off the tee, but always straight. Nor was he a great putter.
"He always said that black golfers would go out and play, but they weren't supposed to be there," Diaz said. "So by the time they'd get to the greens, they'd just rush up there and pick up their ball."
For much of his playing days, Sifford lived in Los Angeles.
Michael Yamaki is operations executive at Riviera Country Club, the most frequent and now permanent site of the L.A. Open, now the Northern Trust Open. In 2009, to honor Sifford, PGA and Northern Trust officials opened a spot in the annual tournament at Riviera for an up-and-coming area minority player. It is called the Charlie Sifford Exemption.
Sifford was at Riviera that year for a special pre-tournament party to celebrate his honorary spot.
"He was very proud," Yamaki said. "This is the perfect place for that to happen. Los Angeles is the birthplace of non-discriminatory behavior."
Today, there remains a classic photo of Sifford in the locker room area of Riviera, chomping on his ever-present cigar.
Sifford spent a lifetime opening doors that had been slammed in his face. Yet, he never lost sight of how he had benefited from others.
Two Southern Californians, Bill Spiller and Ted Rhodes, fought for years to have the PGA's "Caucasians only" clause ended. For a while, the pro tour skirted challenges to that clause by labeling its events "open invitationals." But that was eventually dropped, opening the door for Sifford and others. By then, Spiller and Rhodes were too old to compete, but Sifford wasn't.
Sifford never played in the Masters. The first black man to do so was Lee Elder in 1975. For Murray, Sifford's exclusion was always a bone of contention. For years, in quiet protest, he skipped the Masters, declining the assignment.
Murray: "This august Augusta tournament has a complicated formula for selecting its field. If you come from Formosa, it's easy to get in. If you come from a cotton patch in Carolina, it's impossible."
It has been 45 years since Charlie Sifford won the L.A. Open, a victory that stirred new interest in his cause.
Monday, unable to rise and walk to the podium, Sifford had the medal brought to him. The President of the United States fumbled for a few seconds, getting it fastened at the back of his neck, and then shook Sifford's hand.
It is Thanksgiving week, fitting to this story.
A nation that needed to say thank you to a man from a cotton patch in Carolina, just did so.
Twitter: @DwyreLATimes
---
Get our high school sports newsletter
Prep Rally is devoted to the SoCal high school sports experience, bringing you scores, stories and a behind-the-scenes look at what makes prep sports so popular.
You may occasionally receive promotional content from the Los Angeles Times.