College basketball: Michigan upends No. 4 Michigan State; No. 8 Texas Tech tops No. 2 West Virginia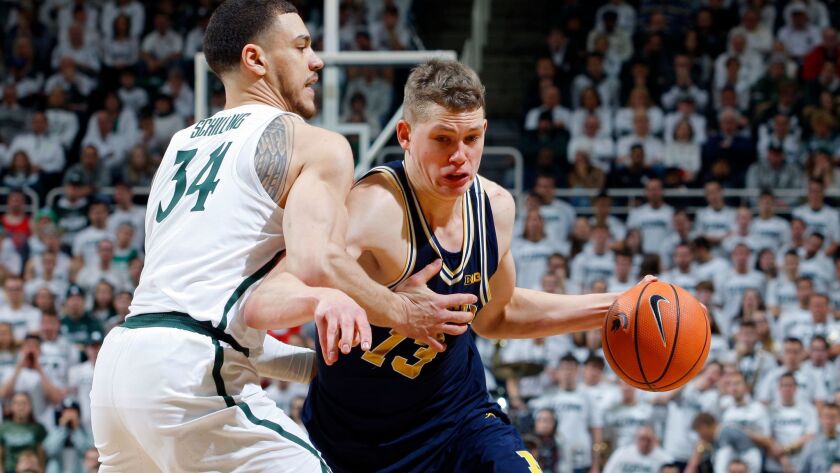 Moritz Wagner scored a career-high 27 points, lifting Michigan to an 82-72 victory over No. 4 Michigan State on Saturday in East Lansing.
The Wolverines (15-4, 4-2 Big Ten) have won eight of their last nine games this season and two straight against their rivals.
The Spartans (16-3, 4-2) are struggling, losing two of their last three games with an overtime win over Rutgers in between the setbacks.
Zavier Simpson made a go-ahead layup with 14:28 left, the 13th lead change in an intense game with 11 ties. He helped the Wolverines pull away in the final minutes with enough free throws to keep a cushion. Simpson finished with 16 points, taking advantage of a game plan that called for him and his teammates to drive toward the basket against a shot-blocking team.
Michigan's Muhammad-Ali Abdur-Rahkman scored 13 points and Charles Matthews added 10.
Michigan State's Miles Bridges had 19 points, six rebounds, five assists and two steals. Bridges gave up the ball four times as one of many turnover-prone Spartans. Michigan scored 26 points off Michigan State's 18 turnovers.
Jaren Jackson had 19 points and six blocks, limited by foul trouble for the Spartans.
at No. 8 Texas Tech 72, No. 2 West Virginia 71: Keenan Evans scored 20 points, Brandone Francis had a career-high 17 ans the Red Raiders won the first top-10 matchup on its home court.
Evans hit a lean-in jumper to give the Red Raiders (15-2, 4-1 Big 12) a four-point lead in the final minute and send the first sellout crowd of the season into a frenzy. The Mountaineers had their nation-leading 15-game winning streak stopped.
Jevon Carter scored 28 points — one off his career high — for West Virginia (15-2, 4-1). Esa Ahmad added 18 in his season debut following an NCAA academic suspension.
at No. 9 Oklahoma 102, No. 16 Texas Christian 97 (OT): Trae Young scored 29 of his 43 points after halftime to lead the Sooners to the win.
Young, the freshman who leads the nation in scoring and assists, also had 11 rebounds and seven assists. Brady Manek added 22 points for the Sooners (14-2, 4-1 Big 12), who made a school-record 19 3-pointers.
It was Young's second dominant performance against TCU this season. He had 39 points and 14 assists and made the game-winning free throws with seven seconds left in a 90-89 win over the Horned Frogs on Dec. 30.
Jaylen Fisher had a career-high 22 points and Vlad Brodziansky added 21 for TCU (13-4, 1-4), which lost its second overtime game of the week. TCU lost to Texas in double-overtime on Wednesday after Fisher missed what would have been the go-ahead layup in the closing seconds.
TCU's losses are by a combined 11 points, and three have been in overtime.
at No. 7 Duke 89, Wake Forest 71: Marvin Bagley III had 30 points and 11 rebounds to lead the Blue Devils to the win in a game Hall of Fame coach Mike Krzyzewski missed because of a virus.
With longtime assistant Jeff Capel in charge, the short-handed and illness-ravaged Blue Devils (15-2, 3-2 Atlantic Coast Conference) won their second straight and moved their conference record over .500 for the first time this season.
Gary Trent Jr. added 19 points and six three-pointers, Wendell Carter Jr. had 15 points and 11 rebounds, Grayson Allen had a career-best 12 rebounds and reserve Alex O'Connell scored 13 points.
Bryant Crawford scored 21 points and Keyshawn Woods had 15 to lead Wake Forest (8-9, 1-4), which hasn't won at Cameron Indoor Stadium in 21 years.
at No. 12 Kansas 73, Kansas State 72: Devonte Graham had 23 points, Malik Newman hit the go-ahead foul shots with 15 seconds left and No. 12 Kansas held on to beat Kansas State 73-72 in a back-and-forth affair on Saturday.
Udoka Azubuike added 18 points and eight rebounds for the Jayhawks (14-3, 4-1 Big 12), who beat their Interstate 70 rival for the sixth straight time and 12th in a row at Allen Fieldhouse.
Kansas State (12-5, 2-3) led 67-64 with 3 minutes left when Lagerald Vick knocked down a three-pointer in front of the Jayhawks' bench and Newman scored on a put-back to give Kansas the lead.
at No. 19 Clemson 72, No. 18 Miami 63: Donte Grantham had 18 points, including four three-pointers, and Mark Donnal had 12 points, including two critical long-range shots in the second half, to lead the Tigers.
Clemson (15-2, 4-1 Atlantic Coast Conference) continued its best start in nine seasons and bounced back from its first ACC defeat that snapped a 10-game winning streak at North Carolina State on Thursday night. But Clemson used its timely, long-range shooting — a season-high 12 3-pointers — to hold on in the Top 25 matchup.
Anthony Lawrence II and Lonnie Walker IV had 16 points each for Miami (13-3, 3-2).
No. 20 North Carolina 69, Notre Dame 68: Joel Berry II hit two free throws with 7.1 seconds left as the Tar Heels earned their first Atlantic Coast Conference road victory of the seasonwith a triumph over the Fighting Irish.
SOUTHLAND MEN
St. Mary's 91, at Pepperdine 67: Jock Landale had 32 points and 12 rebounds for the Gaels, who won their 12th straight game. St. Mary's (17-2, 6-0 West Coast Conference) shot 67%, and the Waves (0-6, 3-15) shot 43.5%.
Long Beach State 74, at UC Riverside 68: Gabe Levin missed 13 shots but still led the 49ers in scoring with 18 points. Edon Maxhuni had 16 points for the 49ers (9-11, 3-1 Big West). Twelve players scored for the Highlanders (5-13, 0-4).
at Cal State Fullerton 85, UC Davis, 70: Kyle Allman scored 27 points and Khalil Ahmad had 25 for the Titans (11-5, 4-0 Big West), who have won four games in a row. Chima Moneke scored a career-best 29 points for the Aggies (11-6, 2-1).
at San Diego 75, Loyola Marymount 71: Juwan Gray scored a career-high 17 points and the Toreros (13-5, 4-2 WCC) hung on after the Lions (6-11, 1-5) nearly erased a 17-point first half deficit and stayed close throughout the second half. James Batemon had a career-high 30 points for the Lions.
UC Irvine 71, at Cal State Northridge 54: Evan Leonard scored 20 points for the Anteaters (7-13, 2-2 Big West). The Matadors (3-14, 0-3) shot only 34% from the field.
UC Santa Barbara at Hawaii: 10 p.m.
SUNDAY WOMEN
USC at Utah 11 a.m.
UCLA at Colorado 3 p.m.
---
UPDATES:
10:15 p.m.: This college basketball roundup has been updated with more results, including Southland teams.
3:40 p.m.: This college basketball roundup has been updated with more results, including No. 8 Texas Tech defeating No. 2 West Virginia.
This roundup was originally published at 1:30 p.m.
---
Get our high school sports newsletter
Prep Rally is devoted to the SoCal high school sports experience, bringing you scores, stories and a behind-the-scenes look at what makes prep sports so popular.
You may occasionally receive promotional content from the Los Angeles Times.