Reporting from Las Vegas —
The Golden Knights like to see themselves as a bunch of rejects who carry a chip on their collective shoulders because they were discarded and doomed to the cruel fate of playing for an expansion team.
On Friday this group of misfit toys moved within one victory of clinching a berth in the Stanley Cup Final, withstanding another persistent third-period push by the Winnipeg Jets to earn a 3-2 victory at a boisterous T-Mobile Arena and take a 3-1 series lead in the Western Conference finals.
"I'm at a loss for words," said Vegas defenseman Nate Schmidt, and that's saying a lot because he's usually a talkative and insightful presence.
The team that no one expected to make the playoffs in its debut season is one step away from playing for hockey's biggest prize and can earn that right Sunday in Winnipeg. It defies belief — until you see how cleverly they were assembled by general manager George McPhee with his draft selections and subsequent trades, and until you realize how keen a feel that coach Gerard Gallant has developed for his players' character while coaxing career-best performances out of youngsters who hadn't previously gotten a chance to shine.
On Friday, fourth-line forward Tomas Nosek — who had been scratched from the last two games of Vegas' second-round series against San Jose and the opener against Winnipeg — took an offensive-zone penalty in the second period that eased the way for the Jets to tie the game at 1-1.
Instead of stapling Nosek to the bench, Gallant sent him out to counter Winnipeg's fourth line and Nosek converted the rebound of a wraparound attempt by Pierre-Edouard Bellemare to restore Vegas' lead 43 seconds later. That continued a pattern of quick responses by the Golden Knights, who have defied a postseason trend toward home ice being a disadvantage and are 6-1 at home.
"When a guy makes a mistake you want to get him out there as soon as you can. That's what we've done all season long," Gallant said.
It helps, too, that goaltender Marc-Andre Fleury, a three-time Cup champion in Pittsburgh, has bloomed after being transplanted to the desert. He made 36 saves on Friday to support the team's third straight win and has allowed the high-scoring Jets only five goals on 104 shots in the last three games. Fleury, as usual, took the high road when asked if his success here was especially gratifying because it was evidence that he's still an elite goalie after the Penguins chose to discard him and keep Matt Murray.
The Penguins, incidentally, lost in the second round. Fleury didn't bring that up. "I think I've moved on. I've had a lot of time to move on from the Penguins and put it behind me," he said. "Over the summer I was looking forward to Vegas and a new start. It's been a lot of fun this season. I'm really happy, really proud to be on this team and where we are right now."
Especially since no one envisioned they'd be so close to the Cup so early in their existence. "Everyone is going to say you're one win away, of course, but that's the hardest win," said forward James Neal, who played for runnerup Nashville in last season's final. "We got some timely goals and we battled hard. Can't take the foot off the gas. We've got to continue to grow and get better, and they played a heck of a game."
That they did. "We win this game nine times out of 10," Jets forward Blake Wheeler said. "Tonight was the one."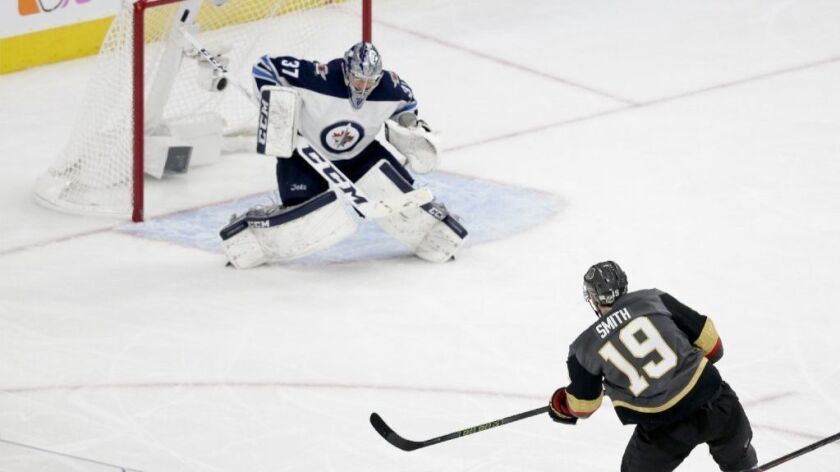 William Karlsson gave Vegas an early lead, taking a cross-ice pass from Jonathan Marchessault and going to one knee to fire the puck from the right circle during a power play at 2:25 of the first period. Winnipeg matched that with a laser of a shot by winger Patrik Laine from the left circle while Nosek served his penalty. "I feel pretty bad after, but we score right after, I feel a little bit of relief," Nosek said of his goal.
Winnipeg took the first nine shots of the third period and pulled even at 2-2 at 5:34 on a shot by Tyler Myers that squeezed between Fleury's pads. But Reilly Smith, usually the playmaker for Karlsson and Marchessault, got to use his scoring skills on the decisive goal.
Winnipeg defenseman Dustin Byfuglien whiffed on a shot at the right point and Smith took the puck the other way, producing a goal with a nifty shot high to the stick side of Jets goalie Connor Hellebuyck. The crowd went crazy. Smith did not.
"I think he was tired because when he scored he barely celebrated. I was going nuts," defenseman Luca Sbisa said. "Did that puck go in? Just an unreal shot."
As unreal, maybe, as the position the Golden Knights now occupy. But it's real and they've earned it.
Follow Helene Elliott on Twitter @helenenothelen
---