Joe Paterno tribute ignites positive and negative passions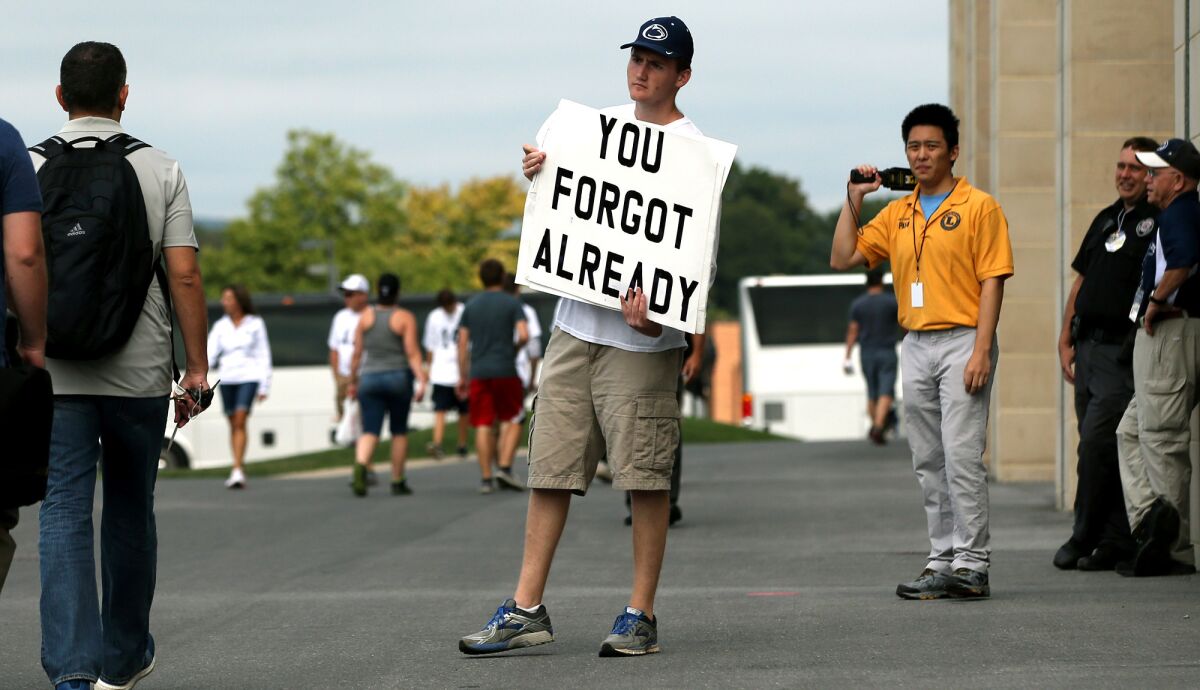 Penn State marked the 50th anniversary of the late Joe Paterno's first game as head football coach Saturday, introducing former players and displaying video tributes at the Nittany Lions' game against Temple.
When images of the coach were shown on the stadium scoreboard during one video, the crowd roared. Rather than Paterno's 409 career victories, the commemoration focused on the football program's high graduation rate during his 46-year tenure, along with the accomplishments of his players.
------------
FOR THE RECORD
Sept. 20, 5:54 p.m.: A previous version of this article incorrectly identified Andrew Limauro as a victim of sexual assault (not connected to the Penn State allegations). Also, the accompanying photo caption said Limauro had identified himself as a victim of sexual abuse. Limauro is not a sexual assault victim and did not identify himself that way.
------------
Paterno was abruptly fired by Penn State in 2011 after Jerry Sandusky, his longtime defensive coordinator, was arrested and charged with sexually abusing children.
Sandusky was convicted and sentenced to at least 30 years in prison. Paterno died of lung cancer two months after his removal as coach. He was never charged in connection with the Sandusky cases, but court records indicate that at least one alleged victim said the coach had failed to take action after being told about his assistant's behavior.
The tribute ignited reaction from Paterno critics as well as supporters.
Penn State's student newspaper, the Daily Collegian, ripped the commemoration in an editorial earlier this month published under the headline: "Remaining rutted in the past does nothing for the future."
Paterno's son, Jay, a longtime Nittany Lions assistant coach, lamented Saturday during an interview with ESPN that the university's reputation had been tarnished. He said he wanted former football players to "be able to walk into a place and say, 'I played football at Penn State,' and have people have that same reverence they had six years ago, because that's the truth about Penn State."
The night before the game, hundreds of former Penn State football players reunited in a private event outside the school's baseball stadium – about half a football field away from where a statue of Paterno used to stand before the university took it down in the wake of the Sandusky scandal.
One protester also showed up, holding two signs. One read: "You forgot already."
Twitter: @MikeHiserman
ALSO
Joe Paterno once again has a halo over his head in mural near Penn State
Abuse victim claims Joe Paterno ignored '76 sexual abuse complaint against Jerry Sandusky
Joe Paterno's son on allegation his father covered up for Jerry Sandusky in 1976: 'Bunk'
Get our high school sports newsletter
Prep Rally is devoted to the SoCal high school sports experience, bringing you scores, stories and a behind-the-scenes look at what makes prep sports so popular.
You may occasionally receive promotional content from the Los Angeles Times.