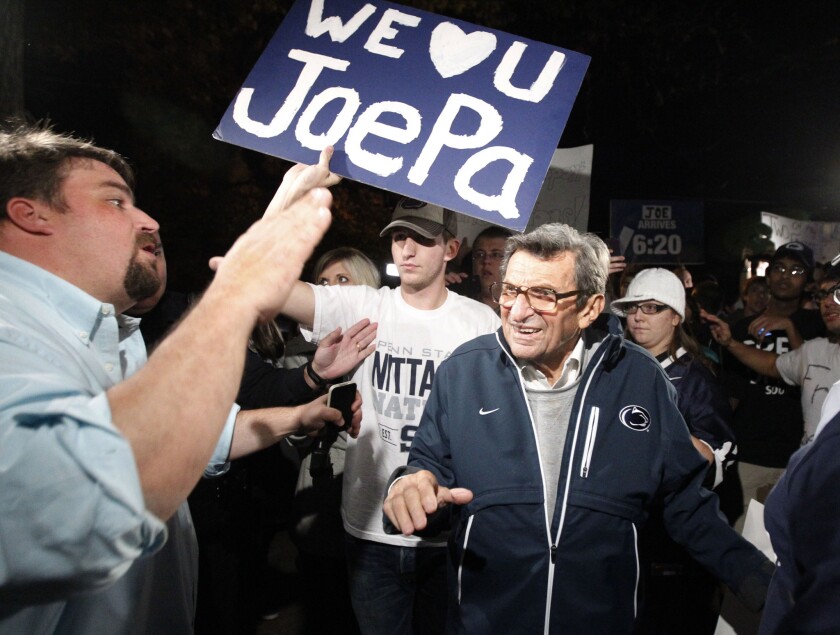 The son of late Penn State football coach Joe Paterno spoke out Friday against a newly surfaced allegation that his father did nothing after a child reported he had been molested by then-assistant coach Jerry Sandusky in 1976.
Scott Paterno wrote Friday morning on Twitter that the claim, which appeared Thursday in a court order in a case involving Penn State and an insurance company, is "bunk" and that media reports of it represent "a new low in irresponsibility."
"It would be great if everyone waited to see the substance of the allegation before they assume it's true," he wrote. "Because it's not."
The new allegation, first reported by Pennlive.com, appears as part of one sentence of an order issued by Philadelphia Judge Gary Glazer in Penn State's lawsuit against Pennsylvania Manufacturers Assn. Insurance Co.: "(I)n 1976, a child allegedly reported to PSU's Head Coach Joseph Paterno that he (the child) was sexually molested by Sandusky."
The university is seeking reimbursement of more than $60 million it has paid in Sandusky-related civil settlements.
The order also mentions an instance in 1987 and two in 1988 in which similar allegations against Sandusky never went outside of the athletic department. The allegations, made in depositions by alleged victims, remain under seal, according to Pennlive.com.
"There is no evidence that reports of these incidents ever went further up the chain of command at PSU," Glazer wrote.
Sandusky has been convicted 45 counts of child sexual abuse, based on encounters he had with 10 boys starting in the 1990s through relationships he made within a children's charity he started in 1977.
Earlier this week Sandusky was granted an appeals hearing on the conviction.
Joe Paterno, who told a high-ranking Penn State official in 2001 that one of his assistants saw Sandusky behaving inappropriately with a child in the shower, was fired in 2011 after the Sandusky scandal broke. The legendary coach died two months later.
"Over the past 4½ years Joe Paterno's conduct has been scrutinized by an endless list of investigators and attorneys," Paterno family attorney Wick Sollers said in a statement Thursday night.
"Through all of this review there has never been any evidence of inappropriate conduct by Coach Paterno. To the contrary, the evidence clearly shows he shared information with his superiors as appropriate.
"An allegation now about an alleged event 40 years ago, as represented by a single line in a court document regarding an insurance issue, with no corroborating evidence, does not change the facts. Joe Paterno did not, at any time, cover up conduct by Jerry Sandusky."
---