L.A. City Council endorses 2028 Olympics bid, accepting responsibility for any cost overruns
Nothing about Los Angeles' quest to host the Summer Olympics for a third time has been straightforward or easy.
The private committee pursuing the bid was named as the sole U.S. candidate for 2024 only after the first choice, Boston, withdrew.
Then, in the middle of a heated race between L.A. and Paris, the International Olympic Committee changed the rules, brokering an unusual deal that has Paris taking 2024 and L.A. waiting another four years.
So it makes sense that the latest milestone in the campaign — a crucial City Council meeting — turned raucous and a bit messy on Friday.
As council members unanimously endorsed the revised 2028 bid — and positioned the city to serve as a financial backstop in case the estimated $5.3-billion event loses money — their vote was drowned out by a small but voluble group of critics.
"I thought this was going to be a marathon," Mayor Eric Garcetti later said of the two-year effort. "But this has been the hurdles."
Opponents complained that council members were acting without benefit of complete information, hurrying their decision to meet an Aug. 18 deadline set by the IOC.
"Look, there's 11 years before the Games, so it wouldn't hurt if they took a year or even six months instead of rushing," said Jed Parriott, an organizer of the NOlympics LA group. "The whole process feels like a giveaway to the IOC."
Again, L.A.'s not-so-linear path to the Games was the problem.
Back when the private L.A. bid committee was vying for 2024, it produced a budget and independent analysis, estimating it could cover all costs through corporate sponsorships, ticket sales and other revenue sources.
An additional state analysis concluded the bid was "fairly low-risk" because it relied on existing venues such as the Coliseum and Staples Center rather than constructing expensive new stadiums and arenas.
The council used that information to approve the original plan in January.
But last month, when IOC President Thomas Bach brought the two-winner proposal to his membership, he had to walk a political tightrope. Bach prevailed, in part, by promising to have both candidates locked into a deal by mid-September.
The "host city contract" was critical. Even though the Olympics are often run by private committee, the IOC requires host cities to promise they will settle any debts should the Games go over-budget.
So Olympic officials needed LA 28 to move quickly in securing an updated guarantee from the City Council. The expedited schedule left no time for a new budget or analysis.
"We are the only city that has two successful Olympics — that's what I look to," Councilman Gil Cedillo said, referring to previous L.A. Games in 1984 and 1932. "You can tell me other cities haven't been successful. That's not us."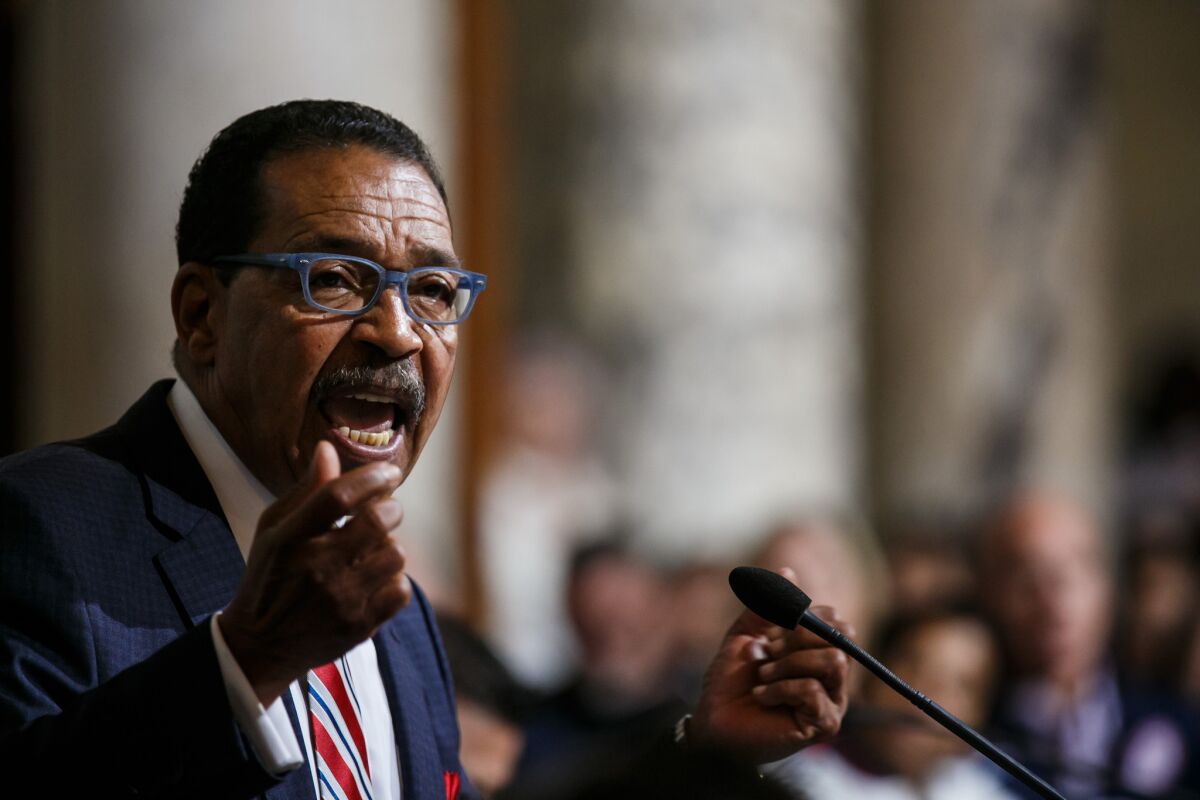 Fellow council member David Ryu sounded less confident, endorsing the bid but later issuing a statement that noted the "limited comment and parliamentary procedure."
Ryu pointed to the lack of current financial numbers and other unresolved issues, saying: "If any of these do not come through, I will push for our city to end this agreement."
Earlier on Friday, the combative mood had begun during an ad hoc committee meeting.
Opponents lined up at the microphone to express concerns that the Olympics would negatively affect low-income residents and the homeless. Supporters countered that civic excitement around the Games could trigger social change.
At one point, Councilman Joe Buscaino got into a shouting match with an opponent.
"I'm tired of hearing these people coming to us and questioning our decision-making," Buscaino said.
To which the opponent yelled: "It's called democracy."
LA 28 officials have vowed not to make any significant changes to the expense side of their original 2024 plan, a theme that was repeated among dozens of Olympic athletes who attended to show support.
"I have some of the same concerns that everybody else does: the infrastructure, the financial impact," said Greg Louganis, a four-time gold medalist in diving who has worked closely with the bid. "We have so much time, I'm very optimistic we can work those issues out."
Council members did have one new piece of information to consider before the vote.
The city administrative officer and chief legislative analyst issued a report this week acknowledging the "greater uncertainty" of committing to the Games more than a decade in advance but recommending endorsement because of other factors designed to "mitigate the added risk."
In recent negotiations, the IOC agreed to increase its 2028 contribution from an estimated $1.7 billion to as much as $2 billion. It will also give L.A. a $180-million advance on that amount over five years, with an estimated $160 million earmarked for youth sports programs.
LA 28 could save additional tens of millions in waived Olympic fees and will not have to pay the IOC a customary 20% of any surplus should the Games turn a profit, which they did when L.A. hosted in 1984.
The bid committee has said it will purchase a series of insurance policies and set aside 10% of estimated costs in a contingency fund to cover overruns.
Council President Herb Wesson called the deal "too good to pass up" but acknowledged that opponents had voiced legitimate concerns.
"In the United States of America, we can agree to disagree," he said. "We could meet for two more months, four more months, a year … and you're still going to have a percentage of people who do not support the Games."
Follow @LAtimesWharton on Twitter
---
UPDATES:
8:05 p.m.: This article has been updated throughout with details and comments.
This article was originally published at 11:45 a.m.
Get our high school sports newsletter
Prep Rally is devoted to the SoCal high school sports experience, bringing you scores, stories and a behind-the-scenes look at what makes prep sports so popular.
You may occasionally receive promotional content from the Los Angeles Times.