Kentavious Caldwell-Pope is practicing and playing with the Lakers while serving a 25-day jail sentence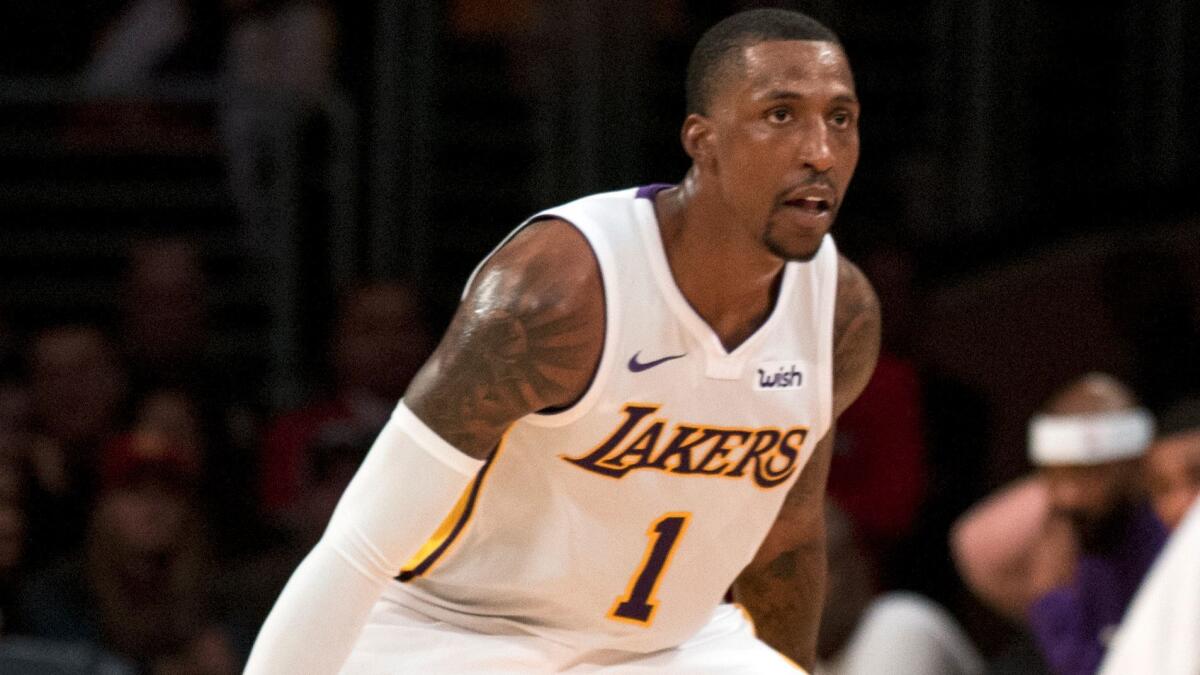 Lakers guard Kentavious Caldwell-Pope is serving a 25-day jail sentence after pleading guilty on Dec. 13 to a probation violation he committed this summer.
Caldwell-Pope failed to comply with a Michigan court's drug and alcohol screening order — part of a 12-month probation — according to the prosecutor's office in Auburn Hills, Mich., where the Lakers player was stopped on suspicion of driving under the influence on March 29.
The 24-year-old is serving his sentence in the Seal Beach Police Department Detention Center and, under a work-release program, is being allowed to leave the facility for games and practices, according to court and jail officials and court documents.
Caldwell-Pope is not allowed to leave the state, which will result in missed games in Houston and Minneapolis. He is expected to be at the Lakers game against the Warriors in Oakland on Friday.
The Lakers declined to comment on the situation, referring The Times to a statement they released Saturday.
"This is a legal matter, stemming from an incident that occurred last season while Kentavious was a member of another NBA team," the statement read. "The Los Angeles Lakers are abiding by the terms of a program for Kentavious that were established for him by a court in the state of Michigan. As such, we will have no further comment at this time."
Neither Caldwell-Pope's agent nor his attorney could be immediately reached for comment.
"It has been very disappointing to me as well, as far as my teammates, I feel like I let them down as well, my coaches, the organization," Caldwell-Pope said on Saturday after a Lakers practice. "I just have to deal with this legal situation that came with it."
Court records show Caldwell-Pope must wear a GPS monitor outside the detention facility. When he returns from games or practices, he must submit to a breath test.
According to court documents, should Caldwell-Pope violate any of the terms of the agreement, he will be sentenced to 93 days in Oakland County Jail.
The March arrest occurred while he was playing for Detroit hours after the Pistons lost to the Miami Heat.
As part of his bond, he was required to refrain from alcohol and controlled substances and submit to and pay for random drug testing. Court records show Caldwell-Pope missed several drug and alcohol screenings, which affected his sentence.
He pleaded guilty to a misdemeanor charge of allowing a person to operate his vehicle under the influence. Judge Julie Nicholson sentenced him to 12 months' probation on June 14 with many of the same conditions. He also was barred from leaving Michigan without permission from the court.
He then received permission to travel for free agency and to his home state of Georgia. The Lakers signed him in July to a one-year deal worth $18 million, and he was allowed to travel as needed to play for the Lakers.
Caldwell-Pope was suspended for the first two games of the season under the league's substance abuse policy. He played in the Lakers' next 24 games, unencumbered by travel restrictions. He scored 24 points in New York on Dec. 12, then flew to Michigan for a hearing. There, Caldwell-Pope was sentenced to 25 days in the Oakland County Jail, according to court documents and officials.
Caldwell-Pope filed an emergency petition Dec. 14 to serve his sentence at the Seal Beach Detention Center. The petition was approved the same day.
The Seal Beach facility is a pay-to-stay operation that has a reputation as a refuge for wealthy offenders. In March, The Times reported that the facility generated more revenue than any other jail in Los Angeles or Orange counties. The majority of its inmates are serving time for driving under the influence and related offenses.
The facility costs $120 dollars a day for those who are in the work release program, and $100 a day for those who are not.
Follow Tania Ganguli on Twitter @taniaganguli
All things Lakers, all the time.
Get all the Lakers news you need in Dan Woike's weekly newsletter.
You may occasionally receive promotional content from the Los Angeles Times.