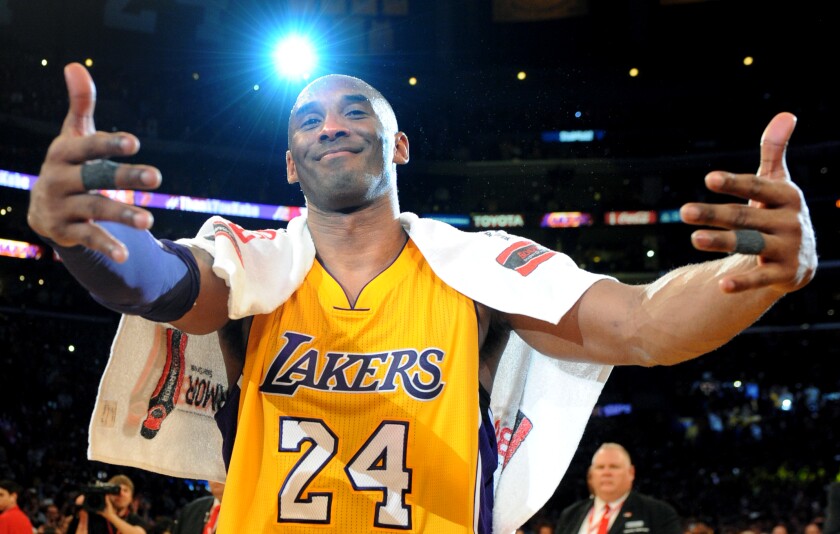 Two seasons removed from his celebrated retirement, Kobe Bryant will have his jersey retired by the Lakers this fall.
The Lakers said Tuesday they would retire both of the numbers Bryant wore as a Laker. He wore No. 8 when his career began, then switched to No. 24 at the start of the 2006-07 season. He wore No. 24 for the remaining 10 years of his career.
"As a kid growing up in Italy, I always dreamed of my jersey hanging in the Lakers rafters, but I certainly never imagined two of them," Bryant said in a news release from the team. "The Lakers have bestowed a huge honor on me and I'm grateful for the fans' enthusiasm around this game."
Bryant's will be the 10th player jersey retired by the team. The others belonged to Wilt Chamberlain, Elgin Baylor, Gail Goodrich, Magic Johnson, Kareem Abdul-Jabbar, Shaquille O'Neal, James Worthy, Jerry West and Jamaal Wilkes.
"Kobe was one of the greatest Lakers and NBA players of all time and he's definitely on my Mt. Rushmore," Johnson, the Lakers president of basketball operations, said in a statement. "I look forward to seeing BOTH of his jerseys be retired and celebrating this special day with Kobe and his family."
The retirement ceremony will take place at halftime of the Lakers' game against the Golden State Warriors at Staples Center on Dec. 18.
Though tickets for some games begin as low as $21 on the secondary market, tickets for that game start at $663 on SeatGeek.com and $549 on Stubhub.com.
Bryant spent all of his 20-year career with the Lakers. It began in 1996 when he was 17 years old, after the Lakers traded Vlade Divac to the Charlotte Hornets for Bryant's draft rights. He helped the Lakers win five NBA championships, being named Finals MVP twice. Bryant was selected for the NBA All-Star game 18 times, he was first-team All-NBA 11 times, first-team all-defense nine times and the league's MVP in 2008.
Toward the end of his career, Bryant's body began to struggle with the rigors of an NBA season. His final outing in a Lakers jersey, though, was spectacular. He scored 60 points, playing nearly the entire game against the Utah Jazz, with 23 points in the fourth quarter. The Lakers feted him that day with a sendoff celebration. Lakers owner Jeanie Buss said that celebration was partially about the sendoff the team never got to give Johnson, who retired prematurely the first time after being diagnosed with HIV.
Since his retirement, Bryant has become an unofficial advisor to Buss and the Lakers. The team hired his long-time agent Rob Pelinka as general manager.
"The Lakers are my family," Bryant told The Times last spring. "I'll always be available for Jeanie and the whole organization. They know I'm only a phone call away."
Twitter: @taniaganguli
---