Lakers rookie who's turning heads is Kyle Kuzma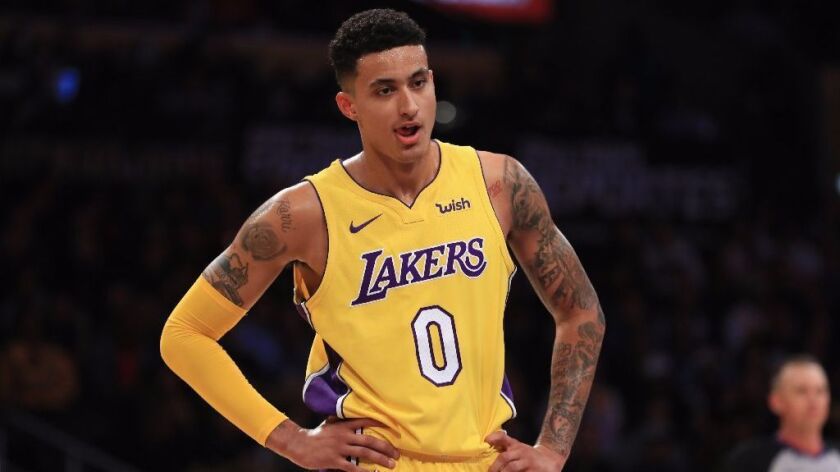 Early in the first quarter, a handful of fans chanted Kyle Kuzma's name to a beat. Amused Lakers teammates Larry Nance Jr. and Andrew Bogut grinned on the bench and began dancing to it, teasing the rookie.
When Kuzma checked into the game and made his first three-point attempt, a chorus of "Kuuuuuuz" rang throughout Staples Center for the first time. It happened again late in the fourth quarter when Kuzma nearly single-handedly brought the Lakers back from what had been a 20-point deficit.
He scored eight points in the final three minutes and led the Lakers with 23 points on nine-for-17 shooting. Still, the Lakers fell to 0-2 in the exhibition season with a 113-107 loss to the Denver Nuggets. They played to another packed house as fans crammed in to see Lonzo Ball's debut at Staples Center, but Kuzma once again shined most brightly.
"I'm getting confident as a scorer and shooter every single game," Kuzma said. "It's only my second time playing against NBA competition. For me it's all about confidence and getting reps and getting minutes."
His Monday performance followed a team-high 19-point effort Saturday against the Minnesota Timberwolves.
After a strong training camp, he is giving credence to Lakers forward Brandon Ingram's media-day utterance that Kuzma is the "steal of the draft."
"His competitive spirit is very impressive," Lakers coach Luke Walton said. "I think that's what kind of drives him to keep having these nice games for us."
Ball finished with eight points, two on a dunk off an alley-oop pass from Jordan Clarkson. He also had four assists, two rebounds and four turnovers.
Late in the second quarter, Ball came down awkwardly on his left ankle after blocking a shot, but his limp was no real cause for alarm. He had the ankle taped at halftime and returned to start the second half.
Midway through the fourth quarter, Ball was removed from the game and began getting treatment for a mild sprain, the Lakers said.
Second-year center Ivica Zubac started after being utilized as a reserve in Saturday's exhibition opener. Shooting guard Kentavious Caldwell-Pope, Ingram and power forward Julius Randle started alongside Zubac and Ball.
Kuzma was inserted into the game midway through the first quarter and immediately made an impact. He hit his first two three-point shots.
"I have been around him long enough now that I am a believer in him," Walton said. "It's not just hot shooting and whatnot. He is a competitor and he finds ways to get it done. …
"He has a good feel for playing the game and a knack for making plays."
Etc.
The Lakers are expected to play their Sunday game in Las Vegas as scheduled, though they are expecting heightened security.
On Sunday night 59 people were killed and more than 500 injured when Stephen Paddock, a 64-year-old man, opened fire on a crowd gathered for a country music concert. The concert was outdoors, across the street from the Mandalay Bay Casino. It was the deadliest mass shooting in modern U.S. history.
The Lakers planned to remain in touch with the Las Vegas Metro Police Department regarding security concerns for Sunday's game. The Lakers will play the Sacramento Kings at 6 p.m. at T-Mobile Arena.
Follow Tania Ganguli on Twitter @taniaganguli
---
All things Lakers, all the time.
Get all the Lakers news you need in Dan Woike's weekly newsletter.
You may occasionally receive promotional content from the Los Angeles Times.