Lakers' D'Angelo Russell gets playing time in fourth quarter, to his delight
Reporting from Orlando, Fla. —
It has been D'Angelo Russell's casual approach to the game that has so mystified the Lakers' coaching staff.
They would all like to see him "speed" up his way of playing and practicing, Lakers Coach Byron Scott said, and that in turn could help prevent Russell from seeing so little playing time in the fourth quarter of games.
Russell started strong against Orlando on Wednesday, had a little lull and then finished the game in the fourth quarter, showing the Lakers some signs of improvement during their 101-99 loss to the Magic.
Russell had 14 points on six-for-15 shooting, two-for-five on three-pointers. He also had six rebounds and three assists.
"This is more about winning," Russell said. "You get your shot whenever you want it, but you got to know when to take it and when to move the ball."
Russell had been frustrated because he had not played in the fourth quarter of a few games.
But Scott reinserted his rookie back into the Orlando game with seven minutes left, giving Russell the playing time in the fourth he has yearned to have this early in the season, in his career.
He scored two points and had two rebounds in the fourth.
No matter what, Scott reiterated, he's still not just going to throw Russell "to the wolves, per se" and play him in the fourth "just because he's the No. 2 pick" in the NBA draft.
"I'm not just going to put him out there to put him out there. If I do that and he's not prepared and he's not learning, then I'm preparing him to fail," Scott said. "And I'm not going to do that. I think this kid is too valuable to us. His learning process is getting better and better. Our coaches are spending more time with him. So I'm pretty confident that he'll be better in a week or so, that he'll understand exactly what we need from him on a night to night basis."
Lakers forward Nick Young looks to pass the ball as he is covered by theMagic's Channing Frye, left, and Tobias Harris (12) in the first half.
(John Raoux / Associated Press)
Lakers forward Metta World Peace guards Magic guard Elfrid Payton as he drive in the first half Wednesday night in Orlando.
(John Raoux / Associated Press)
Magic guard Victor Oladipo gets up slowly after he was injured in the first half. He left the game and did not return.
(John Raoux / Associated Press)
Lakers guard D'Angelo Russell (1) pulls a rebound away from Magic center Dewayne Dedmon in the first half of a game Nov. 11 in Orlando.
(Stephen M. Dowell / Orlando Sentinel)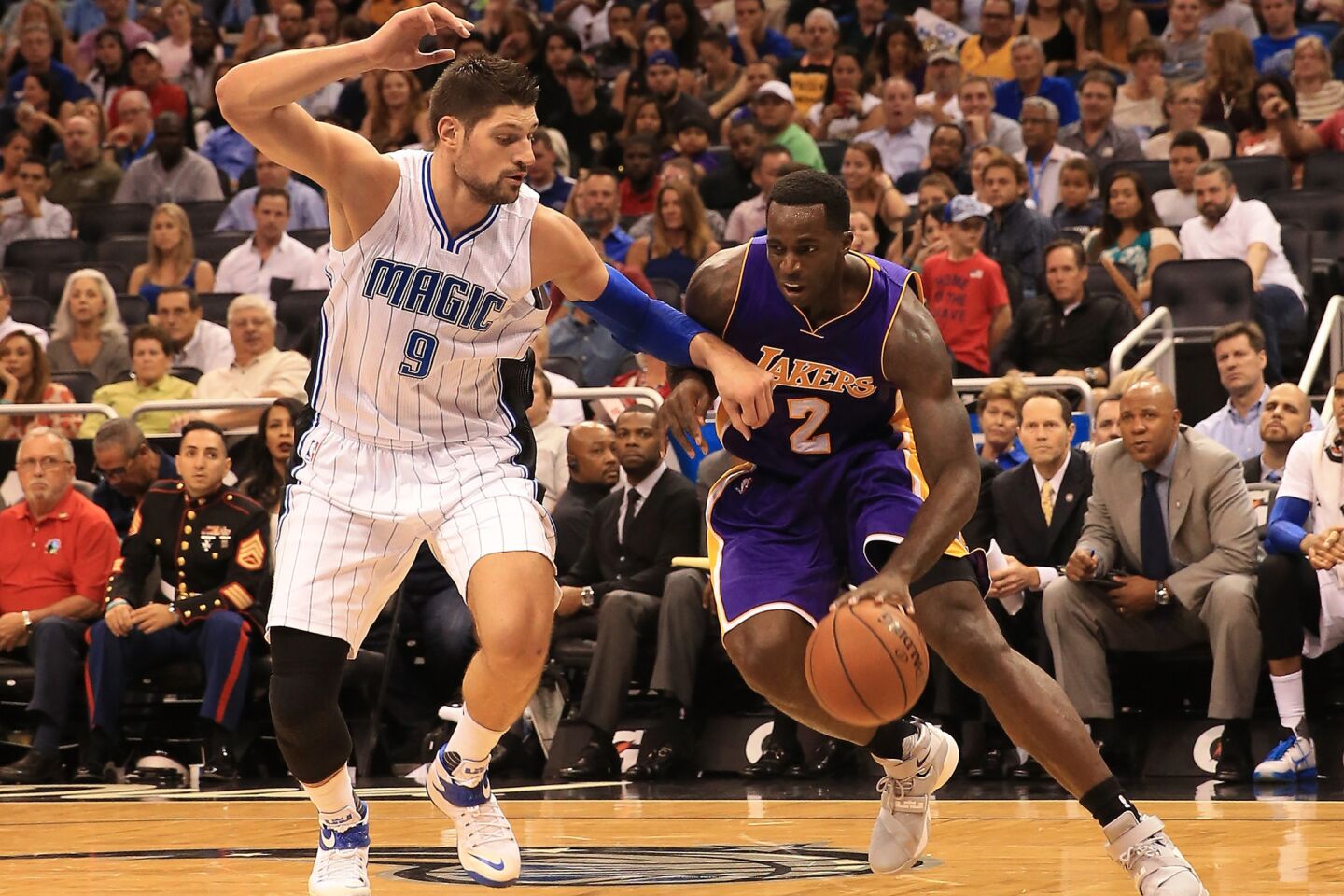 Lakers forward Brandon Bass (2) tries to drive past Magic center Nikola Vucevic during their game Wednesday night.
(Sam Greenwood / Getty Images)
Magic center Nikola Vucevic elevates for his game-winning shot over Lakers center Roy Hibbert.
(John Raoux / Associated Press)
Magic center Nikola Vucevic (arms raised) celebrates with teammates after hitting a game-winning shot at the buzzer against the Lakers.
(Stephen M. Dowell / Orlando Sentinel)
Russell's defense still has to improve, especially after he lost his man, Shabazz Napier, late in the fourth and allowed to guard two open three-pointers.
But confidence is not an issue for Russell, Scott said.
In fact, when asked how he felt about having the ball in his hands with the score tied at 99, Russell showed he doesn't lack confidence.
"I'm built for this," he said. "So if I get the opportunity to capitalized on stuff like that, I'll definitely do it. But I'm built for this."
Twitter:@BA_Turner
All things Lakers, all the time.
Get all the Lakers news you need in Dan Woike's weekly newsletter.
You may occasionally receive promotional content from the Los Angeles Times.