Lakers Coach Luke Walton ready to work closely with new GM Rob Pelinka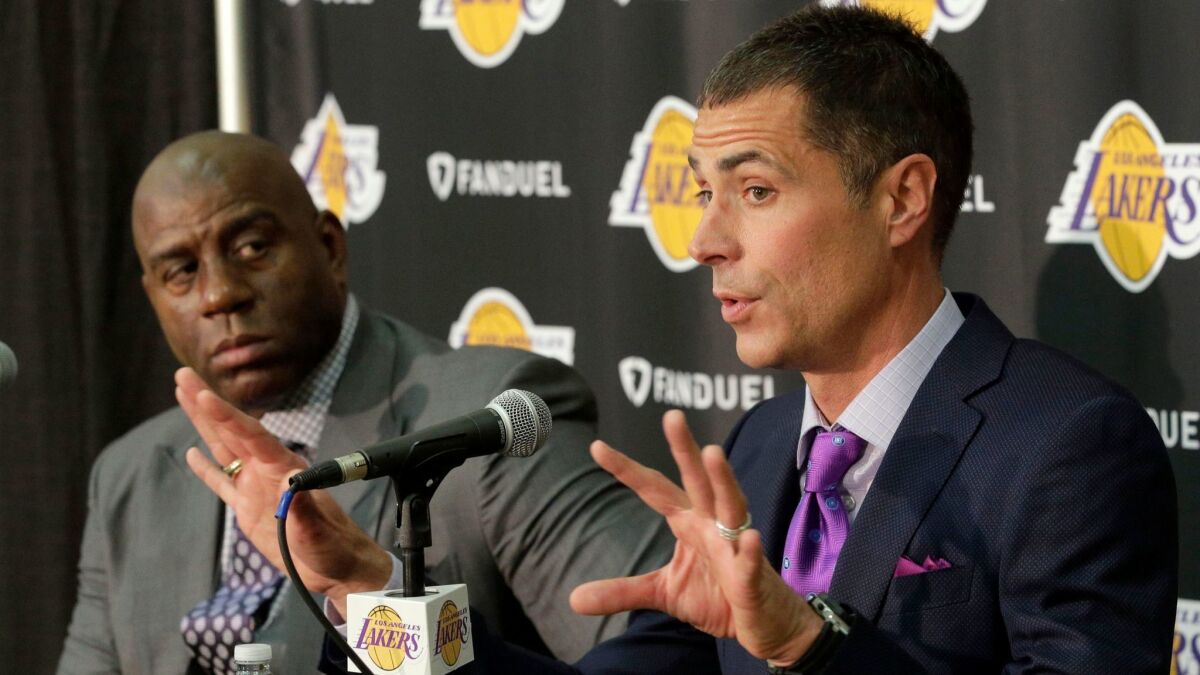 To start the process of synergy between departments, Lakers Coach Luke Walton and General Manager Rob Pelinka spent two hours talking before Friday's news conference to introduce Pelinka.
"The one thing I've seen with the great organizations that have had success recently [is] that the coach, general manager, the president, the basketball operations folks have to be in lockstep and have to be collaborating and sharing," Pelinka said.
"Luke's got to implement and coach the guys on the hardwood. Everything Earvin and I do of course will have Luke's impact," he added about Magic Johnson, president of basketball operations.
Walton said he and Pelinka agreed that they needed to have honest communication, even if that meant disagreeing with each other.
"I'll tell him what I'm seeing from down here; he's going to tell me what he's seeing," Walton said. "If it's a basketball decision, I'm going to have the ultimate say. If it's a personnel thing, he'll have the ultimate say. We're going to do that with constant conversation going on and not having to worry about hurting the other guy's feelings."
Walton has known Pelinka for years. In his career as an agent, Pelinka represented Kobe Byrant, a former Lakers teammate of Walton's, and Channing Frye, a friend of his since they played at Arizona together. Walton and Pelinka attended Frye's wedding.
While Bryant didn't speak or conduct interviews Friday, he and Walton talked before the news conference.
"He was just really supportive of Rob," Walton said. "He said you're gonna love working together. Even though he works his tail off, he's really smart. It's gonna be a great thing, having him in here with the group and trying to go forward."
More introductions to come
After practice Saturday, Lakers center Tarik Black checked with an assistant coach to see if Pelinka was in his office. He wasn't.
Black is eager to get to know his new general manager.
"I'm always interested in what they're speaking of," Black said of Pelinka and Johnson. "… If they say anything about the organization, anything, I'm interested. … First and foremost, just want to meet him, make an introduction and build a relationship."
While Pelinka hasn't met with the whole team, he has some preexisting interactions. Lakers rookie Brandon Ingram, for example, was recruited by then-agent Pelinka out of college at Duke.
"He was a good guy," Ingram said. "Sold his pitch very well. Knew a lot about the game. Of course, being around the players that he's been around, he is around. Of course he's an overall great guy."
Nwaba returns
The Lakers signed David Nwaba to a second 10-day contract on Saturday.
Nwaba was first called up from the D-Fenders, the Lakers' Development League affiliate, on Feb. 28. He impressed Walton with his defensive intensity and work ethic.
The Los Angeles native and Cal Poly San Luis Obispo alumnus averaged 2.6 points, 1.6 rebounds and 11.2 minutes a game in five games with the Lakers. Nwaba's initial 10-day contract expired on Friday, and he played with the D-Fenders on Friday night.
The Lakers also sent Ivica Zubac down to the D-Fenders for Friday night's game, to get him some more playing time. He was called back up to the Lakers after the game.
Follow Tania Ganguli on Twitter @taniaganguli
---
All things Lakers, all the time.
Get all the Lakers news you need in Dan Woike's weekly newsletter.
You may occasionally receive promotional content from the Los Angeles Times.