Lonzo Ball continues to adjust to his new role in Lakers' offense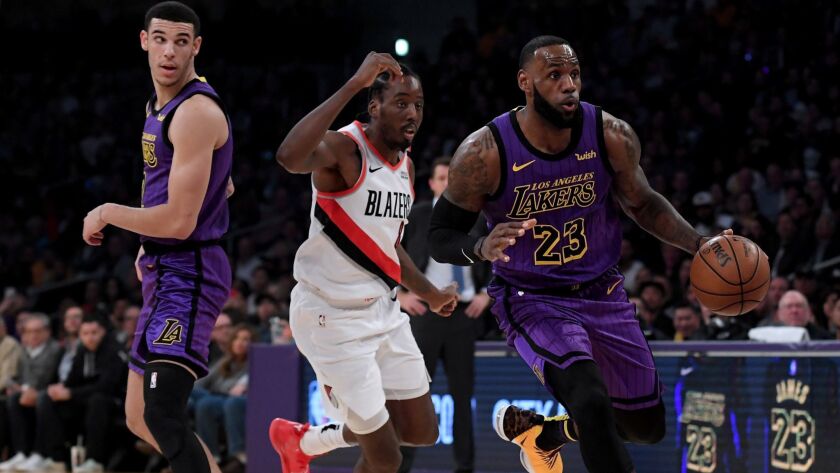 Lonzo Ball's role with the Lakers requires more than just the point guard duties he has been accustomed to having his entire basketball life.
So when the moment has called for him to run the offense or become a spot-up shooter, Ball has willingly accepted his part in the offensive system.
It has been an adjustment for Ball to go from being the primary caretaker of the basketball to moving without it, as LeBron James frequently takes the reins or another of the Lakers' ball handlers runs the show.
"Just trying to find my spots on the court," Ball said. "LeBron is very good with the ball, playmaking. So when he brings it up, (I) just try to go to the wing and get open, cut, set screens … try to do different things."
As a rookie with the Lakers last season and in his only season at UCLA, Ball usually had the ball in his hands.
"I played off the ball a little bit at UCLA, but not as much as I have this year," he said. "So it's a little bit of an adjustment."
With backup point guard Rajon Rondo out four to five weeks after undergoing surgery Thursday to repair a broken right hand, Ball will have more responsibilities.
His minutes will increase and he'll probably be asked to run more of the offense with the second unit.
"Like I said, it's just next man up," Ball said. "If I'm out there, just do what I can to help the team out. But (we) got a lot of guys that can play."
Although he's shooting only 40.9% from the field, Ball has shown improvement from long range, making 38.1% of his three-point shots.
He's found a way to get in rhythm to shoot by taking a dribble, then shooting a step-back three-pointer with some success.
"For him personally, he feels better with that little rhythm dribble, stepping back where he does get his feet set," Lakers coach Luke Walton said. "But anytime we get penetration and it's a kick-out and he's open, 100% we're fine with him shooting those threes."
Ball is averaging 4.8 assists a game; part of the reason the number isn't higher is because he is willing to pass the basketball ahead and not hold on to it in transition.
"There's a fine line, because we want the ball moving," Walton said. "If you're open, we want you to shoot, drive or pass and he's great at those. But as he continues to expand his game, when he chooses to drive, he's such a big, talented guard, I feel like the more he can get into the opponent's paint and make those bigs commit to him, his natural playmaking can take over. But that will come with just reps and reps."
UP NEXT
AT ORLANDO
When: 4 p.m. (PST) Saturday.
On Air. TV: Spectrum SportsNet; Radio: 710, 1330.
Update: LeBron James is tied for second in scoring, averaging 27.6 points a game. He's tied for eighth in assists (7.2) and tied for 12th in double-doubles (eight). Center Nikola Vucevic leads the Magic in scoring (18.8) and rebounding (10.7) and is tied for seventh in the league in double-doubles (nine).
Twitter: @BA_Turner
---
All things Lakers, all the time.
Get all the Lakers news you need in Tania Ganguli's weekly newsletter.
You may occasionally receive promotional content from the Los Angeles Times.