Lakers' Kyle Kuzma endures hot start and cold second half against Mavericks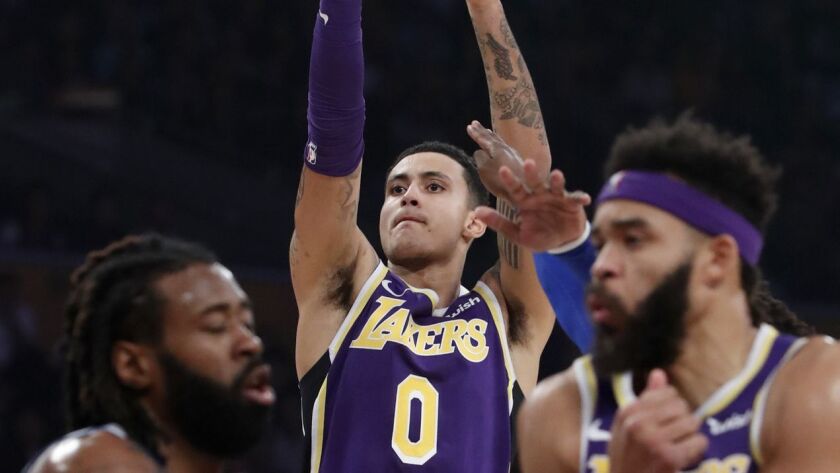 Kyle Kuzma stepped to the free-throw line with 17.8 seconds left and the Lakers clinging to a one-point lead after Dallas' Harrison Barnes had drilled a three-pointer from the corner with 23.9 seconds left.
The arena went quiet when Kuzma stepped to the line, groaned when he missed the first free throw but cheered when he made the second for a two-point Lakers lead.
He could only shake his head after making one of two free throws, leaving Kuzma somewhat exasperated with how he had played during the Lakers' 114-113 win over Dallas on Wednesday night at Staples Center.
"I played good," Kuzma said. "I played all right."
Kuzma had entered the game shooting 83.3% from the free-throw line, second-best on the team.
So when he stepped to the line with a chance to give the Lakers a three-point lead, Kuzma and the crowd were disappointed that he split the two free throws and left the door open for the Mavericks.
"You're going to miss and make," Kuzma said. "I shoot like 85%. I rarely miss those."
Kuzma had nearly a flawless first half, playing with force and determination.
Kuzma made his first five shots in the first half, including a three-pointer. He had five rebounds and 13 points in the first half.
But he also picked up three fouls, forcing him to the bench late in the second quarter.
"It wasn't too bad," Kuzma said about getting into foul trouble. "I got out the last two minutes of the quarter so it wasn't like I got out super early. It happens. Had a couple of unfortunate calls, but it's all good."
Kuzma scored just five points in the second half.
He was two for six from the field and he had missed those two free throws.
That allowed Dallas rookie Luka Doncic to tie the score at 113-113 on a floating jump shot with 7.2 seconds left.
But LeBron James was just like Kuzma late in the game, making one of two free throws with 2.1 seconds left to help the Lakers escape.
The two forwards had been playing well together.
Kuzma is second on team in scoring, averaging 15.6 points before the Lakers played the Mavericks.
"I thought Kuz was good tonight," Lakers coach Luke Walton said. "I did. He made plays. He's a second-year player. These are big stakes and he's proven he can score 37 on a given night [at San Antonio] and we're asking him, 'Yeah, that's great, but play within the team structure. And make the right read and make the right pass and defend multiple people.' There's a lot going on and he's constantly trying to become that type of player for us."
Kuzma cut down the lane and scored on a layup off a pass from Lonzo Ball in the third quarter.
Kuzma made a nice pass to James for a layup and an 82-66 Lakers lead in the third that forced the Mavericks to call a timeout with 5 minutes 26 seconds left.
Twitter: @BA_Turner
---
All things Lakers, all the time.
Get all the Lakers news you need in Dan Woike's weekly newsletter.
You may occasionally receive promotional content from the Los Angeles Times.