For Jason Kidd, Lonzo Ball comparisons are 'a great compliment'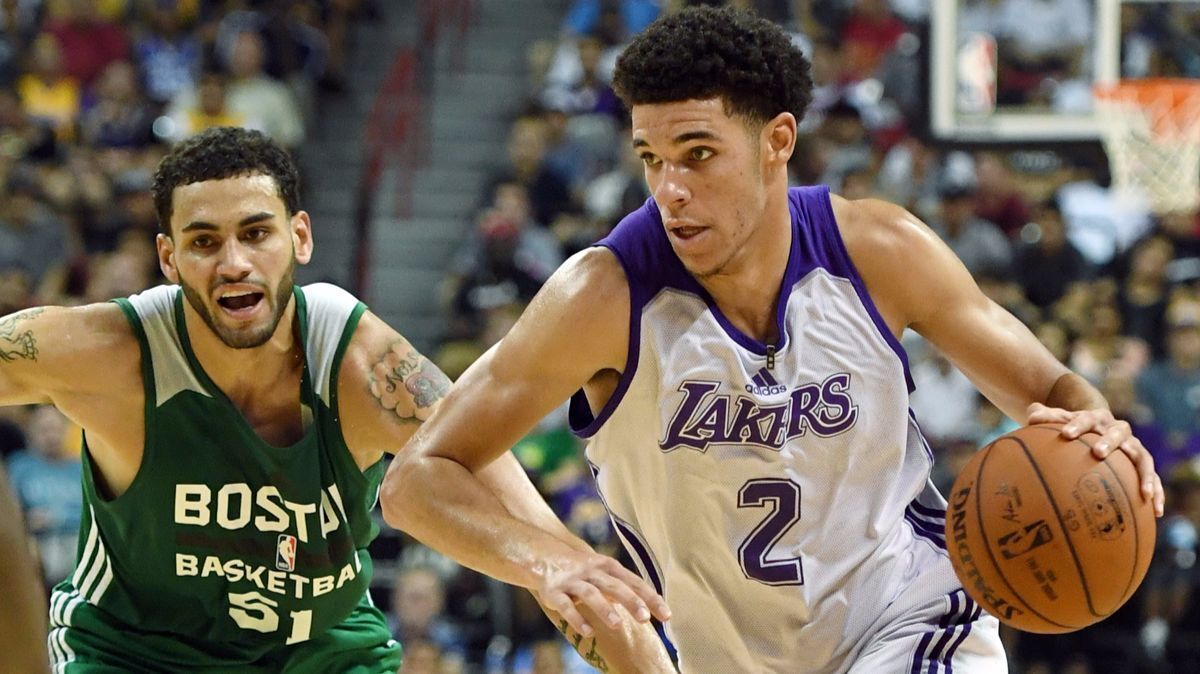 Reporting from Las Vegas —
Among the spectators there for Lonzo Ball's debut in a Lakers uniform was a man who is keenly aware of the task facing Ball right now.
Jason Kidd lingered after his Milwaukee Bucks finished playing to get a look at the player many compared to Kidd as the draft approached.
"He has a skill set," said Kidd, now the Bucks' head coach. "He can make the game easy for guys who can score the ball. He knows how to win. He has a very high IQ, basketball IQ."
Two decades ago, Kidd was in Ball's position. The Dallas Mavericks drafted the point guard second overall in 1994 and he was named co-rookie of the year that season.
He did win a championship with the team that drafted him, but not before spending time in Phoenix and New Jersey, where he turned the Nets into a perennial title contender. Kidd returned to Dallas in 2008 and won a championship with them in 2011. He was an all-star 10 times, a first-team all-NBA selection five times and a first-team all-defense selection four times.
Kidd's vision and feel for the game are among the qualities that have caused people to compare him to Ball.
"It's a great compliment," Kidd said. "But everybody is different at the end of the day. There's always comparisons of the great players in this league. Of Magic [Johnson], Michael [Jordan], Larry [Bird]. There's always guys who come before for these young players to be compared to. It's a great compliment. We'll see."
Ball struggled in his first game at summer league, especially with his shooting. He made only two of 15 shots and only one of 11 three-pointers. Still, Kidd could see some of the qualities that allowed Ball to excel in high school and college. On the first play of the game, Ball threw a lob to Brandon Ingram for a dunk. In the Lakers' second game of summer league, he scored 11 points with 11 rebounds and 11 assists.
"First play, they set up a great first play for him," Kidd said. "Just understanding that it's not always going to go in the basket, and the second game he had a triple double so it just shows he has a great feel. There's a lot of anticipation, a lot of hype around the game. … He came back and showed that he can be one of the best rookies in the league."
There's another aspect of Ball that Kidd appreciates.
"I think when we see he handles everything off the court extremely well with all the attention surrounding him," Kidd said. "He just goes out and plays basketball. It's really good to see his composure on the court. He enjoys the moment late game. His dad and the coaches that he's had this early in his career have done a really good job with him."
Clarkson locks in
Lakers guard Jordan Clarkson's name surfaced as part of the Lakers' discussions with the Indiana Pacers about a potential trade for then-Pacers star Paul George.
Clarkson heard about those reports but he never spoke to anyone at the organization about the possibility, he said.
"That [stuff] will happen," Clarkson said. "Internet [stuff], people want to get clicks on their page and all kinds of stuff. It is what it is. It's part of the business. I love L.A. I'm staying here. Gotta put on this year."
Clarkson said he's been treating this offseason in a more businesslike manner than he had in the past.
"Just more time I'm putting in," Clarkson said. "Taking it real serious this year. Spending a lot of time with our new strength guys as well , Gunnar [Peterson, the Lakers new strength coach]. … Going to Gunnar's gym."
Etc.
The Lakers' summer league team did not play on Sunday after playing on Friday and Saturday. They held a voluntary practice on the campus of the University of Nevada Las Vegas. They will play their third game of summer league at 7:30 p.m. Monday against the Sacramento Kings… Lakers guard Josh Hart suffered a right ankle sprain Saturday night against the Boston Celtics and has been ruled out for the rest of Summer League.
Follow Tania Ganguli on Twitter @taniaganguli
All things Lakers, all the time.
Get all the Lakers news you need in Dan Woike's weekly newsletter.
You may occasionally receive promotional content from the Los Angeles Times.