Lakers reach summer league final, but Lonzo Ball might not play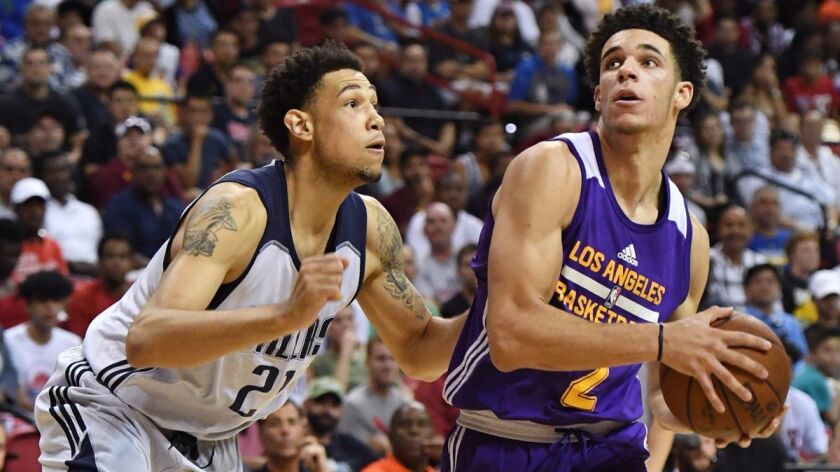 Reporting from Las Vegas —
Jud Buechler walked out of the tunnel leading into the Lakers locker room, giddy and grinning as he spotted Magic Johnson, Lakers president of basketball operations.
"I am having so much fun," he said, before receiving a hug from Johnson, who agreed.
The Lakers didn't feel the joy of winning very often last season during a 26-56 campaign, but they still love it and they still want their players to start to feel it, even if it is only the Las Vegas Summer League. The Lakers summer league team has won five games in a row and will play Monday for the championship.
"Our stated goal going into this was winning a summer league championship because a winning mentality is developed in these small moments," Lakers general manager Rob Pelinka said. "Every detail, every day, Magic and I are saying, 'How are we pursuing excellence?' Even a victory to win the summer league is a step in that direction. We wouldn't take it for granted."
The Lakers beat the previously summer undefeated Dallas Mavericks, 108-98, on Sunday night. Lonzo Ball notched a double-double in the first half, then finished with 16 points, 10 assists and four rebounds in 21 minutes 28 seconds. Matt Thomas made six three-pointers and scored 20 points.
Kyle Kuzma scored 24 points, making five three-pointers.
"Obviously, his shooting has been great but just overall his athleticism, when people close out, he has been able to put the ball by them and finish at the basket," Buechler, the Lakers' summer league coach, said of Buechler. "The other thing that kind of goes unnoticed is he can really run the court well. When you have a point guard like Lonzo, if you can sprint down, rim run we call it, you are going to get two or three layups a game. He has had a really good summer league and I am really happy for him."
The Mavericks' Dennis Smith Jr., another lottery-selected rookie point guard, scored 21 points on seven-for-13 shooting with six assists.
Ball had his best shooting game, making five of seven shots, and the Lakers as a whole shot as if they were the Golden State Warriors, making 60.7% of their shots and 77.3% of their three-point attempts.
"I had a slight feeling of what Steve Kerr feels like when they make all those threes," said Buechler, whose best friend is the Warriors coach.
Toward the end of last season, the Lakers seemed to torpedo their hopes for keeping their lottery pick by going on a five-game winning streak in April. As it happened, their coaches and executives insisted they would not tell their players to lose, because they did not want their players to make losing a habit.
Besides that, they just have more fun doing it.
Ball is questionable
Ball's status is uncertain for Monday's game against the Portland Trail Blazers. He suffered some tightness in his right calf during the third quarter of Sunday's game.
"It is summer league so it probably is not worth the risk [to push it], but like I said, hopefully I can be out there tomorrow for the championship," Ball said.
Ball was set to have treatment on the calf Sunday night and Monday morning. If it remains weak enough to hinder him in the game, he won't play. He missed the Lakers' third game of summer league becasue of a sore groin muscle.
Ball played the entire first quarter, and most of the second. In the third quarter, he left the game so a trainer could stretch his right calf with a roller. Ball briefly went into the locker room before emerging and rejoining his teammates on the bench.
The Lakers have played to the point of exhaustion. They've played four games in five nights, and Monday's game will be their fourth game in as many days.
"He has played a ton of minutes, four in five nights or five in six nights or whatever," Buechler said. "It's a tricky balance because I know he wants to play but he is a major asset for us and we will let the medical staff and management decide if he can play and if he plays, how many minutes, we don't know. But I know he wants to be out there."
Follow Tania Ganguli on Twitter @taniaganguli
---
All things Lakers, all the time.
Get all the Lakers news you need in Tania Ganguli's weekly newsletter.
You may occasionally receive promotional content from the Los Angeles Times.