Byron Scott: Lakers act like they're 'strangers' on the court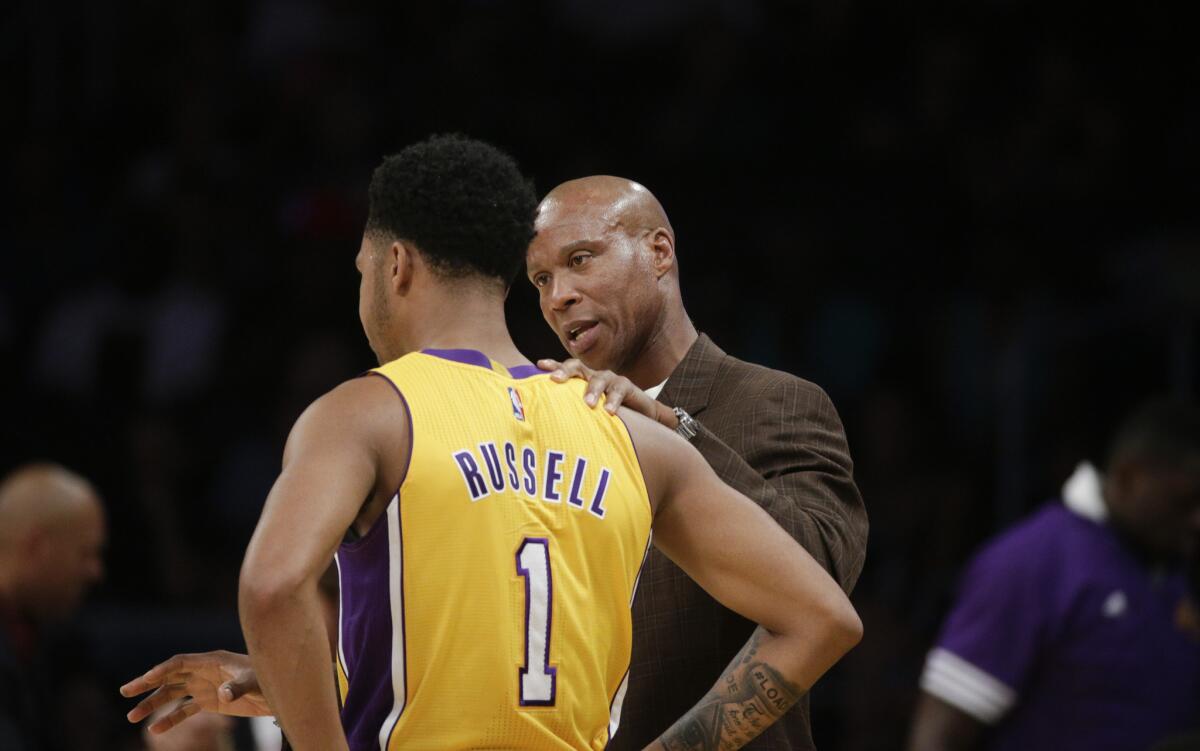 Lakers Coach Byron Scott agreed with rookie D'Angelo Russell's assessment that the Lakers need to work on communication.
After the Lakers' 10th loss in a row on Sunday night, Russell said the Lakers might communicate in practice, but it doesn't translate to the game.
"I don't know how you get it from the practice floor to the game floor. That's what we've been talking about all year," said Scott after practice on Monday. "We talk out here all the time, but we get in the game, we act like we're like strangers. Somehow that has to end. It just has to stop. Somebody has to be in control out there to kind of tell everybody what's going on. It's not that hard. We talk in practice. We talk on the bus. We talk on the plane. We get in the game and we act like we're mute. It surprises me and it's mind-boggling to me."
"They have to figure out a way to communicate a lot better on the basketball court. There's nothing I can do about that," he continued. "There's no drills I can put them through. It's just as simple as [someone] is going to set a screen, and I'm letting him know it's coming."
Scott showed examples of Sunday's poor effort to his mostly young squad.
"The film doesn't lie. It shows a lot of things that we can do better. It's on us, not so much what teams are doing -- it's what we're not doing," he said. "Not blocking out, turning and watching the ball as the shot is in the air. Guys aren't paying really good attention to putting contact on guys, and then going to get the rebound. We showed some transition defense as well, where we're running with our man instead of running to the paint out, and playing from the paint out. Those are things that are effort. Those are things we can control."
While Scott acknowledged the issues are more prevalent in the team's younger players, he also said the veterans need to improve as well.
Fans and a number of basketball analysts have lambasted Scott for limiting Russell's minutes this season, taking him out of the starting lineup in early December.
Scott answered that he seriously considered bringing Russell off the bench on opening night.
"I didn't want him to just feel that this was who I am, I should be starting on the Lakers, because I'm the second pick. No, you start because you work hard and you earn it," said Scott. "It was more of letting him know, you haven't earned this. You still have for fight for this. Nothing is given. Prime example is Kobe [Bryant]. ... He didn't start for three years.
"That's what I was taught a long time ago. You just give them a little bit first. You don't give it all to them and take it back. It's much harder."
Through the weekend, Russell is sixth in minutes per game among rookies at 26.9, just a hair behind Kristaps Porzingis (New York Knicks) and Justise Winslow (Miami Heat). Three rookies are at roughly 30 minutes a night, including Philadelphia 76ers center Jahlil Okafor (30.6), Denver Nuggets guard Emmanuel Mudiay (29.8) and Minnesota Timberwolves center Karl-Anthony Towns (29.8).
Russell is roughly three minutes behind the leaders of his class.
"What I try to do, as far as teaching, and protecting them ... my job is to help these guys develop," said Scott. "Sometimes it's going to be 20 minutes, sometimes it's going to be 25, sometimes it's going to be 30. It's whatever I see fit to try to get him to understand how to play basketball on both ends of the floor.
"It's not all about turnovers at times, it's him on the other end of the floor as well. It's about him making decisions that are right for himself and the team, and in the long run, getting him to understand what this game is really all about."
Scott also confirmed that the team will sit Larry Nance through the All-Star break. Nance is working through a sore right knee, related to a torn anterior cruciate ligament suffered in 2014 with Wyoming.
"We're going to shut him down for the next five games," said Scott. "It might take 15 or 16 days, it might take three weeks. I don't know, but we're going to wait until he's back healthy."
Email Eric Pincus at eric.pincus@gmail.com and follow him on Twitter @EricPincus.
All things Lakers, all the time.
Get all the Lakers news you need in Dan Woike's weekly newsletter.
You may occasionally receive promotional content from the Los Angeles Times.