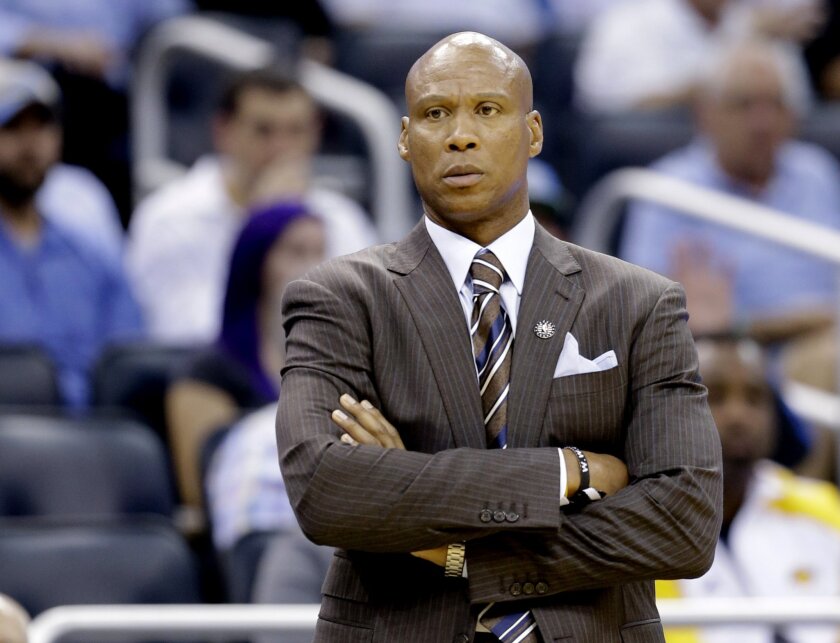 The dominant, riveting ways of the Golden State Warriors reminded Byron Scott of the Lakers.
It would be the Lakers from the 1980s, to be clear, but it came up after the Warriors erased a 23-point deficit Thursday and beat the Clippers, 124-117.
The Warriors keep winning games, 14 in a row to start the season. They're hotter than the Lakers' 1987-88 team that started 8-0 and eventually won a second consecutive championship.
"They don't have that championship hangover," Scott said Friday. "I think they want more, which is scary. They're not living on last year."
Scott was a shooting guard for the Lakers when Coach Pat Riley guaranteed a back-to-back championship at the victory parade after they won it all in 1987. It changed things, to say the least.
"When he said, 'guarantee,' I knew vacation was over. Take a couple of weeks and you've got to get right back to work," Scott said. "I knew I wasn't the only one. When I talked to all our guys when we started training camp, everybody did the same thing. We didn't go out and take all these vacations and just relax and ... start working out in August."
If a guarantee back then could motivate, maybe Scott should guarantee the present-day Lakers (2-10) would make the playoffs.
"This team doesn't have Magic [Johnson]. We've got James [Worthy], but not in uniform," Scott said, also mentioning the importance of Kareem Abdul-Jabbar on those 1980s teams. "Nah, I don't think I'll do that right now."
He was smiling broadly.
While talking more about the Warriors-Clippers game, Scott remembered the fire of a great game in his playing days.
"I love that. I miss that a lot," he said. "That's the best form of competition right there. And those two teams don't like each other very much anyway, which kind of reminds me of the Lakers-Celtics type of thing. So when I'm looking at that, that brings back a lot of memories and I love that.
"You feel that hunger, that passion for it. You always feel like you want to be back out there and going through that. You start to feel that hatred for the other team."
Scott isn't known for being an analytics-friendly coach, but he says he is on board with what the Warriors have established the last two seasons.
The Warriors kept making clutch three-pointers on the way to 39 fourth-quarter points.
"If you're firing twos, it seems to be like, 'What are you doing?'" Scott said. "But you've got to look at their personnel. They've got the type of guys that can play
The Warriors could set the record for best start in a season next Tuesday against the Lakers, assuming the victories keep coming.
MORE NBA NEWS
Warriors finish what Clippers start in stunning fashion
Byron Scott says Kobe Bryant makes Lakers' offense 'more settled'
Five takeaways from the Clippers' 124-117 loss to Golden State
---