Kyle Kuzma makes the game-winning shot as Lakers beat Nuggets, snap three-game skid
ORLANDO, Fla. —
Kyle Kuzma had been in this position many times before, but this particular play had been run for him only in practice.
The Lakers had 4.5 seconds to win this game. LeBron James inbounded the ball to Anthony Davis, who saw the defense pull toward James, which left Kuzma open to step behind the three-point line and take an open shot. It swished through the net with four-tenths of a second left, and Kuzma bounced down the court as the Denver Nuggets took a timeout.
"Jesus could be in front of me, and I'll still shoot," Kuzma said on a videoconference afterward. On the virtual fan board, Kuzma's mother, Karri, grinned and clapped.
The Lakers beat the Nuggets 124-121 on Monday night, snapping a three-game losing streak in the NBA's bubble. James scored 29 points to lead the Lakers (52-18), Davis scored 27 and Kuzma scored 25 in a rare start.
"In order for us to win a championship, he has to be our third-best player," James said. "If I'm struggling, or if AD's struggling, he has to be our second-best player."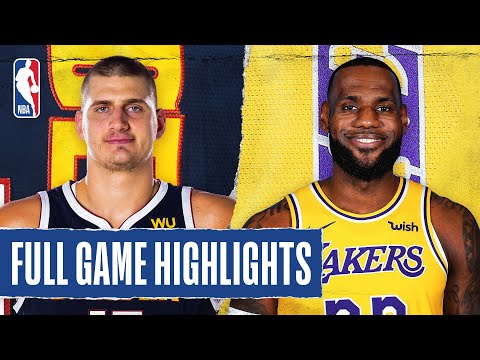 Denver Nuggets vs. Los Angeles Lakers highlights.
The Lakers had used that play before for Kentavious Caldwell-Pope, who missed Monday's game because of a minor ankle injury. Coach Frank Vogel has had the play in his arsenal since his days coaching the Indiana Pacers. He said he stole it from the Atlanta Hawks and their coach at the time, Mike Budenholzer.
The plan was to get Kuzma open — the young Lakers forward has earned a reputation for making last-second shots — and it was Davis' job to make sure that was the right move after the play began.
"Just reading to see if both guys go with Bron or if both guys go with Kuz," Davis said. "I seen that they kind of got confused and both went to Bron and Kuz was wide open. … We wanted Kuz to get the shot but at the same time still gotta make a read just in case the defense kind of messes up."
The victory came after Saturday's loss to the Pacers, which prompted several Lakers to go back into the gym for extra work that same night. Among them were Davis and James.
James was coming off one of his best games in the bubble, but Davis was coming off his worst. He'd made only three of 14 shots and none of his four three-point attempts. His plus/minus rating was minus-21.
Lakers coach Frank Vogel has thought about separating players to help their mental well-being. Is bubble life having an adverse effect on the team?
James shot a video of their work on the court and posted it to Instagram, lauding his teammates for their behind-the-scenes efforts to improve. Davis, who rarely uses Instagram for personal reasons, replied on the medium.
"Ima get it back my dawg!" he wrote. "I promise you that!!"
Davis' effort Monday aligned with that statement. He made nine of 15 shots with six rebounds, five assists three steals and two blocks.
"I just wanted to see the ball go through the rim," Davis said of the late-night workout. He felt better afterward.
He hadn't been happy with his performance lately. But Monday night, the Lakers got big performances from both of their superstars and Kuzma. In the locker room Kuzma was doused with water by his teammates.
"I'm starting on most teams in this league and everyone knows it," Kuzma said. "It just so happens I'm playing behind the two best players in the NBA."
Observations from the Lakers' win over the Nuggets on Monday:
With his mother among the virtual fans, Kyle Kuzma started for the Lakers in place of Kentavious Caldwell-Pope, who missed the game. Kuzma scored 25 points and shot 68.7% from the field (11 for 16), including three for five on threes.
Alex Caruso went scoreless and took only one shot in his 20 minutes of playing time but had the best plus-minus rating of any Laker: plus-21.
The victory snapped a three-game losing streak, the Lakers' longest since dropping four in a row from Dec. 17 to 25.
All things Lakers, all the time.
Get all the Lakers news you need in Dan Woike's weekly newsletter.
You may occasionally receive promotional content from the Los Angeles Times.