Dodgers nearing a deal to air 10 games on KTLA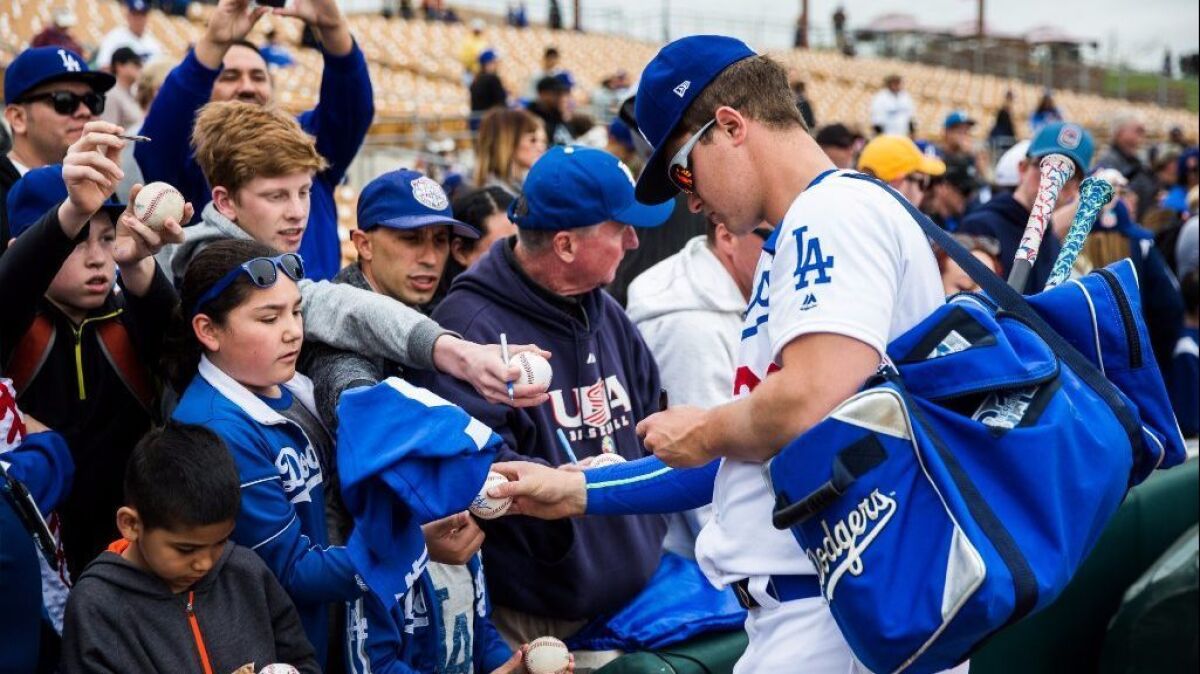 As the Dodgers' television blackout enters its fourth season, the team and its TV partner are working to make selected broadcasts available to all fans on free television.
KTLA-TV Channel 5 is close to a deal in which it would carry 10 Dodgers games, all of which would be in April and May, according to a person familiar with the deal but not authorized to discuss it. The deal, if finalized, could be announced as soon as Wednesday.
"We think that would be great for our fans," said Lon Rosen, the Dodgers' executive vice president and chief marketing officer.
KTLA aired six games last season, the final broadcasts in the 67-year career of Hall of Fame announcer Vin Scully. In 2014, the first year for the Dodgers' SportsNet LA channel, KDOC-TV Channel 56 aired the last six games of the regular season.
The Dodgers own SportsNet LA. In exchange for a guaranteed $8.35 billion over 25 years, they granted Time Warner Cable exclusive marketing rights for the channel. Neither TWC nor Charter Communications, which bought TWC last year, has been able to reach agreement with DirecTV or other local cable and satellite providers to air SportsNet LA.
As a result, Charter is the only major pay-TV distributor in Southern California to carry SportsNet LA, and the Dodgers broadcasts go unseen by a majority of fans.
The Dodgers and Charter presumably hope the 10 games on KTLA would persuade fans to switch to Charter's Spectrum service and/or persuade DirecTV and others to resume negotiations to carry SportsNet LA.
In November, the Department of Justice sued AT&T, alleging its DirecTV subsidiary had violated antitrust law by sharing information about SportsNet LA negotiations with other carriers.
With DirecTV as the "ringleader," the government charged, cable and satellite companies could demand better deals from TWC without worrying that competitors would carry the channel.
"The ultimate result: many consumers in L.A. had fewer — or no — means by which to watch the Dodgers channel," the lawsuit read.
AT&T has denied the charges and has asked a federal court to throw out the suit. In so doing, AT&T said the government had not alleged an agreement among competitors to freeze out SportsNet LA and had not proved that the channel would be on the air if not for the purported sharing of information.
TWC made an "extravagant bet" in paying the Dodgers so much money, AT&T said, and the asking price for SportsNet LA — a reported $5 per subscriber per month — was simply too high for a channel many viewers would not watch.
Twitter: @BillShaikin
Get our high school sports newsletter
Prep Rally is devoted to the SoCal high school sports experience, bringing you scores, stories and a behind-the-scenes look at what makes prep sports so popular.
You may occasionally receive promotional content from the Los Angeles Times.