College football week ahead: Playoff picture unclear ahead of conference championship games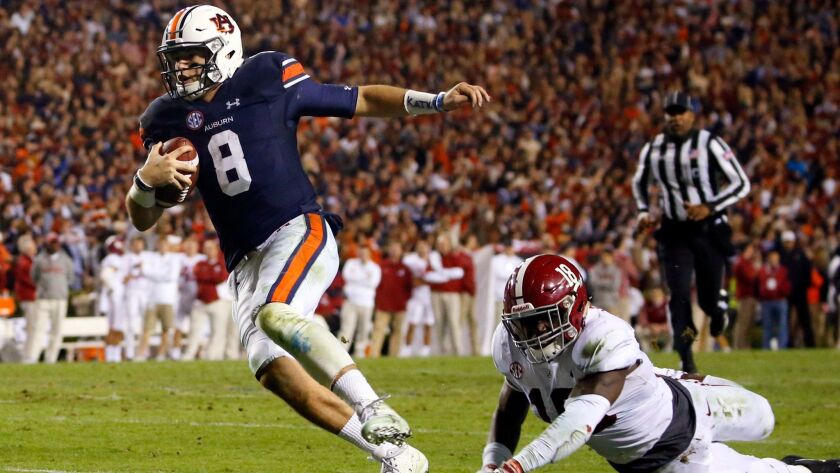 It didn't take long for Nick Saban to jump on the campaign trail.
Moments after top-ranked Alabama fell to Auburn on Saturday afternoon, the coach insisted his Crimson Tide still deserve a spot in the College Football Playoff.
"I really don't know what all the scenarios might be … but I'd certainly like to see this team get an opportunity to do it," Saban told reporters.
The thing is, the 2017 season has been as hectic as a game of musical chairs at a children's birthday party — and eight or nine teams have a chance to grab one of the last four chairs.
The situation might become clearer Tuesday when the CFP selection committee issues its latest rankings, but only a little.
Upset losses should knock Alabama and No. 2 Miami down a few pegs, making room for No. 3 Clemson and No. 4 Oklahoma.
Does that mean undefeated and fifth-ranked Wisconsin is a lock for the playoffs? Is the CFP guaranteed to invite its first two-loss team — No. 6 Auburn, No. 9 Ohio State or even No. 11 USC — to the big dance?
Not even close. Nothing gets decided until after the conference championship games next weekend.
"People are going to talk about all the scenarios," said coach Mark Richt, whose Miami Hurricanes dropped their first game of the season in a stunner at Pittsburgh. As Richt put it: "Who knows?"
The Atlantic Coast Conference championship lost some luster with Miami's stumble, so the spotlight shifts to the Big Ten Conference.
Wisconsin will rely on the nation's best defense and the third-ranked running back in freshman Jonathan Taylor. It might sound odd, but this is a team looking to validate its 12-0 record.
"It's not easy to win," coach Paul Chryst said.
The Badgers simply don't have the strength of schedule that CFP selectors value, but their opponent does.
Ohio State also has talent across the board with an experienced, efficient J.T. Barrett at quarterback. The question is, will Barrett recover from a freak injury suffered last weekend when a cameraman allegedly bumped into him during warmups.
Coach Urban Meyer has vowed an "all-out investigation."
If Barrett can't play, redshirt freshman Dwayne Haskins will step in.
Miami had relied on turnovers and last-second comebacks before the luck ran out. Now the Hurricanes had better hope CFP selection committee members don't write them off.
"We just focus on the next game," linebacker Shaquille Quarterman said. "We don't sit around worrying about 'What if' or what may happen."
In the ACC title game, they will need big plays from the defense and a steadier performance by quarterback Malik Rosier. That's because Clemson has been on a roll since falling to Syracuse in mid-October.
The Tigers have a strong defense of their own and insist that Miami's loss won't make them overconfident.
"Whether they were 12-0 or 7-5 has zero to do with us," coach Dabo Swinney said. "We want to win the game. If we win the game, we've got a bigger opportunity out there."
Alabama was supposed to continue its march to the national championship by way of the Southeastern Conference title game.
Instead, the Georgia Bulldogs get a chance at revenge against an Auburn team that knocked them out of the No. 1 spot earlier in the fall. This is more than a rematch — it's the trigger point for a variety of outcomes.
Will a victory send one-loss Georgia into the playoffs? What if Auburn takes the championship? Do the Tigers deserve a spot with two defeats?
Oklahoma still must get past Texas Christian in the Big 12 and the Trojans will try to impress against Stanford. Can Alabama sneak back in, even without a conference championship that ranks among the top CFP criteria?
Auburn coach Gus Malzahn sounded like a man who sees better things ahead when he said: "This time of year, very few teams are playing their best football and we are doing that."
As for the Crimson Tide, quarterback Jalen Hurts was still holding out hope.
"Unfortunately or fortunately, it is not in our hands," he said. "But we will see what happens from now."
Given the way this season has gone, a lot could change in the next seven days.
Follow @LAtimesWharton on Twitter
---
Get the latest on L.A.'s teams in the daily Sports Report newsletter.
You may occasionally receive promotional content from the Los Angeles Times.