Column: Oklahoma hopes for a repeat in rematch with Texas Christian in Big 12 championship game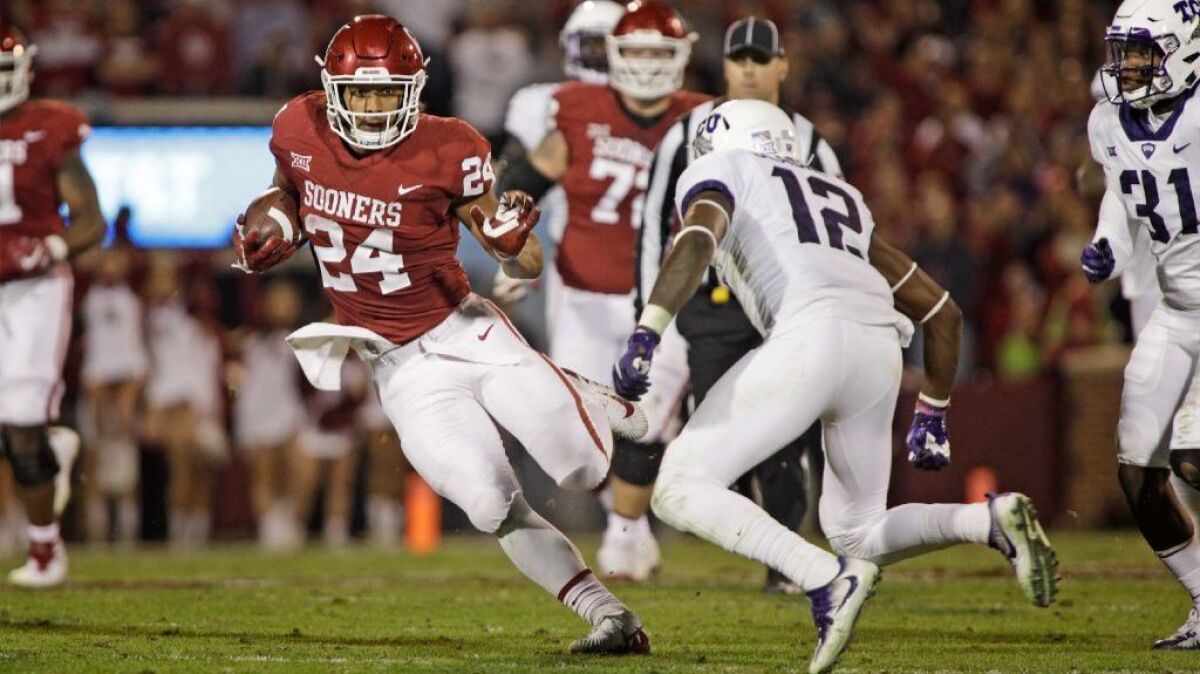 The last time Oklahoma played Texas Christian, only a few weeks ago, pretty much everything went the Sooners' way.
Baker Mayfield passed for three touchdowns and his running backs gashed TCU's normally stingy defense for 150 yards in a 38-20 victory.
But with the teams set to meet again in the Big 12 Conference championship game on Saturday, don't expect the Sooners to get cocky.
"Playing a team twice is always hard," Mayfield said this week. "As well-coached as they are, they're going to be very ready."
Rematches — and the challenge they pose — are part of the deal when conferences add a title game to the end of the regular season. No less than seven championships this weekend feature teams that have already faced each other this fall.
Given that their early-season American Athletic Conference matchup was postponed by Hurricane Irma, then played in late September, No. 14 Central Florida and No. 20 Memphis are preparing for each other a third time.
"You've shown your cards and they've shown their cards," Central Florida coach Scott Frost told reporters. "You've got to go back to the drawing board."
That means adding new wrinkles, trying to look a bit different on offense and defense. At the same time, coaches can't go too far.
Before his No. 10 USC team played No. 12 Stanford for the Pac-12 championship on Friday night, coach Clay Helton said: "You're not going to reinvent the wheel going into Week 13. You try not to overthink yourself."
While the Pac-12 winner isn't likely to figure into the College Football Playoff picture — both teams started the week far back — other matchups will have significant impact.
No. 1 Clemson versus No. 7 Miami. No. 2 Auburn against No. 6 Georgia. No. 4 Wisconsin against No. 8 Ohio State. These games will shape the discussion as the CFP selection committee determines its final ranking on Sunday, choosing the four teams that will meet in the playoffs.
The Atlantic Coast Conference game between Clemson and Miami — this one isn't a rematch — features two imposing defenses. The top-ranked Tigers rank among the nation's best in yards allowed and the Hurricanes are No. 1 in turnover margin.
Miami is looking to rebound from an upset loss to Pittsburgh in the final week of the regular season, which should require a stronger performance from quarterback Malik Rosier. "Some guys, when you lose, they're done for," Rosier said this week. "They don't have, I guess, the maturity to put a loss past them and keep grinding."
In Atlanta, at the Southeastern Conference championship, the spotlight will be on Auburn, which made a late run by knocking off two top-ranked teams in the final three weeks of the regular season.
That stretch included an upset win over Georgia in mid-November.
The Tigers, trying to become the first two-loss team to reach the CFP, might look different on Saturday if only because of continued development at quarterback.
Jarrett Stidham seems to improve in his decision-making with each game and could be especially important if running back Kerryon Johnson is limited by a shoulder injury.
On the other sideline, Georgia coach Kirby Smart suspects the rematch gives his team an emotional boost.
"You watch tape of the game," he said, "that fires you up."
The Bulldogs' rushing game will need to make adjustments. In November's loss, the tandem of Nick Chubb and Sony Michel were held to 48 yards, so Smart is looking for a better effort from his offensive line.
"It's trench warfare, as we call it," the coach said. "We've got to do a good job of getting some knock-back."
That sounds like the sort of talk you hear in the Big Ten, where Wisconsin is looking to stay undefeated.
The Badgers have faced persistent questions about strength of schedule; a victory would not only validate their record but also assure a spot in the top four.
Coach Paul Chryst sees the Buckeyes as a particular challenge for his top-rated defense.
"They certainly spread you out and yet they do a great job of running the football," Chryst said. "J.T. [Barrett] is a great distributor — he runs their offense and makes you have to defend the whole field."
The Buckeyes hope Barrett, their quarterback, will play on Saturday even though he recently underwent minor knee surgery. If redshirt freshman Dwayne Haskins is pressed into action, it could be problematic against the Badgers defense.
"I can't tell you the exact ranking," Ohio State coach Urban Meyer said, "but I think they're No. 1 in everything."
The Big 12 championship figures to be higher-scoring with No. 3 Oklahoma averaging 45.3 points and No. 11 TCU at 34.5.
This is uncharted territory for a conference just now joining the championship trend.
There has been talk around the league about the difficulty of playing a team twice in short order. TCU, which must devise an answer for Mayfield, is playing the psychological card.
"They have more to lose than we do," Horned Frogs coach Gary Patterson said. "I mean, you could play us close or lose to us and have a chance to fall out of the [playoffs]."
A few schematic tweaks notwithstanding, Oklahoma coach Lincoln Riley doesn't expect any big surprises on Saturday because the teams know each other so well.
The Sooners don't sound thrilled about facing the Horned Frogs again, but they accept it as a fact of life in this era of college football.
"I don't know if there's good and bad," Riley said. "I just think it is what it is."
Follow @LAtimesWharton on Twitter
---
Get our high school sports newsletter
Prep Rally is devoted to the SoCal high school sports experience, bringing you scores, stories and a behind-the-scenes look at what makes prep sports so popular.
You may occasionally receive promotional content from the Los Angeles Times.