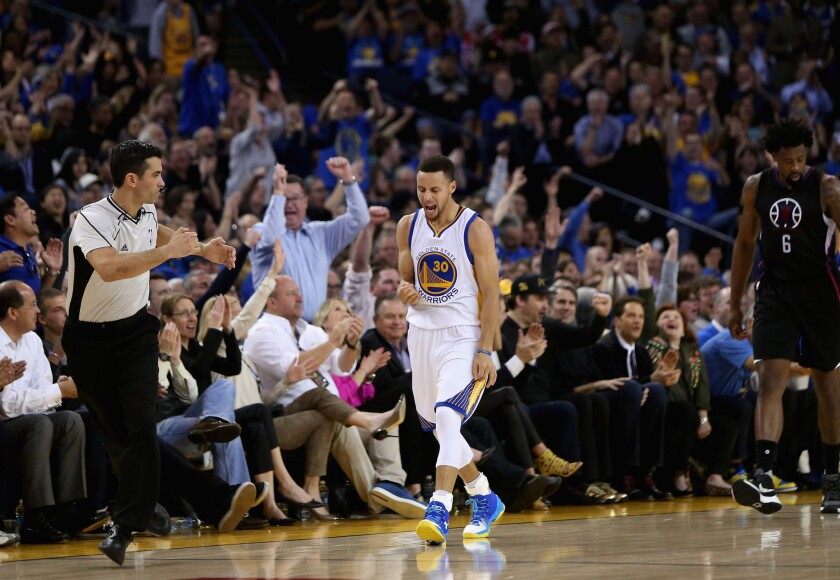 It is your world Stephen Curry and everyone else is simply orbiting around your exploits.
You have led the Golden State Warriors on this magical journey toward the best record in the history of the NBA and you have done so with style and grace.
So as the NBA prepares to hand out its regular-season awards, you, Steph Curry, are the standard bearer who will easily win his second consecutive most-valuable-player award.
MVP
All that's left to see is will Curry become the first player in the league to be the unanimous MVP.
LeBron James (2012-13 season) and Shaquille O'Neal (1999-2000) both were one vote short of earning the honor.
Not a single back-to-back MVP winner has ever made the leap in points-per-game average like Curry has this season. That's how he has rewritten the game.
He averaged 23.8 points per game last season, a paltry number when you consider Curry was averaging 29.9 points per game before Saturday night's game, an increase of 6.1 points from last season.
Curry has already set the NBA record for three-pointers made in a season with 385, breaking his own mark from last season.
He leads the NBA in scoring, player efficiency rating (31.40) and steals (2.16), and is second in three-point shooting (45.6%).
And Curry is driving the Warriors' pursuit of the league's all-time single-season wins record, their 70 victories before Saturday night three shy of breaking the 1995-96 Chicago Bulls record of 72-10.
Curry is the best player on the NBA's best team.
So why not be the unanimous MVP?
Here are some honorable mention candidates:
Like one of his primal screams following a ferocious dunk, Oklahoma City's Russell Westbrook joined the conversation because his high motor pushed him to lead the NBA in triple-doubles with 17.
Cleveland's James because he's still LeBron James and he remains one of the best all-around players in the game. Oklahoma City's Kevin Durant still is a dynamic scorer.
The Clippers' Chris Paul led his team to a 30-15 record with Blake Griffin out because of injuries (quad, broken hand) and while he served a four-game suspension for punching a team assistant equipment manager. And San Antonio's Kawhi Leonard has turned into the game's best two-way player.
Rookie of the year
Minnesota's Karl-Anthony Towns should be on every ballot as the clear-cut winner of the rookie-of-the-year award.
Towns has been named the NBA's rookie of the month all five months of this season.
He was tied for 27th in scoring (18.2) in the league before Saturday night, eighth in rebounds (10.5), 10th in blocks (1.68) and third in double-doubles (50).
He was shooting 81.2% from the free-throw line, 35% from three-point range and averaging 2.0 assists.
Other notable rookies are New York's Kristaps Porzingis, Phoenix's Devin Booker and Denver's Nikola Jokic.
Defensive player of the year
The surprise pick here — though it's not a surprise to those who play with him and to those who have to challenge him — is Clippers center DeAndre Jordan over San Antonio's Leonard.
It's more than just the numbers that tell the story about Jordan's prowess on defense.
Jordan has an uncanny ability to remember opponent's plays, calling out the signals to his teammates. He's as active on defense as any player in the league, always lurking and intimidating around the hoop.
Then there are the numbers. He's second in the league in rebounds (13.8) and first in defensive rebounds (10.3). He's second in blocked shots (2.32).
Leonard, the 2015 defensive player of the year, is the best wing defender in the league. Golden State's Draymond Green can defend multiple positions.
But Jordan gets the nod here.
Most improved
The steps Portland's C.J. McCollum has taken to raise his game to this level makes him an easy winner for the most improved player in the NBA.
In just his third season in the NBA, McCollum has tripled his scoring average from last season.
The 6-foot-4 shooting guard improved his scoring from 6.8 points per game last season to 20.9 this season before Saturday night's games.
He made 39.6% of his three-pointers last season, but is making 42% of his threes this season, which is tied for seventh in the league.
Coach of the year
No one expected Portland to be in the playoffs this year after losing four starters last summer.
But Trail Blazers Coach Terry Stotts has his team playing very good basketball as Portland heads toward the postseason.
And that's why he's the coach of the year.
Golden State's Steve Kerr, San Antonio's Gregg Popovich and Boston's Brad Stevens all deserve strong consideration.
Sixth man
This may be the most difficult decision of all the awards, because there are so many deserving candidates.
But this space, after much agonizing, has decided the winner is Jamal Crawford.
Yes, the Clippers super-sub becomes the first to win the award three times — passing two-time winners Kevin McHale, Detlef Schrempf and Ricky Pierce.
Crawford was as much responsible for the Clippers going 30-15 when Griffin was out as Paul and Jordan were.
During that 45-game stretch, Crawford averaged 15.6 points per game, third-best on the team.
Boston's Evan Turner, Golden State's Andre Iguodala and Oklahoma City's Enes Kanter were candidates.
Comeback player
The stellar play of Paul George made this a very easy decision.
He was averaging 23.3 points per game, 10th-best in the NBA, and he has the Pacers headed back to the playoffs in the Eastern Conference.
George has come all the way back from a gruesome right leg injury he suffered during a scrimmage for Team USA Basketball in August of 2014.
Follow Broderick Turner on Twitter: @BA_Turner
---