There is one team that enters the NBA postseason with a four-game losing streak.
That team has been mediocre and confounding for most of the regular season, stuttering to a 23-23 record in the final 46 games.
Its defense worsened with only the Lakers having a worse defensive rating since the All-Star break.
But anyone with a sports app knows they would be foolish to doubt LeBron James and the Cleveland Cavaliers.
The Cavaliers blew the top seed but they remain the Eastern Conference favorite as defending NBA champs and for suiting up a three-time champ. Facing an immense workload of on-court and off-court leadership again, James wants to make a seventh consecutive NBA Finals visit happen. The last player to do that was Bill Russell.
"You hear this all the time that the game of basketball, and whatever sport you're in, can't be a light switch," TNT analyst Reggie Miller said. "You can't turn it on and off. But if you look at the recent play of Cleveland, it's kind of head-scratching because they have so much ability and talent on that team.
"If you're Paul George and you're Indiana, maybe you can see the light at the end of the tunnel. You just hope it's not a train coming down there, that train being LeBron James."
James has won 17 consecutive first-round games and yet there is intrigue because the Cavaliers must build their defense, bench production and chemistry on the fly in the postseason.
Indiana brings a five-game winning streak into the playoffs and needed each victory to make the playoffs. The Pacers played Cleveland to an epic 135-130 double-overtime loss two weeks ago, when George scored 43 and James had 41 with a triple-double.
George, 26, is playing career-prime basketball, shooting 51.4% in his last 21 games and averaging 33 points in April. Just to add to the specter of Cavaliers' vulnerability, the return of Lance Stephenson to Indiana has reinvigorated the Pacers, helped their bench and rehashed memories of when he blew in James' ear during the 2014 playoffs.
The larger Pacers issue is that they have not been strong defensively either and must handle the Cavaliers' championship-proven trio — James, Kyrie Irving and Kevin Love. The Pacers have one star, George, and his future is unsettled after February trade talk.
The postseason can be a new season, where a team's missing rest, focus and chemistry can magically be restored by the weight of each day. TNT analyst Kevin McHale said the Cavaliers looked "disjointed" and "didn't even try" for the first half of a March 27 game at San Antonio.
Toronto, Boston and Washington are eager to see which Cavaliers team emerges Saturday in Cleveland.
"All that hope can be dashed if the Cleveland Cavaliers come out against Indiana and just put a four-game beatdown on them," McHale said. "Everybody in the league will take notice, believe me. Golden State will be taking notice from the West Coast."
A look at the matchups:
1. BOSTON CELTICS | 53-29 (Home: 30-11; Road: 23-18)
8. CHICAGO BULLS | 41-41 (Home: 25-16; Road:16-25)
Season series: Tied, 2-2.
Key stats: Boston's Isaiah Thomas led the NBA with 9.8 fourth-quarter points per game. Chicago had the fourth-best rebounding percentage while Boston had the fourth-worst rebounding percentage.
Outlook: The Celtics feasted on teams like this, going 31-6 against the East's Nos. 6-15 teams and 5-10 against the Nos. 2-5 seeds. Chicago has a rebound advantage on paper and thrived on second-chance points to beat Boston twice but trading Taj Gibson lessened that hold. Seeking its first playoff series triumph since the Celtics had Bulls point guard Rajon Rondo in 2012, Boston will ride Thomas' offense, improving defense and balance. Boston is better-equipped with Al Horford switching to its side from last postseason's when it lost in six games to sweep exit to Atlanta when Avery Bradley was hurt. The madly inconsistent Bulls have received superstar play from Jimmy Butler and improved defense to reach the playoffs but will need vintage Dwyane Wade too.
Prediction: Celtics in six.
Schedule
Game 1: Sunday at Boston, 3:30 p.m.
Game 2: Tuesday at Boston, 5 p.m.
Game 3: Friday at Chicago, 4 p.m.
Game 4: April 23 at Chicago, 3:30 p.m.
Game 5: April 26 at Boston, TBD*
Game 6: April 28 at Chicago, TBD*
Game 7: April 30 at Boston, TBD*
*if necessary; times PDT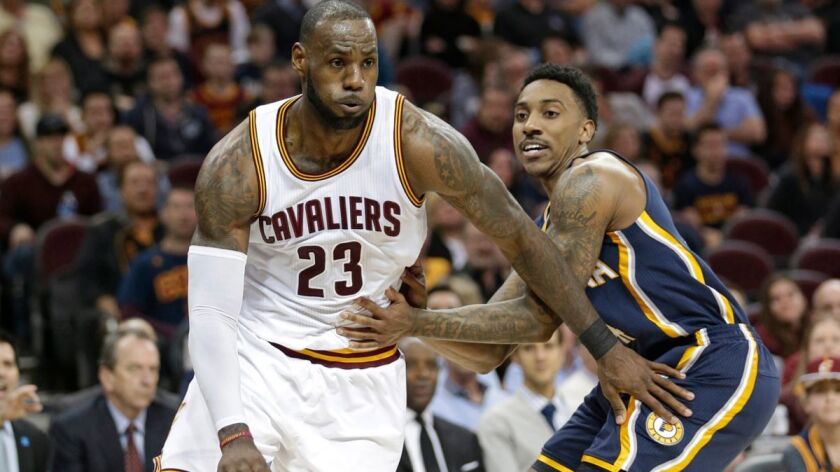 2. CLEVELAND CAVALIERS | 51-31 (Home: 31-10; Road: 20-21)
7. INDIANA PACERS | 42-40 (Home: 29-12; Road:13-28)
Season series: Cavaliers, 3-1.
Key stats: The Cavaliers and Pacers ranked second and fourth in the NBA for three-point percentage but Cleveland averaged 11 more three-point attempts per game.
Outlook: The Cavaliers were a run-of-the-mill performer in the season's second half, going 21-20 with Kevin Love and J.R. Smith injuries as factors. Cleveland is vulnerable defensively, ranking 22nd in the NBA, but is as offensively explosive as ever with LeBron James closing the season strongly with shooters surrounding him. The Pacers emerged from an 8-18 stretch to win their final five games with a Lance Stephenson energy and bench boost. Paul George was more offensively efficient than ever this season, has a budding co-star in Myles Turner and enters the playoffs hot after averaging 31 points during a 5-0 finish.
Prediction: Cavaliers in five.
Game 1: Saturday at Cleveland, noon.
Game 2: Monday at Cleveland, 4 p.m.
Game 3: Thursday at Indiana, 4 p.m.
Game 4: April 23 at Indiana, 10 a.m.
Game 5: April 25 at Cleveland, TBD*
Game 6: April 27 at Indiana, TBD*
Game 7: April 29 at Cleveland, TBD*
*if necessary; Times PDT
3. TORONTO RAPTORS | 51-31 (Home: 28-13; Road: 23-18)
6. MILWAUKEE BUCKS | 42-40 (Home: 23-18; Road:19-22)
Season series: Raptors, 3-1.
Key stats: Milwaukee's Giannis Antetokounmpo became the first NBA player to finish in the league's top 20 for points, rebounds, assists, steals and blocks. Toronto ranks last in the NBA for assists (18.5 per game).
Outlook: This series ranks low on the broadcast scale with three of the first five games slated for NBATV but Antetokounmpo's playoff debut is enticing, albeit likely not enough to hang with the Raptors. Toronto took Cleveland to six games in last year's conference finals and now has the experience and added depth and toughness with trades for Serge Ibaka and P.J. Tucker. Toronto closed the season well and has Kyle Lowry back from wrist surgery and DeMar DeRozan playing at a career-best level to handle the Bucks' pressure defense. The Raptors have dominated recent series with the Bucks and can throw DeMarre Carroll and Tucker at Antetokounmpo.
Prediction: Raptors in five.
Game 1: Saturday at Toronto, 2:30 p.m.
Game 2: Tuesday at Toronto, 4 p.m.
Game 3: Thursday at Milwaukee, 5 p.m.
Game 4: April 22 at Milwaukee, noon.
Game 5: April 24 at Toronto, TBD*
Game 6: April 27 at Milwaukee, TBD*
Game 7: April 29 at Toronto, TBD*
*if necessary; Times PDT
4. WASHINGTON WIZARDS | 49-33 (Home: 30-11; Road: 19-22)
5. ATLANTA HAWKS | 43-39 (Home: 23-18; Road: 20-21)
Season series: Wizards, 3-1.
Key stats: Washington ranked 28th for defensive rating after the All-Star break. Atlanta made the third-most turnovers per game (15.4) but that equaled its opponent turnover average.
Outlook: Atlanta was the NBA's worst offensive team after the All-Star break but getting Paul Millsap back from injury changed its postseason chances. The Hawks beat Cleveland twice after Millsap returned, also fortifying a stout defense. The Hawks survived the departures of Jeff Teague and Al Horford to reach their 10th consecutive postseason but have been slipping as a franchise. The Wizards missed last season's playoffs and started this season 2-8 before offensive firepower and a half-season of defense sparked their best season since 1978-79. John Wall and Bradley Beal found chemistry and posted career years, along with Otto Porter Jr. Bojan Bogdanovic added bench scoring but losing Ian Mahinmi to a calf strain is a blow to a vulnerable defense.
Prediction: Wizards in seven.
Game 1: Sunday at Washington, 10 a.m.
Game 2: Wednesday at Washington, 4 p.m.
Game 3: April 22 at Atlanta, 2:30 p.m.
Game 4: April 24 at Atlanta, 5 p.m.
Game 5: April 26 at Washington, TBD*
Game 6: April 28 at Atlanta, TBD*
Game 7: April 30 at Washington, TBD*
*if necessary; Times PDT
---