Colin Kaepernick takes a knee during national anthem in San Diego and is booed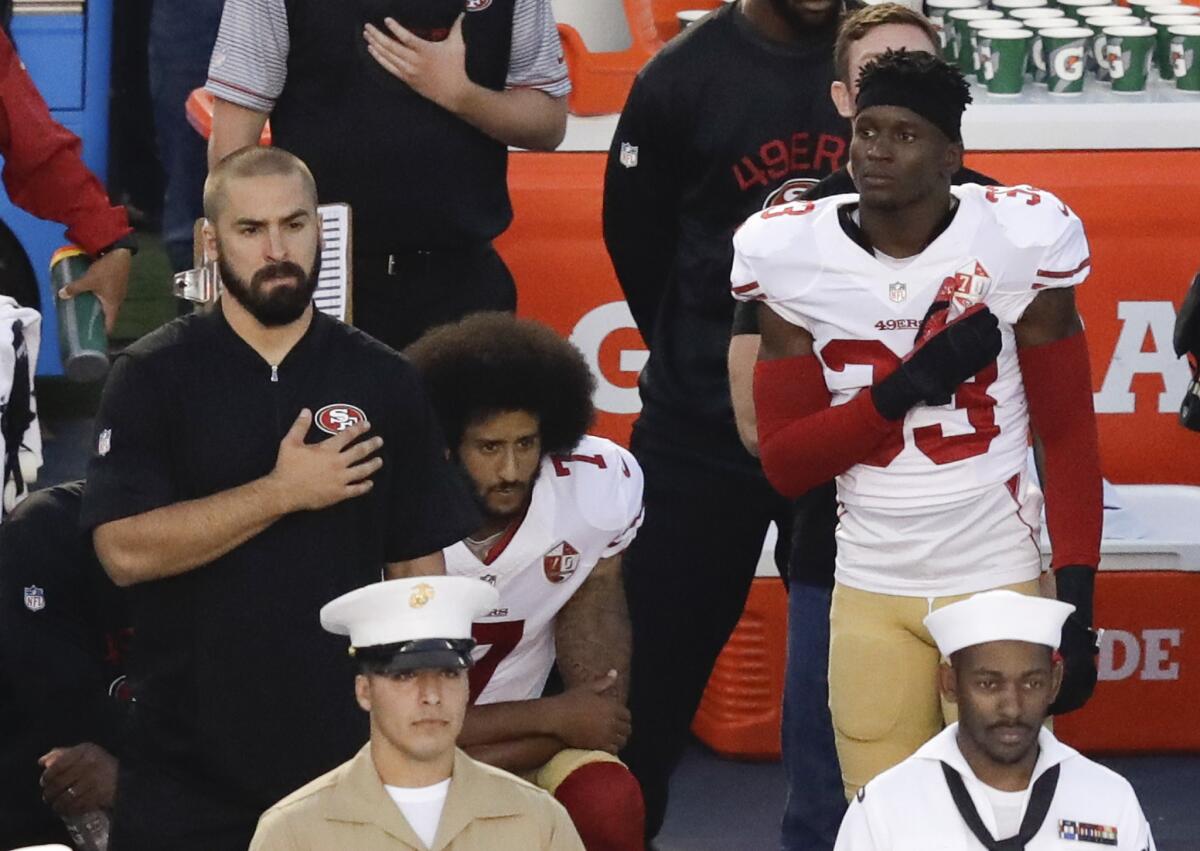 Reporting from San Diego —
In anticipation of a Chargers opponent's sitting out the national anthem Thursday night in San Diego, a spirited if unfocused debate raged from sea to shining sea.
When the moment finally came, San Francisco 49ers quarterback Colin Kaepernick took a knee and was booed at Qualcomm Stadium.
After the anthem, sung by U.S. Navy Petty Officer Steven Powell, fans chanted "U-S-A! U-S-A!"
Kaepernick, who was joined by teammate Eric Reid in his protest, stood up from his spot near the sideline, and another teammate, cornerback Rashard Robinson, hugged him. Fans continued to boo Kaepernick, who began the game by leading the 49ers on a 16-play, 85-yard touchdown drive, completing six of eight passes for 58 yards and rushing twice for 30 yards.
San Francisco went on to win the game, 31-21.
Social media, San Diego media and national media outlets had buzzed with commentary sparked by Kaepernick, who said he's protesting police brutality against African Americans and other minorities.
Fans booed Kaepernick about 50 minutes before the anthem's singing Thursday. They booed him again when he trotted off the field.
"You're an American. Start acting like one," read a sign that two fans held up near the east end zone.
Numerous 49ers fans wore Kaepernick jerseys bearing his No. 7. One, a young adult man, declined to speak about Kaepernick's protest when approached by a reporter.
As part of the Chargers' 28th annual Salute to the Military festivities, Marine Band San Diego performed on the field before the game.
The topic that Kaepernick said drove his protest — wrongdoings against minorities — was often lost amid the takeaways that dominated several local talk shows and commentary on national websites in recent days.
The meaning of the American flag drew expansive commentary. So did the military's role in defending the flag, Kaepernick's motivations, the 1st Amendment and others topics.
Putting a San Diego spin on Kaepernick's protest, Rep. Duncan Hunter (R-Alpine) said on an ESPN podcast that the Chargers would never retain a player like Kaepernick because of the city's strong ties to the military.
"I don't think you would have a person like him on a team in a city like San Diego," Hunter said. "A city like San Diego is too patriotic and we have too much military [here]. You have so many people that have fought and been overseas or had family members who have fought and been overseas … or they're in San Diego because their grandfather ended up there after World War II.
"I don't think we'd have a player like him. I think he would be booed out or the owners would be forced to not accept someone like him."
A photo surfaced this week of Kaepernick, at practice on another day, wearing socks that depicted police officers as pigs. The 28-year-old quarterback put out a statement in response earlier Thursday.
"I wore these socks, in the past, because the rogue cops that are allowed to hold positions in police departments, not only put the community in danger, but also put the cops that have the right intentions in danger by creating an environment of tension and mistrust," he wrote on Instagram.
The quarterback, who started the Super Bowl four years ago but is fighting for his job this summer, protested the previous three exhibitions, two at Santa Clara and one in Denver.
Largely overlooked before the third exhibition, his protest drew attention last weekend after NFL Media interviewed him. He stood by his comments in follow-up interviews with media, and said he would sit during the anthem in San Diego.
Rebuttals this week drew attention too.
Former Chargers safety Rodney Harrison, an ESPN commentator, described Kaepernick, the biracial son of white adoptive parents, as "not black." Harrison then apologized.
An anti-Kaepernick video, which glossed over Kaepernick's reason for the protest and implied a dim view of African American political leaders, drew over 53 million views, reported Esquire.com.
Joining in with Powell, the anthem singer, fans provided strong vocal support.
The crowd's loudest cheer during the anthem came near the end: "O'er the land of the free."
Get our high school sports newsletter
Prep Rally is devoted to the SoCal high school sports experience, bringing you scores, stories and a behind-the-scenes look at what makes prep sports so popular.
You may occasionally receive promotional content from the Los Angeles Times.