LA 2024 to court the Olympics, Snapchat filter-style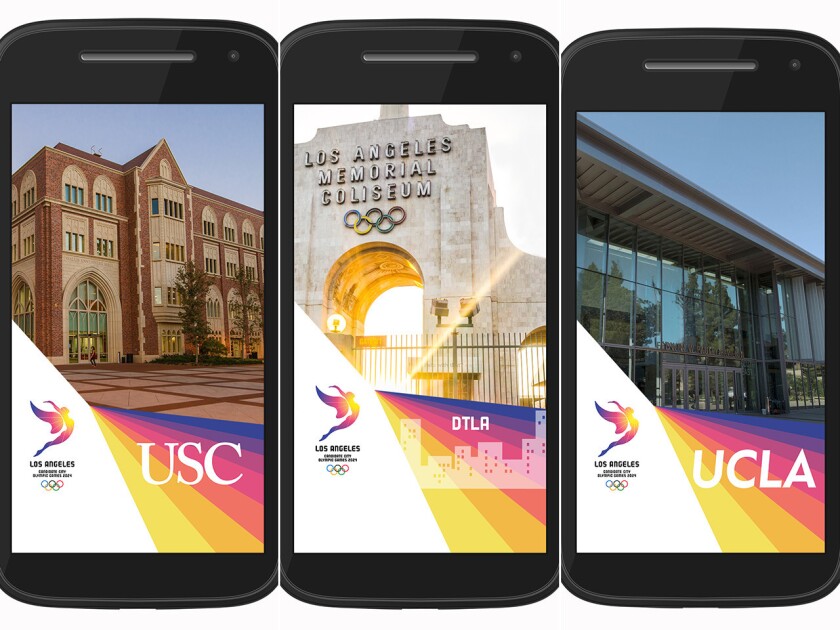 LA 2024 officials have partnered with Snapchat in a move they hope will further their campaign to position Los Angeles as the young, innovative choice for the 2024 Summer Olympics.
Over the next few weeks, the agreement will allow users of the popular smartphone app to affix an LA 2024 "angel" logo to photos and videos that originate from select neighborhoods where Olympic events would take place.
While the deal probably won't lead to any big-money sponsors, it could be "very useful for what I call the 'hipness factor,' " said Steven Osinski, a marketing professor at San Diego State University.
See the most-read stories in Sports this hour>>
Osinski believes that bid officials can "go back to the [International Olympic Committee] and say, 'Look, we're in touch with the younger community.' "
Snapchat allows users to instantly share photos and videos. The Venice-based company, which could not be reached for comment, says it has 100 million active users each day, about 85% of whom are between the ages of 13 and 34.
The LA 2024 logo joins an ever-changing library of "geofilters" -- digital tags that can be affixed to photos or videos so that people can show their friends where they are at any given moment.
Last year, Snapchat began charging retailers, movie studios and other businesses to promote branded geofilters. The fees can run tens of thousands of dollars.
LA 2024 officials said they are not paying for the service.
"We have set out our vision to create a new Games for a new era and, with 10 of the world's top tech companies based in Los Angeles and the wider California region, we are able to draw upon an abundance of creative expertise to help achieve that vision," bid committee Chairman Casey Wasserman said in a statement. "We are thrilled to have Snapchat on board."
Los Angeles is competing against Paris, Rome and Budapest, Hungary, for the 2024 Games. The IOC will select a host in September 2017.
MORE OLYMPICS
LA 2024 promises frugal Olympics with good weather
Kobe Bryant and Will Ferrell join L.A. campaign to win 2024 Summer Olympics
Mayweather could avenge Olympic loss if rule change letting pros box is approved
Follow David Wharton on Twitter @LATimesWharton
---
Get the latest on L.A.'s teams in the daily Sports Report newsletter.
You may occasionally receive promotional content from the Los Angeles Times.