Column: Lack of NHL stars means chance at Olympic glory for unknown players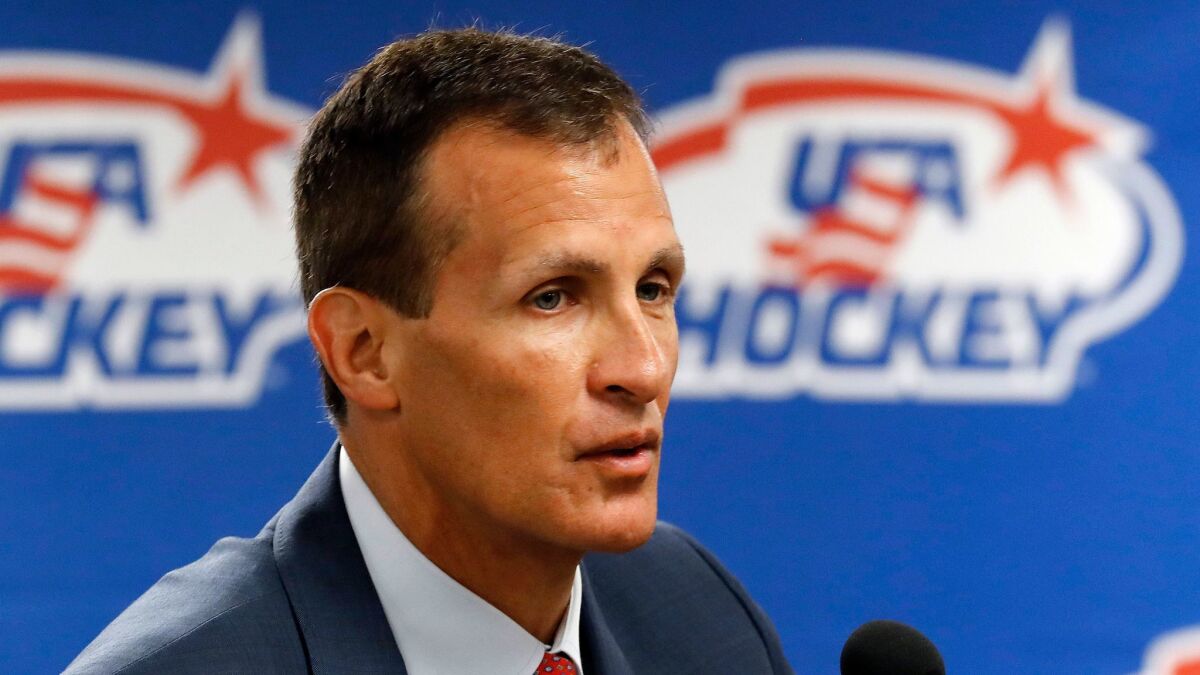 Don't know who Ryan Zapolski is? You're not alone. Even the most knowledgeable hockey fan would have trouble identifying the likely starting goaltender for the U.S. men's team at the Pyeongchang Olympics.
The NHL's decision not to allow its players to represent their homelands in these Winter Games sent national hockey federations scrambling to fill their rosters. Suddenly, scouts were watching video of players toiling in Russia's Kontinental Hockey League and European elite and secondary leagues, seeking candidates who might have been too small or too slow for the NHL or were late bloomers and would welcome an unexpected shot at Olympic glory.
The Olympic Athletes from Russia — so named because the country was banned from the Games for prior doping violations but many of its athletes were invited to compete — had an easier time because it could draw on its strong domestic league (the KHL) to choose former NHL stars Pavel Datsyuk and Ilya Kovalchuk, and former Kings defenseman Slava Voynov.
Which brings us back to Zapolski. The 31-year-old from Erie, Pa., and Mercyhurst College spent three seasons in the ECHL and three seasons with Lukko Rauma of the Finnish Elite League before moving to the Finnish team Jokerit, which plays in the KHL. He's not a household name among those who follow the NHL, but as was mentioned to him on a media conference call last week, neither were goalie Jim Craig and the rest of the 1980 U.S. team at Lake Placid until they shocked the Soviets, went on to win the gold medal, and were acclaimed heroes.
This is a different era, and unlike Herb Brooks' fresh-faced, young squad, coach Tony Granato has only four college players on his roster. The players' average age is over 29. So, winning a gold medal in Pyeongchang — which would be the first for the U.S. men since the "Miracle on Ice" — wouldn't have the same stunning, against-all-odds feel. But success would lift Zapolski and his teammates out of obscurity, at least for a while.
"I know not many people know me, especially in North America. I'm a little bit more known in Europe," said Zapolski, who has a 1.73 goals-against average and .932 save percentage in the KHL this season. "I think it's a great opportunity for our whole team to do something like that. If we can play well there, people will know who we are. But that's not our concern. We're just going over there to try to play hockey and whatever happens, happens. I think the focus of the team is to compete for a medal and play as well as we can."
Canada, with a larger pool to draw upon, chose some players with extensive NHL experience, including goalie Ben Scrivens— a former King — defenseman Chris Lee, and forwards Rene Bourque, Chris Kelly, Maxim Lapierre, Mason Raymond and Derek Roy. It's not the same as having Sidney Crosby, Ryan Getzlaf, Jonathan Toews, Drew Doughty and others who were the core of Canada's 2010 and 2014 Olympic champions, but coach Willie Desjardins hopes his players will be motivated by carrying a chip on their collective shoulders.
"Most guys on this team have been told 'No,' at some point in their careers," said Desjardins, a former Vancouver Canucks coach. "No, they can't play in the NHL. No, it's over. But they've managed to battle and stuck with it. They didn't give up. That's the nature of being Canadian."
The teams were divided into three groups of four and will play a round-robin within the group to rank them for the qualification round. The teams with the top four records will get byes to the quarterfinals and teams 5 through 12 face each other, with five facing 12, six vs. 11, seven vs. 10, and eight vs. nine. The winners will advance to quarterfinals in a bracket format. There are provisions for coach's challenges for possible offside and goaltender interference.
Sweden, the 2014 silver medalist, should be strong again. Its featured attraction will be 17-year-old defenseman Rasmus Dahlin, ranked No. 1 among European skaters by NHL Central Scouting for this year's draft. Alas, the Lundqvist on Sweden's roster is Joel, not his twin brother, New York Rangers goalie Henrik. Finland, winner of a silver medal and two bronze medals in the last three Winter Games, will move on without former Ducks right wing Teemu Selanne, a six-time Olympian and four-time medalist. Selanne retired in 2014 after leading Finland to a bronze medal and solidifying his status as the all-time leading Olympic scorer.
Russia, with a fearsome group of forwards but iffy defense, is the favorite although the country has not won an Olympic medal since it took bronze at Salt Lake City in 2002. "I think hopefully the experience I have and some other guys have of playing against those guys will help," Zapolski said. "It's going to be a challenge for us to contain a team like that. Their roster is dangerous for sure but we have a team to compete with anybody. They're not a team that we're going to be scared of or anything like that."
The U.S. roster selection was overseen by general manager Jim Johannson, who died unexpectedly in his sleep on Jan. 21 at age 53. Granato said the team will decide how to honor Johannson, but the best way would be for players to justify his faith in them and remember his joy when he called each one to say they were Olympians.
"We have a lot of players that have had NHL experience and success," Granato said. "We have a bunch of other players with international experience and success. We have young college players that are going to add a tone of life and energy and skill to our lineup as well, so I think the balance of the team that we put together and JJ envisioned it to be, is exactly what it is right now. And now we have to go perform."
Follow Helene Elliott on Twitter @helenenothelen
---
Get the latest on L.A.'s teams in the daily Sports Report newsletter.
You may occasionally receive promotional content from the Los Angeles Times.