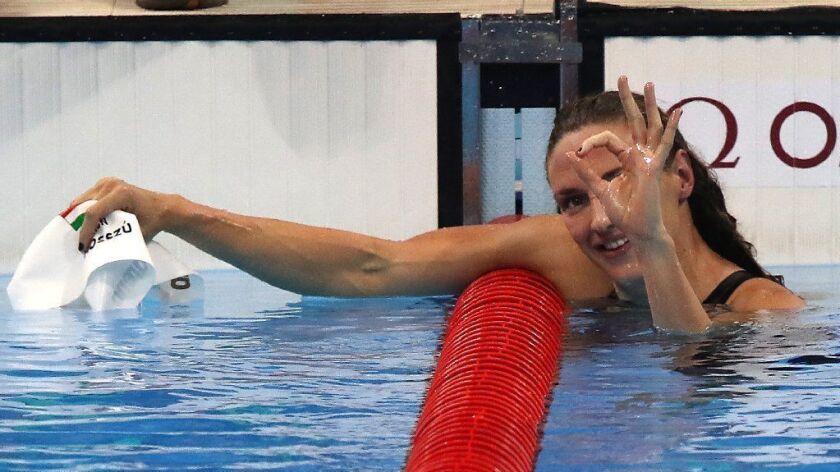 Reporting from SAN FRANCISCO —
Three Olympic and world champion swimmers have filed an antitrust suit in California challenging governing body FINA's control of organizing competitions.
The legal action by former USC swimmer Katinka Hosszu of Hungary and Americans Tom Shields and Michael Andrew follows Switzerland-based FINA's shutdown of an independent meet in Italy with threats to ban competitors.
The planned event in Turin involved organizers of a proposed International Swimming League (ISL), which aims to operate outside FINA's control and pay higher prize money.
"ISL takes swimmers seriously, not like FINA," Hosszu, a three-time gold medalist at the 2016 Rio de Janeiro Olympics, said in a statement. "My passion has always been to push swimming in the direction where swimmers are partners of the governing body, not just Muppets."
Lawyers in San Francisco say the swimmers "believe a professional league that will compensate its best athletes and better reward them for a lifetime's worth of hard training and sacrifice is long overdue."
The lawyers say ISL organizers filed a separate and simultaneous suit against FINA for "anticompetitive conduct."
The Turin meet was canceled after months of talks between ISL organizers and FINA broke down.
The world swim body asked for a $50 million payment spread over 10 years to permit the ISL to operate, the plaintiffs claim.
"FINA earned about $118 million in gross revenues from all aquatics events in 2016 and 2017," the lawyers' statement said, claiming only 12.5 percent was paid out in athlete prize money.
One month ago, FINA announced it would almost double its prize fund for the short-course worlds in China to $2.07 million.
It's the latest challenge to Olympic sports bodies by athletes seeking greater prize money and a voice in running their sport.
In a similar case last year, Dutch speed skaters won a European Union ruling against the Swiss-based International Skating Union.
---