Women's pro league tries to build on success of World Cup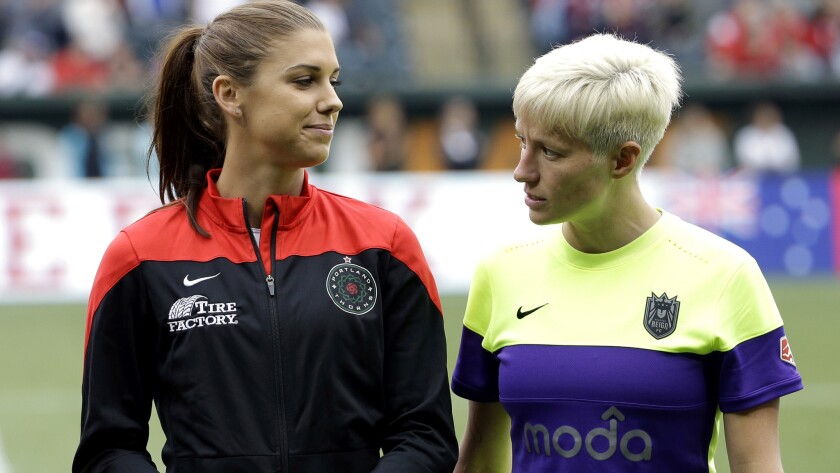 It's unlikely anyone was cheering harder for the U.S. at this summer's Women's World Cup than Jeff Plush.
And with reason. As commissioner of the fledgling National Women's Soccer League, Plush's job was to get people to spend a few hours watching women play soccer.
That became a lot easier after July's tournament final, with the U.S. win over Japan drawing a record 26.7 million viewers, the largest U.S. audience for a televised soccer game of any kind. So now Plush is trying to convince a fraction of that audience to stick around for more than one game.
How well he does with that could have far-reaching implications for both the league and the women's national team, both of which are riding a massive wave of popularity.
"Our opportunity is to keep the fans that maybe came along to our league for the first time this past 12 months, to keep them engaged, keep them excited," Plush said. "That's a challenge, certainly. But I think it's one that we're up to as a league."
Judging from the early results, the NWSL has played the World Cup bounce well. Heading into Sunday's playoff semifinals — which will see Seattle playing host to Washington, D.C., and Chicago meeting FC Kansas City in Bridgeview, Ill. — the league says it sold out 18 of 44 games after Carli Lloyd, Hope Solo and the rest of the U.S. team returned to their club teams following the World Cup. Average attendance jumped nearly 30% over the second half of the 90-game season and overall it rose more 900 a game — to a modest 5,046 — from last year.
That growth was largely centered on one team, the Portland Thorns of Alex Morgan, Christine Sinclair and Nadine Angerer, who averaged 18,443 for four post-World Cup home games — more than the Tampa Bay Rays have drawn this season — including a record 21,144 for one July contest.
Meanwhile, five of the league's other nine teams — who prefer intimate packed houses to large half-empty stadiums — play in venues so tiny they can't accommodate more than 5,000 fans for one game, much less a season average. But only one team — the Western New York Flash — has a drop in attendance from 2014.
The NWSL attendance figures dwarf the numbers of most other women's leagues. Germany's 12-team women's Bundesliga averaged just 1,022 fans last season, which was still better than Sweden's Damallsvenskan, where FC Rosengard, the team headed by incomparable Brazilian star Marta, drew less than 10,500 fans ... for the season.
What those other leagues lack is the personality and star power of the U.S. national team, which is clearly fueling the burgeoning interest in women's soccer in this country. In last spring's run-up to the World Cup, the team sold out three of its four U.S.-based friendlies and drew more than 35,000 to a baseball stadium in the other.
Then after drawing more than a quarter-million fans to its seven World Cup games in Canada, the U.S. team came home to a ticker-tape parade in New York and record crowds in Pittsburgh and Chattanooga for the first two games of its post-tournament victory tour.
Ten months ago, the U.S. drew less than 3,700 for a World Cup qualifier in Kansas City.
"These players, they captured the imagination of the country. There's lot of different stories and lots of different personalities." Plush said of the U.S. team, which sent 22 of the 23 players to the NWSL. The league also attracted 35 players — such as Canadian captain Sinclair and German keeper Angerer — off other World Cup rosters.
But if the league needs the national team to succeed, the same might be true going the other way — which is why U.S. Soccer, as well as federations in Canada and Mexico, is heavily subsidizing the 3-year-old NWSL. Two previous attempts at forming a professional women's league in North American ended in bankruptcy and internal conflicts.
"It's interrelated. And I think it's very important to what we do," U.S. Coach Jill Ellis said of a healthy women's league.
Ellis said the NWSL gives players who might not have peaked in college a place to continue to play and develop. A serious professional league also sends a message to the rest of the world that the U.S. takes the sport seriously.
"Going into the World Cup, a part of the [goal] was to continue to grow our game," she said. "And a pro league was a big part of that.
"The fan base is there. At the least we have to continue to engage them. Having a local team to root for, I think that's important."
The NWSL still has much work to do to take full advantage of the World Cup bump — such as signing a TV contract, for example. The WNBA has a national broadcast deal with ESPN/ABC, but most NWSL games are available only on YouTube.
Salaries are lower too. Though a handful of NWSL players, such as Morgan, are millionaires, most of that income comes from endorsements and contracts with the national team. The average league salary not paid by a national federation is around $25,000, less than a third the average salary in the WNBA last season.
The successful World Cup has given the league the time to address those issues. This season's attendance rise marks the first year-to-year increase for a women's pro soccer league in the U.S. Both Women's Professional Soccer and the Women's United Soccer Assn. saw declines in their third seasons and neither survived a fourth.
"None of us have any doubt about our survival," Plush said. "We're operating. We're open for business. And we'll be open for business next year.
"It's not about survival. It's now about growth and maturation as a league."
Twitter: @kbaxter11
---
All about the beautiful game
Go inside the L.A. pro soccer scene and beyond in Kevin Baxter's weekly newsletter.
You may occasionally receive promotional content from the Los Angeles Times.